'Uncut Gems' Is a Wild Crime Thriller That Just Might Win Adam Sandler His First Oscar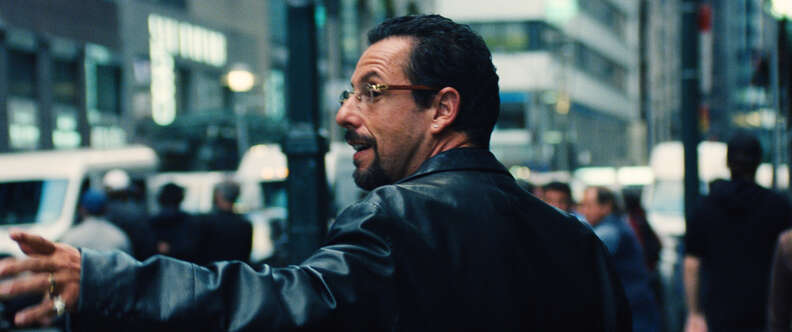 A24
A24
In the Safdie brothers' wild new movie Uncut Gems, you meet Howard Ratner's (Adam Sandler) asshole first. Seriously -- the first image that Josh and Benny Safdie give us of Howard is his insides during a colonoscopy. As he lies on his back, his rectum exposed to doctors, it's the calmest the boisterous diamond district dealer will ever be during this thrill ride, a scumbag masterpiece about jewels, basketball betting, and a frenetic moron of a man who gets into a fight with The Weeknd.
It's also an interesting spin on the Adam Sandler "serious performance." The Sandman, who celebrated his 53rd birthday during the film's premiere at the Toronto International Film Festival, has a varied filmography, to say the least. When he's good, he's very good; when he's bad... well, the less said about Jack and Jill the better. The gems, pun intended, of his filmography are frequently tender portraits of sadsacks, even if those men are prone to the occasional loud outburst. We most recently saw him exercise this in Noah Baumbach's The Meyerowitz Stories, where he plays a dad who bonds with his daughter over melancholy songs they co-write. When Sandler does win praise, it's often because he's countering his goofy-ass past, filled with movies like Happy Gilmore and The Wedding Singer and his five-year stint on SNL.
But Uncut Gems is a rebuke to all of that. It's Sandler going big, huge even -- and it just might be the peak of his career. There is nothing subtle about Howard, who speaks in a coarse New York accent at a persistently high pitch and wears an abundant amount of gold. Sandler's mania is a perfect match for the Safdies, who have made an adrenaline rush of a movie that's gloriously ridiculous and anxiety-inducing in equal measure.
To describe the plot cannot capture the experience of watching the action unfold in 2012 New York. Howard is a man dogged by debts, which makes his life even more difficult when he comes into possession of an entrancing black opal from Ethiopia and shows it to basketball star Kevin Garnett. KG, who plays himself, becomes obsessed with the rock, thinking it will boost his game, and asks Howard to take it for the night. From there everything spirals, getting even more insane when Howard starts betting any cash he can get on KG's games.
Howard is the ultimate schmuck. He's cheating on his wife Dina (Idina Menzel), who correctly thinks he's an idiot, with his employee Julia (Julia Fox), putting the younger woman up in his Manhattan apartment while his family resides in a Long Island mansion. Every decision Howard makes seemingly brings him closer to certain doom one way or another, especially given that he's being pursued by heavies led by a terrifying Keith Williams Richards.
Daniel Lopatin's score mixes electronica and opera in menacing fashion that keeps viewers' blood pressure high, but also contributes to the strange magic the Safdies are working. There's a distinct touch of the supernatural to their vision, transforming Howard's tale into a fable of sorts. In the opening moments, the camera dives into the beauty reflected in the black opal and emerges out of Howard's intestines, the otherworldly colors mixing with the grotesque guts. It's a good symbol for the rest of the movie, which finds euphoria in trashiness.
Part of the pleasure of Uncut Gems is in the Safdies' approach to casting, which is consistently surprising, mixing veterans like Sandler, Menzel, Eric Bogosian, and Judd Hirsch with newcomers like Julia Fox and celebrities doing spins on their lesser-shown personas. Garnett's role is crucial to the plot, while The Weeknd, a.k.a. Abel Tesfaye, has a showy scene, as The Weeknd.
In the end, it all comes back to Howard, who Sandler makes frustrating and captivating in equal measure. He's not lovable, but you also can't not root for the guy. At the TIFF premiere, just before the movie started, someone in the audience screamed: "Oscar for Sandman!" After seeing his performance in Uncut Gems, I don't think that would be such a bad idea.
Sign up here for our daily Thrillist email and subscribe here for our YouTube channel to get your fix of the best in food/drink/fun.