'Under the Silver Lake' Is a Stoner Cult Hit That Hilariously Roasts Cali Bro Culture
A24
A24
There's a moment in Under the Silver Lake when the main character, Sam (Andrew Garfield), wanders into an upscale Hollywood party. "I love that shirt!" one of the gorgeous women squeals as he weaves his way out to the balcony. It's a plain white T-shirt and Sam, as he does throughout the entire picture, looks like he just rolled out of bed.
Surely this moment means something, and blindly racing down corridors hunting for clues is precisely what Sam does during the 139-minute run time of this baffling, desultory, frustrating, yet strangely compelling movie that stumbled its way to a VOD and short theatrical release in April after premiering at last year's Cannes Film Festival. Writer-director David Robert Mitchell, coming off the success of It Follows, has gone all-in on the phenomenon of urban loneliness, but not in a violent or destructive way like you'll find in Taxi Driver. That's far too New York. The West Coast version, where you can wear shorts every day and the pools never close, ferments the brain in such a way that vast coincidences and conspiracies are everywhere, with answers seemingly around every corner -- but only if you can crack the code.
There's nothing explicit in Under the Silver Lake that suggests Sam is trying to make it in showbiz. But his apartment is lined with old movie posters, he's lying to his mother about "being busy," and the stunned realization he "isn't going to leave a mark" primes his psyche to go off the deep end. That and Sarah (Riley Keough), the pretty girl he just met at their In a Lonely Place-esque apartment complex, seems to have disappeared without a trace.
Sam begins wandering the area, mostly on foot, looking for clues. He tracks a trio of provocatively dressed women who make a drop-off of The Girl's belongings -- they drive, then go to the park, rent one of those paddle boats, ride to the other shore and hand it to a dude dressed like a pirate. This is completely absurd, but Mitchell plays it straight (with a rich, orchestral score composed by Disasterpeace) and something about the quiet, slow pacing makes it work.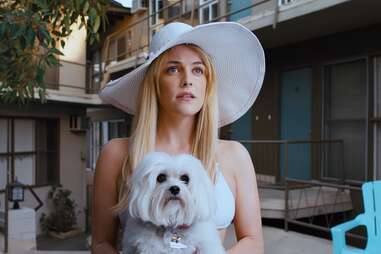 While the shambly, LA weirdness sounds like it may be similar to Inherent Vice or Mulholland Drive, the vibe is not. The surrealism isn't in your face, not even a sequence straight out of The Wizard of Oz. The naturalism of the shooting style is, by contrast, even more unsettling.
By the time Sam does a celebratory jig connecting the map from an old cereal box with back issues of a Nintendo magazine, you actually feel sorry for him. He's another ghost wandering this eerie city, obsessed with the totems of the past. (A major party set piece is set at the Hollywood Forever Cemetery, a real place, where you blithe young things can carouse near the corpses of cultural icons.)
Under the Silver Lake is way too long, but it's such a big swing that it could easily have been another hour longer and still, in its own way, worked. There's a piggishness to the whole enterprise. This is a movie about young, white men who clearly think the world owes them everything. Sam is mostly sympathetic, but that's primarily because we're with him all the time, and Garfield's confusion mirrors our own, but glimpses of his assholishness aren't far off.
He is way overdue on the rent and makes zero effort in earning a dime to pay it. An out-of-work actress occasionally stops by for sex, but Sam's interest level is about the same as when he masturbates to Playboy. When he sees the pre-teen vandals who put sludge in his car door handle and drew penises on the hood, he doesn't shoo them off; he beats the snot out of them. Later, he has something of a meltdown about how much he hates the homeless for making him feel bad.
Garfield, still a movie star, is an unshaven mess, with a gravelly voice and completely detached air. You know a guy like this, trust me, and he's probably working on a screenplay, too. Mitchell has certainly tapped into a very real strain of young male obnoxiousness. Whether you want to spend a long movie in its company is up to you.
Sign up here for our daily Thrillist email and subscribe here for our YouTube channel to get your fix of the best in food/drink/fun.
Jordan Hoffman is a film critic and writer whose work appears in
The Guardian
,
Vanity Fair
, and
The Times of Israel
. He likes rock songs that are over 10 minutes. Follow him on Twitter @jhoffman.