Paid Content For
9 of the Best Underrated Shows on Hulu Right Now
They're worth streaming.
Paid Content For
After watching the TV shows that all of your friends keep raving about or revisiting your favorite episodes of classic sitcoms, it can be refreshing to check out a series that's a bit underrated. Just because you missed a show when it first aired or it's somehow managed to fly under your radar doesn't mean it's any less great than the hits. Hulu, for instance, has a handful of hidden gems worth checking out in its expansive streaming library—from quirky animated series to conversation-starting comedies. Here are a few worth checking out.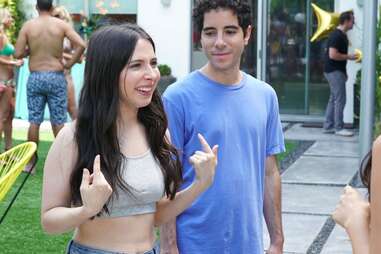 This under-the-radar comedy series following best friends and comic hopefuls—the enormously basic Esther and the unmotivated Benji who mooches off his wealthy older brother—in LA nails what it means for two obnoxious people to be meant for each other. Those still eulogizing Difficult People will find relating to the two's mishaps among SoCal's luxury set a comfortable task.
Michaela Watkins, after getting booted from Saturday Night Live, finally got to show off in Casual, the Jason Reitman-produced series about an idiosyncratic family in the vein of Transparent and Parenthood. The series is funny, but also heavy, tackling subject matters like cancer and death. Watkins is excellent as a single mother raising her daughter after a family scandal, and Tommy Dewey, as the charming but romantically inept brother she moves in with, is a scene-stealer, too. Casual may not be flashy, but it tells very human stories with a unique tenderness.
Cruel Summer is the kind of melodramatic teen series that you instantly get hooked on. The twisty Freeform series presents a mystery that's told over three timelines—each in the summers of 1994, '95, and '96—about the allegations between two teenage girls, one of whom disappears (Olivia Holt) and the other (Chiara Aurelia) who's accused of knowing about what happened and never coming forward. As soon as you think you've pieced together the truth, the thriller series proves it's been wielding lies and keeping secrets, just like teenage girls do. You'll never know what's coming, and that anticipation will keep you pressing play.
If you're staying in, you're gonna need some serious streaming options. With Hulu having thousands of shows and movies, you have access to a multitude of shows for every possible mood. Find new titles or revisit the classics. Plus, with the wide variety of Hulu Originals, you might even find your next fave series to binge watch with your friends. All you have to decide is what you're watching tonight.
Alex Garland, the filmmaker behind sci-fi psychothrillers Annihilation and Ex Machina, made his TV debut with this miniseries, inspired in part by the director's obsessions with determinism and free will. It's a mystery, so without revealing too much, the show follows a computer engineer (Sonoya Mizuno) who looks to the strange quantum computing company called Amaya where her boyfriend worked for answers once he disappears. The series is equally odd and alluring, and Nick Offerman is a scene-stealer in his role as the engineer who runs Amaya. You need not be a quantum physicist to be perplexed and blown away by this inventive miniseries.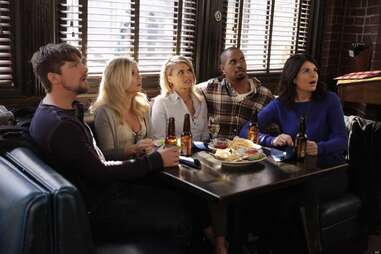 In a perfect world, this joke-a-second ABC sitcom about six neurotic best friends living in Chicago would have blossomed into a generation-defining, Friends-like hit. Instead, it was cancelled after three seasons. Was it too weird? Too manic? Was the world just not ready for "Elisha Cuthbert, sitcom star"? Now is your chance to find out.
It would be an understatement to say people were apprehensive of this TV adaptation of Nick Hornby's novel and 2000 film of the same name. When the show was ordered, it was planned that Rob, the lead record store owner who explores where his breakups went wrong, would become a woman named Robin—and fans were worried it would strip the material of its essence about shitty dudes being shitty. Zoë Kravitz stepped into the role, though, and revived Rob and her lists (er, playlists) to be ultra-cool for a new generation. It's a rom-com series that's both charming and poignant, giving the story a more nuanced angle of showing a woman unraveling as she faces her own flaws and heartbreak.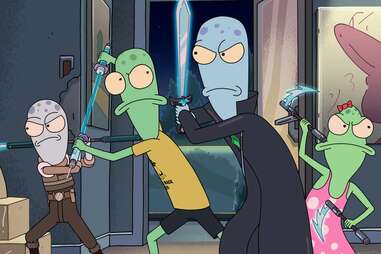 Rick and Morty fans looking for Rick and Morty-adjacent watching will get their fill in this off-kilter animated sci-fi comedy that got a two-season order before it even premiered. From Rick and Morty co-creator Justin Roiland and Rick and Morty producer/screenwriter Mike McMahan, Solar Opposites rolls with similar sensibilities through following a genderless alien "family" who settle on earth after their home planet explodes, caring for a pupa that will eventually evolve to wipe Earth from the solar system. Its best episodes dwell in trying to understand humanity's fascinations with topics from silly (man caves) to serious (the gender binary). A side plot about a shrunken human ant farm is reason enough to consider this series, with two seasons in the bag and two more on the way, wholly underrated.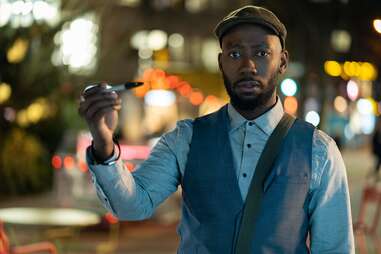 Based on the life and work of illustrator Keith Knight, New Girl standout Lamorne Morris plays a Bay Area-based cartoonist named Keef who is on the brink of a successful career in this Hulu Original that's been renewed for a second season. Although Keef is never one to be confrontational as an artist or individual, a wrongful, blatantly racist altercation with a police officer sends him on a journey to being a more "woke" Black man. Utilizing humor, colorful animation, and surrealism (including inanimate objects that call out microaggressions), it's a conversation-starting comedy about the frustrating reality of race in America.
Not every music legend gets their own biopic—and even if they do, they're not necessarily done well. Films and series focusing on rap icons are especially few and far between, but this Hulu Original aims to tell a detailed and honest story about the rise of the legendary hip-hop group Wu-Tang Clan. Co-created by the group's own founder RZA, the series tracks their formation from coming up in Staten Island in the '90s, overwhelmed by the crack cocaine epidemic, to their first record deal. The cast is stacked with talented up-and-comers like Moonlight's Ashton Sanders as RZA and Shameik Moore as Raekwon, and fans will find themselves fascinated in Season 2 with accounts of how the group put together classic hits. Once the show hits its stride, it ain't nothing ta fuck wit.