The Most Underrated Netflix Original TV Shows
Not all Netflix originals will make you suffer through hours of boring television.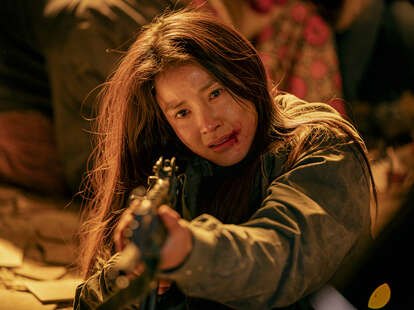 Everyone knows about Netflix's original mega-hits, like The Witcher or Ozark, but for each of the TV shows it's produced that are legitimately good, there are 20 others that are maybe not so good. When you're a major platform steadily cranking out your own stable of movies and TV shows, you're not exactly going to nail every one of them. Because of that glut, smaller shows that are truly entertaining but might not get the same kind of marketing push as, say, Stranger Things fall into the dredges of genre hubs. For that reason—and to prove that not all Netflix original TV shows suffer from bloat and boring plotlines—we've pulled out some of our favorite underrated Netflix series that never got the status they deserve.
Age of Samurai: Battle for Japan (2021)
1 season, 6 episodes
History buffs, take note of this miniseries that grabbed attention on Netflix in January 2021, only to be just as quickly forgotten. About the feudal era of Japan when ruthless daimyo, or warlords, duked it out to rule the country, Age of Samurai focuses mostly on the rise and fall of the notorious Oda Nobunaga, aka the Demon King, who wanted to unify Japan, working mostly in reenactments (that are, honestly and surprisingly, very cool) with voiceover by historians with expertise on this Sengoku period. Even if you're vaguely curious about what it was really like to be a samurai or ninja, both absolutely real, turn this on immediately.
Alien Worlds (2020)
1 season, 4 episodes
At only four episodes long, Alien Worlds gives us a taste of what extraterrestrial life might look like, based on what we already know about the weird and odds-defying ways life evolved on Earth. It's part documentary, part science fiction, interspersing computer-animated visions of lush alien worlds with a potpourri of comparisons to the wild animal and plant life on our own. On far-off Eden, a day takes an entire year to pass, and monkey-like predators migrate with the sun while the offspring of their prey wait in spherical cocoons up in the trees. On the exoplanet Atlas, fish-like birds are airborne for their entire lives, while on tidally-locked Janus, five-legged crustaceans called "pentapods" mature into two drastically different forms of the same species, depending on which side of the planet their larvae land on. The show maybe seemed a little too esoteric for the average Netflix viewer, but we promise you'll be sucked in by its wild visuals and galaxy brain scientific theories.
Blood of Zeus (2020– )
1 season, 8 episodes
Apparently, there are five seasons outlined for this epic gods-versus-men anime produced by Powerhouse Animation, which also made Castlevania and Masters of the Universe: Revelations. Though it's set within the world of Greek mythology, Blood of Zeus has no interest in pandering to the gods of Olympus, depicting them as they really kind of were: drama whores, literal whores (looking specifically at Zeus), petty, and vengeful. It's essentially a melodrama where two half-human, half-gods on opposite sides of the good-to-evil spectrum fight to save Olympus from a Hera takeover and the world from her (honestly, justified) wrath. It's real bloody and real addicting.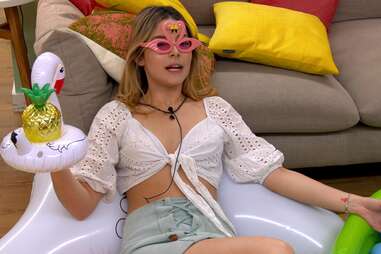 The Circle Brazil (2019)
1 season, 12 episodes
If you loved Netflix's isolation experiment/social media contest/pandemic omen The Circle, then boy, do we have good news for you. Beyond two seasons of English-language The Circle, the competition show has a couple international editions, including France, that somehow mimic the same contestant tropes of the US version, but it's The Circle Brazil that you should turn on immediately to fill your Circle void. There are catfishes, real hot people, court-holders, and others, all generously entertaining, and the in-room challenges get a local spin with dancing and drink-making. It is high drama not to be missed.
The Curious Creations of Christine McConnell (2018)
1 season, 6 episodes
After a while, cooking shows can tend to feel a little too familiar—there are the food competitions, demonstrations, and travel journeys—and they're typically about the meals that make our mouths water the most. Fortunately, we live in the time of artist/actress/Instagram sensation/contemporary goth icon Christine McConnell who has a taste for the unusual. In this one-season Netflix original, McConnell invites viewers into her house of horrors where she crafts spooky sweets and creations with the help of her otherworldly muppet-like friends. The show is very odd in the best ways possible, the delicacies will haunt you with their insanely intricate aesthetics, and McConnell is a spellbinding host.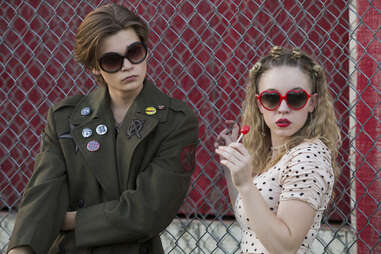 Everything Sucks! (2018)
1 season, 10 episodes
This teen melodrama, set in a small Oregon town in 1996 tracking the social flailings of a group of A/V clubbers and drama nerds, will remind you of Freaks and Geeks, The Perks of Being a Wallflower, and other depictions of angsty teens and the friends who pine unrequitedly for them. (Episodes also prominently feature a deep cut off Sebadoh's Harmacy and Ride's shoegaze banger "Leave Them All Behind," which alone makes this show supremely underrated.) Sadly, Netflix opted not to renew Everything Sucks!, cementing its cult status with other "canceled too soon" one-season wonders.
Feel Good (2020–2021)
2 seasons, 12 episodes
Inspired by real experiences in comic Mae Martin's life, Feel Good follows the turbulent relationship of Mae, an obsessive comedian who struggles with drug addiction, and George (Charlotte Ritchie), a charming school teacher who's never dated a girl before. The British dramedy hits every emotion in a way that doesn't always feel good, but does always feel human. George struggles with her friends' microaggressions, Mae butts heads with her cruel mother (Lisa Kudrow), and the pressure of keeping George interested puts Mae's sobriety to the test. Feel Good exposes the confusing jumble of euphoria and suffering that characterizes many queer relationships, using impeccable comedic timing and wit to soften the blow.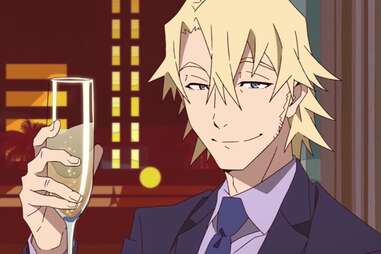 Great Pretender (2020– )
2 seasons, 23 episodes
Do you like darkly funny heist stories with endings that are maybe predictable—the good guys win, of course—but the routes taken to get there blindside you with twists you never saw coming? Then Great Pretender is absolutely the series for you. Yes, it's anime; yes, you'll read subtitles. But the trajectory of small-time swindler Makoto Edamura ("Edamame," when he's being denigrated) falling in with heavy-hitting con man Laurent Thierry and his assembled crew—jetsetting around the world for drug busts, art heists, plane races, and revenge on human trafficking schemes—fills in nearly every question mark in deft gestures across its 23 episodes while, by the end, still leaving a door ajar that you'll hope swings open for another season or two. Lupin fans, take note.
Lady Dynamite (2017–2018)
2 seasons, 20 episodes
Maria Bamford is a weirdo in the best ways possible. In the days before Netflix put out an avalanche of original shows, often taking chances on new or outsider talent, her singular gifts might have been relegated to minor roles and voice work. But Lady Dynamite is a fun example of what the potential of freedom Netflix can produce when given the right material and execution. Over two seasons, the comedian gives an absurdist and fictionalized version of her struggle with mental illness, jumping across time, place, and various identities in a vibrant comedy that feels genuinely fresh. Bolstered by Fred Melamed's performance as Bamford's charmingly obsequious and incompetent agent, and a rotating cast of guest stars, Lady Dynamite is a must-watch that feels more and more forgotten as the years pass.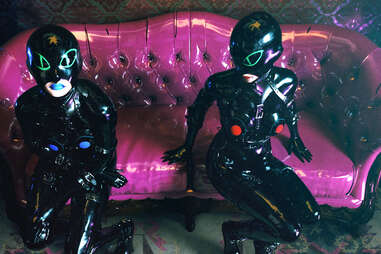 Love, Death + Robots (2019– )
2 seasons, 26 episodes
There's a certain artistry to making entertaining, effective, and imaginative short films, and Netflix's animated series Love, Death + Robots, produced by David Fincher, blends all three of those strengths with some really crazy sci-fi. The title pretty much says it all: every episode will have elements of love (read: sex—the show is very rated R), death, and/or robots, and sometimes a combination of all three. From a tourist party of androids traipsing through a post-apocalyptic Earth, to a monster fighting ring where the monsters are powered by human minds, to an ancient civilization thriving in a couple's refrigerator, to a beautiful fable about an artist in the future who only paints using one shade of blue, Love, Death + Robots is a multifaceted collection of some of the most exhilarating and inventive storytelling out there.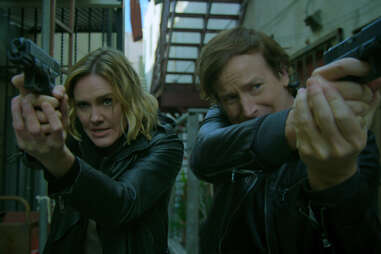 Medical Police (2020)
1 season, 10 episodes
Fans of Adult Swim's cult spoof on medical dramas Children's Hospital had been asking for a reunion since the series ended in 2016. The answer came in Medical Police, an affiliated spinoff of sorts that has Erinn Hayes' virus-obsessed Lola Spratt and Rob Hubel's surgeon Owen Maestro recruited by the government to tackle a global conspiracy that threatens to kill the world's population. More or less a spy thriller, Medical Police builds real-stakes tension without sacrificing the goofs and gags the original series was known for. Though many of the familiar faces recur as bit parts more than an essential players, most of the Children's Hospital cast is back, including Henry Winkler, Malin Akerman, Ken Marino, Lake Bell, Rob Corddry, Michael Cera, and Jon Hamm (but, sadly, no Megan Mullally as Chief), bringing together a group of people reliable for real laughs.
Netflix Presents: The Characters (2016)
1 season, 8 episodes
Eight comedians, one episode each. Such talents as Lauren Lapkus, Natasha Rothwell, and Netflix all-star Tim Robinson all get a shot to unveil their best—you guessed it!—characters in 30ish minutes. Each episode is a different flavor, making for a nice blend of surreal, dark, and simply side-splitting, contributing to its low-key cult status. There's something in here for everyone, and you'll have a good time passionately arguing with your friends about the MVP. (Spoiler alert: It's obviously John Early.) (Editor's note: No, it's definitely Robinson.) (Other editor's note: No way. It's Kate Berlant, you idiots.)
The OA (2016–2019)
2 seasons, 16 episodes
Season 1 of The OA was a wild ride, alternating between hokiness and brilliance in nearly equal measure—but it was clearly trying something, and that was what made it so bingeable. Season 2, however, is a revelation, and puts The OA in rare company of bonkers TV shows that somehow make sense on an emotional level. Created by Brit Marling and Zal Batmanglij, the filmmakers behind mind-bending thrillers like The Sound of My Voice, the show follows a young blind woman named Prairie Johnson (Marling) who returns to her sleepy hometown with her eyesight mysteriously restored after she disappeared for seven years. Things only get stranger as we ping-pong between her story in the present, where she mentors a group of rowdy teenagers, and flashbacks to her time away, which involves an underground prison run by Jason Isaacs's evil Dr. Hap. Yes, there's interpretive dancing, too. Most of this shouldn't work—and some of it doesn't—but Marling and Batmanglij attack this wonky material with so much passion and sincerity that it's hard not to get swept up in their brain-scrambling vision. Despite the rabid fanbase, Netflix ditched the show after Season 2. RIP Old Night.
Sense8 (2015–2018)
2 seasons, 24 episodes
It's an unfortunate first impression that the name of this show could also be a vanity license plate. Netflix's first big sci-fi series, from Matrix-creating legends the Wachowskis, boasted a novel idea: "Eight strangers from cities around the globe begin having experiences that defy explanation." Well, let us try our hand at an explanation: They're linked mentally and being hunted by a mysterious group that's trying to destroy them/the world. It was always an ambitious show, but tedious in pace and execution, leading Netflix to temporarily cancel the big-budget series after two seasons, though it ultimately returned with an audacious 2 1/2-hour finale to wrap everything up.
Street Food (2019– )
2 seasons, 16 episodes
While learning from esteemed celebrity chefs can give a behind-the-scenes look into the rarefied levels of the food and restaurant industry, some of the most talented, interesting cooks work on the streets serving food for everyone. Street Food, from David Gelb who made Chef's Table, offers a glimpse into the lives and craft of street food vendors, examining their dishes and the even more compelling stories behind them. The first season of the series focuses on stories around different parts of Asia, from sweets sellers in Yogyakarta, Indonesia to seafood purveyors in Cebu, Philippines, while the more recent heads to Latin America to look at everything from food markets in Bogota, Colombia to raved about tortillas in Buenos Aires, Argentina. With Street Food, you get all of that plus so much more for a joyful, genuine adventure that most people with a Netflix account could actually afford (should they ever be lucky enough to travel to these places).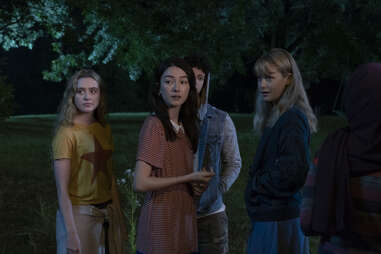 The Society (2019)
1 season, 10 episodes
The Society blends anxious social politics into modern day by introducing us to a group of high school students who suddenly and inexplicably find themselves without parents, siblings, or anyone else at all populating their small town. When a bus full of kids is whisked off to a woodsy retreat only to be brought back home a few hours later due to bad weather, the bus's cargo soon find out that no one's coming to pick them up. Everyone except them seems to have been erased from the world, and their town has been neatly cut off from outside society. It's up to a bunch of high school students to form a pseudo-government, make sure no one starts killing anyone else, and, hopefully, figure out what the hell is going on. Unfortunately, The Society fell to Netflix's COVID production purge, which sent fans spiraling in a petition to bring it back.
Sweet Home (2020– )
1 season, 10 episodes
The webtoon to TV show pipeline is strong when it comes to Korean dramas, and this horror series is Netflix's first bit of action in that game. Sweet Home, based on the horror comic of the same name, strands its core cast, including the main boy who has strange powers, in a labyrinthine apartment building while the rest of the world is mysteriously ravaged by otherworldly monsters, CGI'd in with mixed success, and humans infected with whatever the monsters carry. Beside the copious amounts of gore from hacking away at cryptid limbs, Sweet Home is a survival story at its core, dwelling in the minutiae of what it takes for an isolated group of people to stay alive despite their disagreements, and twists into an action thriller riddled with government conspiracies. Though 1.2 billion people worldwide tuned in, it still feels woefully underappreciated by US viewers.
Tuca & Bertie (2019– )
1 season, 10 episodes
The show will draw obvious comparisons to its Netflix sibling BoJack Horseman, which Tuca & Bertie creator Lisa Hanawalt produced and designed. (Additionally, BoJack creator Raphael Bob-Waksberg serves as Tuca's executive producer.) Despite subtle animation differences, the shows seem to exist in similar narrative universes; Tuca & Bertie takes its blurred line on object sentience further, introducing us to talking, walking, breast-having plant people and a cell phone that speaks when it's in danger. Like BoJack, Tuca & Bertie uses animal people to mine the depths of human vulnerability, but its efforts are focused squarely on a friendship between two millennial women, and the anxieties that surround them. Unlike BoJack, Tuca & Bertie sadly got canceled after a single season (although Adult Swim picked it up for a second season).