The Stories Behind 'Veep' Season 6's Most Damning Insults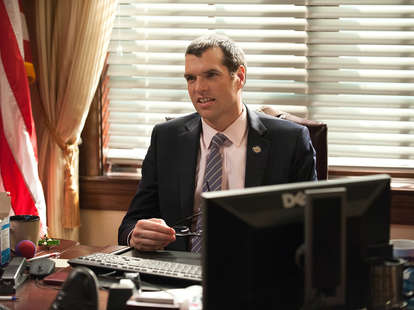 This post contains spoilers from Veep's sixth season.
As you already know, HBO's Veep reigns supreme when it comes to insults. "The show has always prided itself on foul language and horribleness," executive producer David Mandel told us after last weekend's finale. "Six years in, there's this effect of how much people love the characters, even though they are such horrible people." While we had him, we also asked the boss to look back on this season's harshest put-downs, goofiest quips, and funniest deleted lines. Read on for some of his, and our, favorites.
(Warning: NSFW clips, words, and phrases follow.)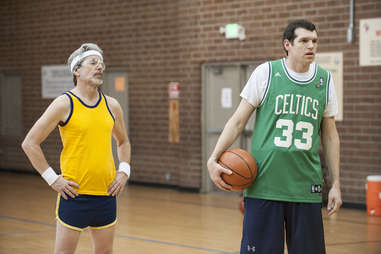 "Hey Pinocchios, your noses must've been really tiny yesterday, because you lied and now they're normal-sized!" - Jonah
Episode: Season 6, Episode 3
David Mandel: "This is a Jonah construct that we've kind of played with this season. We have to be careful that they don't get too repetitive. I always think of Biff in Back to the Future: 'Why don't you make like a tree... and get outta here?' -- screwing up the 'and leave.' In the same show, when Selina insults him and says, 'I will destroy you in ways that are so creative, they will honor me for it at the Kennedy Center,' he muffs up [his Richard diss] by saying: 'I'm gonna find ways to destroy you so hard that everybody at the Kennedy Center is going to take a fucking massive shit.' I love his inability to properly insult people. I think it's one of the more charming aspects of his character."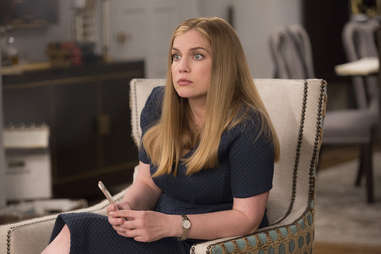 "OK, last time I checked, my political career had answered a Craigslist ad for a modeling shoot in the Angeles National Forest." - Selina
Episode:
Season 6, Episode 6
Mandel:
"It isn't specifically an insult, but it's certainly a
Veep
line. In Episode 6, when they're in Qatar, and Selina's talking to Amy about being with a Muslim guy, they're talking about her political life, and she says to Amy, 'Last time I checked, my political career had answered a Craigslist ad for a modeling shoot in the Angeles National Forest.' [
Laughs.
] It was something we put together on the set. It wasn't in the script originally. Obviously, there was, sadly and tragically, a young girl who
was lured
to the forest on a modeling job and was murdered in the Angeles National Forest. So I'm sure her family didn't necessarily enjoy the joke, but as a
reference
, I loved it. I loved putting that joke together. I loved the structure of it. It's that opportunity to, within the insult, add some relevancy to the real world.
"I want to say this one was a combo of me and Lew Morton. This was something that when it happened, I was very obsessed with it in the news -- just the notion that you would answer an ad for a modeling gig in a national forest and think you were not going to be buried in that national forest. So it bubbled up very easily."
[Responding to Jonah, who wants a new office] "And I want Rihanna to put a gun to my head while she makes me eat her out, but guess what? That's about as likely to happen as Will's wife putting a baby in her polyp festival of a uterus!" - Furlong
Episode: Season 6, Episode 6
Mandel: "This is just horrible, but I remember talking to Julia [Louis-Dreyfus] about this. It's such a specific peek into Furlong's head. It's just so wonderfully exact. That's what he wants. It's oral sex and a gun. That perhaps explains more about Roger Furlong than any line in the history of lines. Furlong's a character that all the writers love to kick in on, more than perhaps any other character in the script. Everyone is constantly trying to outdo themselves. This joke was part of a much longer piece where you kind of go, The rest of it's fine, but this is just magical. It kind of birthed itself somewhat fully formed. Meaning: It was always Rihanna."
"Do you want me to 69 him?" - Gary
Episode: Season 6, Episode 7
Mandel: "I think this was an alt submission, and it was unbelievably perfect. We did a screening -- where people come, we show an episode, and we talk about the show -- and we showed that episode. The line before that is the line where Selina says, 'This is like Black History Month. It never fuckin' ends!' The Black History Month joke got such a good laugh that it covered the 69 joke. In a way, it ruined the entire screening for me, because this audience didn't get to hear it. All I wanted to say was, 'Please make sure you watch this episode at home, because you missed a really important joke.' That's how much I like this joke. It speaks a little bit to Gary's innocence in a weird way, not knowing the difference between 'eighty-sixing' someone and 69'ing them. It's obviously a little stupid, but it walks that line. You want the characters to be dumb, but not too dumb. That's something we're always trying to watch a little bit."
"And maybe you were too busy biting James Bond's cable car wire to realize, but if we don't raise the debt ceiling, America's financial system is going to go belly-up. Like what, Will?" - Furlong
"Like my labradoodle Teddy when I cover his cock in honey and give him a sticky-licky." - Will
Episode:
Season 6, Episode 7
Mandel:
"The first part is Furlong insulting Jonah, and I love it because there are no dirty words in it at all. Which is very rare for Furlong. And yet it's such a visual image of Richard Kiel as Jaws in
Moonraker
, biting the giant cable car wires with those metal teeth. It's a very evocative image, and I think [actor Timothy Simons, who plays Jonah] was really bummed out by that one in particular [
laughs
].
"Oddly enough, what I remember most here is that at the beginning of the scene, before Jonah even comes in, they're standing there talking to an extra Congressman and there was a whole bunch of stuff about how they were missing votes. And Furlong says something along the lines of, 'I haven't seen something this dead since Will's Christmas gang bang,' and how nobody wanted to sleep with Will's wife. It was really insulting. And then Will says something along the lines of, 'No Lords a-leaping, sir.' It was a very funny, sort of horrible Christmas joke. It just had to go, unfortunately. We needed the jokes when Jonah actually came in. Having those jokes at the top almost hurt the later ones. So that's what I remember most here, the editing that made 'sticky-licky' work better."
"Shut the fuck up, you epileptic Picasso painting!" - Uncle Jeff
Episode:
Season 6, Episode 9
Mandel:
"Credit where credit's due: This came from one of our writers' assistants, Emilia Barrosse. I learned very early on, like, if catering has a good joke, I'm fine with it. I don't care where the comedy comes from. I'm very much a believer in best joke wins. Don't get me wrong, I have a large writer's ego, but I don't have an ego when it comes to, 'It has to be my joke,' which is something I've certainly encountered in Hollywood. All I care about is a great joke. We have a system of submitting alts, which I'll look through blindly during a scene. [
Ed. note: Mandel detailed that, after identifying areas in the script that need to be punched up, he sends an email to the writers and writers' assistants asking for alternate jokes.
] That was her submission, and it was just perfect.
"One of the funny things we bump into with Jonah in general is, Have we called him that, or have we used those words? Sometimes it's very easy to use variations of cock and penis and what not, so there's something about, in my mind, the notion of Cubism, because Jonah's pieces aren't exactly right -- but in real life. And then making things that much worse with 'epileptic Picasso painting'; it just seems like a truly wonderful insult. It won the day."
"I am pulling this creature from the jizz lagoon right off the New Hampshire congressional ballot and replacing him with his cousin, Ezra. Ezra has more raw political talent in the tip of his rosy-head pecker than you have in this mangled abortion coat hanger you should be ashamed to call your body. The people of New Hampshire are going to be so grateful to me I'm going to be like a disability check wrapped around a pack of no-filter cigarettes." - Uncle Jeff
Episode: Season 6, Episode 9
Mandel: "This is a good example of [our collaborative process]. One of our writers, Steve Hely, I think, threw in the no-filter cigarettes. And I maybe wrapped the check around it. That's when things are kind of perfect. Also, because New Hampshire is horrible. [Laughs.] But this is a good example of things coming together -- because no-filter cigarettes is funny by itself, but then it goes the extra mile."
"Holy shit! I can't believe you're actually showing that camel snatch you call a face in DC. You're about as welcome here as Jerry Sandusky at an open call for Oliver." - Furlong
Episode: Season 6, Episode 10
Mandel: "This is another one that wasn't in the script originally; it came off the set from the writers who were there -- I'm not 100% sure who it was. Between Frank Rich, who's one of our executive producers, and a couple of our writers who have worked on plays and musicals, we have a relatively hip Broadway-appreciating writing staff. There were some jokes earlier in the season referring to Andrew as The Music Man, but we never quite cracked those. It's always an area we're playing with. We had some alternates, like, 'You're as unwelcome here as... something.' We got to Jerry Sandusky quickly, and then we were trying to figure out where he would be very unwelcome. We kind of went through the ideas of places that you would think about. But some of the other places that we had, like a Scout Jamboree or something, seemed womp-womp. I can't explain it. Maybe Cub Scouts is too much of a joke thing. But with the specificity of an Oliver audition, all the sudden you realize you're looking at a room full of 9-year-old boys. The journey to where Jonah would be unwelcome was very fun."

This interview has been edited and condensed for clarity.

Sign up here for our daily Thrillist email and subscribe here for our YouTube channel to get your fix of the best in food/drink/fun.

Sean Fitz-Gerald is a staff writer at Thrillist Entertainment. Find him on Twitter: @srkfitzgerald.