Everything We Know About 'Veronica Mars' on Hulu
It's been more than 15 years since series creator Rob Thomas gave a generation of precocious, smart-mouthed teens a new kind of hero in Veronica Mars. Armed with her trusty bag of essentials and an even trustier stun gun, the titular private investigator that made Kristen Bell a household name spent the early 2000s solving crimes all over the affluent town of Neptune, California. What could have been a frothy show about a spunky teen and her hot friends became a show that taught young women everywhere what it looks like to be a force to be reckoned with.
The show's three seasons, which included a network change when UPN gave way to the CW, wrapped on a bit of an unsatisfying note because Thomas didn't expect Season 3 to be the final season. And while a record-breaking crowdfunding campaign earned fans the chance to see Veronica and her friends back in action in a 2014 film, many have stayed hungry for more.
Hulu is the latest network to step in, probably taking note of the obscene amount of money fans raised for the movie, bringing a revival of the series in July to the streaming service. Here's everything we know so far about the upcoming season:
When is the 'Veronica Mars' revival's release date?
While rumors of a revival started back in August 2018, the official announcement came by way of a video Bell posted on her Instagram in November. The video confirmed that eight brand-new, one-hour episodes of Veronica Mars will drop on July 26, 2019.
Is this a reboot, a sequel, a spinoff, or what?
The new episodes are a revival, giving fans the long-awaited Season 4 of Veronica Mars after more than a decade off television. It will take place after the events of Season 3, and the subsequent movie, and follow a brand new storyline.
Who is returning from the original cast?
Most of the main cast has agreed to return including Bell (of course), Jason Dohring (who played Logan), Enrico Colantoni (Keith), Percy Daggs III (Wallace), Daran Norris (Cliff McCormack), and David Starzyk (Richard Casablancas). A noticeable holdout for the new series will be Tina Majorino, who played Veronica's tech-savvy friend Mac.
"We would have loved to have Tina Majorino," Thomas revealed at ATX Television Festival this year. "She had other commitments. That was a shame. We adore her. We would have loved to have had her in it."
The loss of one Veronica Mars heavyweight is counterbalanced by a slew of returning minor characters. Thomas teased at ATX that a ton of key people will fit into the story in some form or another, including Adam Rose, who played Mac's ex, Max; Julie Gonzalo, who played Logan's ex, Parker; James Jordan, who played the murderous T.A., Tim Foyle; and Ryan Devlin, who played the college campus serial rapist, Mercer.
Is anyone new joining the cast?
In addition to a slew of returning cast members, Patton Oswalt, J.K. Simmons, Kirby Howell-Baptiste, Izabela Vidovic, Clifton Collins, Jr., and Dawnn Lewis will enter the fold as new characters worth getting excited about.
What is the 'Veronica Mars' revival about?
Great question. While Veronica Mars previously relied on a case-of-the-week formula through the end of Season 3, the revival will go in a different, significantly darker direction, with Rob Thomas teasing one long serialized season arc.
The official plot synopsis for the new season (per TheWrap) reads: "Spring breakers are getting murdered in Neptune, thereby decimating the seaside town's lifeblood tourist industry. After Mars Investigations is hired by the parents of one of the victims to find their son's killer, Veronica is drawn into an epic eight-episode mystery that pits the enclave's wealthy elites, who would rather put an end to the month-long bacchanalia, against a working class that relies on the cash influx that comes with being the West Coast's answer to Daytona Beach."
Thomas told Entertainment Weekly at ATX that the show will also deal with Veronica's internal struggle about her own future.
"Traditionally there are a lot of stories about men coming to this crossroads in their life where the idea of, OK, commitment, family, mortgage, kids is one direction and freedom, irresponsibility, 'do whatever I want' is the other direction. I was interested in putting Veronica at that crossroads. A big part of the story has to do with what kind of life Veronica wants to live."
In addition, he previously tweeted that the overall tone of the revival will lean more heavily on the present crime drama rather than dwelling on the past.
"I will say this: the movie was nostalgic. The Hulu limited series isn't going to be. Hardcore So-Cal noir. One big case. Eight episodes to tell the story. This is a detective show," he wrote.
This is in keeping with comments Bell made on SiriusXM's Entertainment Weekly Radio show, in which she implied the eight episodes are much different in tone than Marshmallows are used to.
"It's gonna be a much darker world, it's going to be a bigger world, it's definitely not what we did on UPN or the CW, so I want to brace fans for that, that it's going to be darker and bigger and more cinematic, a little bit different," she said.
To summarize: There will be bombs, Spring Break, a darker tone, limited nostalgia, internal struggles about Veronica's future and hopefully more of her "epic" love story with Logan.
Is there a trailer for Season 4?
There are four!
The first trailer came as an announcement of the July 26 premiere date. It shows Veronica sitting at her desk at Mars Investigations going over what Spring Break in Neptune means while packing a bevy of items (including what appears to be a pistol) into her bag. It ends with her lighting up her trademark stun gun and informing fans she's "good to go."
The second (above) is much heavier on detail, giving fans their first look at the revival and some fan-favorite characters back in action, including Logan doing what he does best: surfing and punching. A third trailer teases J.K. Simmons as the new big-bad in Neptune, and the fourth is really just a recap of the three seasons that came before to help those that may need a refresher. Speaking of which…
Where can I stream Seasons 1-3 to catch up?
That third trailer revealed that all three seasons of Veronica Mars will be available for streaming on Hulu July 1. That gives fans a little less than a month to binge watch everything before the new episodes drop.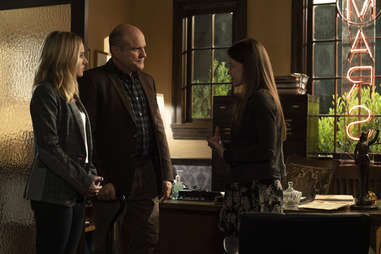 Wasn't there a 'Veronica Mars' movie too?
Correct! Thomas didn't write a proper finale for the show in the hopes of getting some kind of revival or movie off the ground in the ensuing years. However, the studios weren't biting. So, he took to Kickstarter to see if enough fans would rally to fund the movie that he'd been wanting to make for the better part of a decade.
"I had seen a friend of mine raise $10,000 to fund an album he was making and I started wondering what would happen if we tried to raise a couple of million dollars to fund the Veronica Mars movie. At the time the largest Kickstarter project ever was $900,000 and my fear was that $2 million was a ridiculous amount of money to ask for," he told CNBC.
Not only did the Veronica Mars movie hit its $2 million goal, but it shot past it to $5.7 million, all on the generous dime of Marshmallows, shattering the previous record. In addition to all three seasons making their way to Hulu in July, the 2014 movie, which explains where the characters will be when we pick them up again in 2019, will drop as well.
How can I watch?
All you need is a subscription to Hulu and the episodes should become available to you on July 26. According to The Hollywood Reporter, all eight episodes will drop at once, so it may be best not to make any plans for that weekend, but no one is here to tell you how to live your life.
Hulu typically drops new releases at 3:00 a.m. ET, 12:00 a.m. PT. However, this isn't something the streaming service guarantees its customers; it's simply what it typically shoots for with new releases like The Handmaid's Tale and The Act.
Happy bingeing, Marshmallows!