Was 2007 the Last Great Year for Original Video Games?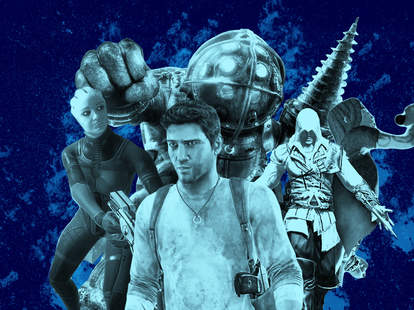 Bioware/Sony/Ubisoft/Harmonix/Irrational Games (Edited)
Welcome to Partial Recall: 2007, a week of stories dedicated to trying to remember what life was like a decade ago.
On the morning of Tuesday, November 20th, 2007, a few million gamers traipsed wearily into their local shopping malls. Autumn had already been tough on the bank balances of avid gamers, and that week was particularly grueling: pre-orders were rolling in for Mass Effect and Uncharted: Drake's Fortune, a soon-to-be best-selling bounty, as well as the coveted special-edition Rock Band bundle, a small fortune at $169.99. Other titles newly in stores? The instant classics Assassin's Creed, Call of Duty: Modern Warfare, Portal, The Witcher, and Bioshock.
A torrent of triple-A offerings being released in such a small window of time isn't exactly strange; the video-game industry loves to overwhelm holiday shoppers. This year, for example, has brought us sequels on top of sequels, including Rock Band 4, Fallout 4, Tony Hawk's Pro Skater 5, Halo 5, Metal Gear Solid V, Black Ops III, the 13th Call of Duty outing, Assassin's Creed Syndicate, a new Guitar Hero, a new Witcher, and a new Need for Speed. But 2007 wasn't just another prestige-title dump. It was a deluge of ingenuity and innovation.
Nintendo
Why originality counts in gaming
Brian De Palma once said that Hollywood only makes the movies it can't get out of making. A similar sentiment governs the gaming industry -- where unfamiliar intellectual properties are a risk. While a new video game might cost tens of millions of dollars to produce, each successive installment in a popular franchise offers the developer certain cost-saving advantages. The game's basic architecture has already been built, for one thing, and a franchise's ninth or 10th iteration is likely to sell well. Why gamble on something as comparatively precarious as a new idea?
Well, more money. It takes a lot to exhaust an intellectual property. Even mildly successful mediocrities tend to yield at least one follow-up (e.g., the unlikely successors to Shellshock and Kane and Lynch), while bona-fide hits -- the Mega Mans and Final Fantasys and Legend of Zeldas -- endure well past the point of presumed obsolescence. In the gaming world, the term "sequel" is something of a misnomer. Sequels generally prolong a story or continue along a theme; a game franchise, by contrast, is defined less by its style of play or mechanical framework. (Think of it this way: you don't buy a new Mario Bros. because you're engrossed in the saga of a mustachioed plumber.) Churning out "more" and "different" can satisfy the audience's desire to find out what else the property can do. But every so often, to keep ensuring more money coming into the pipeline on a long-term basis, a gaming studio needs to replenish. Which brings us back to 2007.
Ubisoft
Why the time was right
Sony's PlayStation 3 had been released the previous fall, and Microsoft's Xbox 360 the fall before that; both were graduating from the early adoption stage to ubiquity, and both were in desperate need of distinguishing exclusives. The 2006 holiday season had been dire: such illustrious titles as Blazing Angels: Squadrons of WWII and Rapala Tournament Fishing rounded out the November originals, alongside badly received franchise sequels Tony Hawk's Project 8 and Call of Duty 3. Microsoft's Gears of War was the year's only major new intellectual property, and when the Xbox 360 title emerged as one of 2006's top-selling and best-reviewed games, the industry could feel that gamers were hungry for something new.
And they delivered. On the whole, the titles released in 2007 offered gameplay that was unprecedented: Assassin's Creed's wall-climbing, roof-hopping acrobatics reinvigorated the long-stale exploration of open worlds; Mass Effect brought an unheard-of degree of choice and consequence to a sci-fi drama of galactic scale; and Bioshock proved that the aesthetic of an action game could be as sophisticated as any mechanical innovations. Even Call of Duty: Modern Warfare, though technically Call of Duty 4, totally reinvented its own franchise, and in so doing radically changed the first-person shooter by bringing the velocity of 21st-century combat home. These sound formulaic today, but in 2007, the ideas were unlike anything else. They pushed the art form forward. It was an undeniable risk.
?Techland/Warner Bros. Interactive Entertainment
Why studios are taking fewer chances now
Today, risks happen on a smaller scale. Mold-breaking games are crafted by lone developers in their bedrooms, rather than labored over by a team of hundreds. Even original intellectual properties tend to feel safe. Earlier this year, Warner Bros. found success with Dying Light, a zombie parkour adventure that plays as much like an amalgam of geeky trends as it sounds. Otherwise, it was a year of more of the same. There's a new Batman, a new Star Wars, a new Mortal Kombat, a new Halo, and a new Battlefield -- all functional, all extensions of an aging risk. The shelves look like they did in 2007.
The only truly extraordinary intellectual property released this year is Bloodborne. Developed by FromSoftware and released to PlayStation 4 by Sony Computer Entertainment, the project's developer, Hidetaka Miyazaki, is something of an auteur in the gaming world. Revered fans of Miyazaki's cult role-playing game Demon's Souls helped Bloodborne sell 2 million copies in its first six months on the market, numbers that "exceeded expectations," according to Sony. It holds a 92% on Metacritic, making it the second-highest-rated game of the year. The risk of an untested property paid off in critical and commercial spaces. The lesson ought to be that gambling pays off. Instead, early reports say Sony is actively working on Bloodborne 2.
Sign up here for our daily Thrillist email, and get your fix of the best in food/drink/fun.
Calum Marsh is a critic and essayist whose writings have appeared in the Guardian, the New Yorker, and the New Republic. He tweets badly about the world of arts and letters: @calummarsh.