Everything We Know About The Rock and Vin Diesel's Furious Feud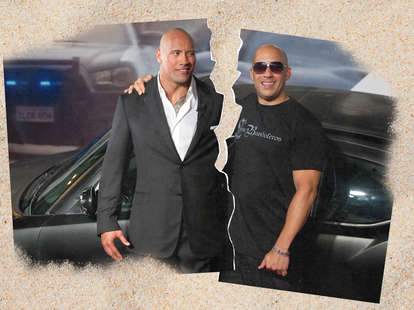 Buda Mendes/STF/Getty Images
After 10 years and four increasingly maligned movies, nobody expected the fifth installment of the Fast and the Furious franchise to breathe new life into what seemed like a played-out concept. In fact, Fast Five not only kicked off one of the great comeback stories in film franchise history, but also spurred career renaissances for two of its stars: series mainstay Vin Diesel and Furious newcomer Dwayne "The Rock" Johnson.
In the two years separating 2011's surprise smash and its uniquely anticipated follow-up Fast & Furious 6, Johnson and Diesel overcame a common history of mundane action-thrillers and embarrassing family-friendly outings, using (respectively) old-school chutzpah and a special breed of internet-friendly hijinks to win back public favor. Here and now, it's difficult to even remember a time when these guys weren't affable blue-chip movie stars.
That may be why it guts fans so deeply that they may not love each other, with rumors of a feud overshadowing (and boosting anticipation for) the improbable, yet inevitable, EIGHTH Furious movie, which comes out April 14. Here's what we know about the supposed animosity between the Fate of the Furious co-stars.
Dwayne Johnson's cryptic Instagram post started the rumors
The suspicion that Diesel and Johnson might not be on the best terms was first aroused in August 2016. Closing in on the end of production on their fourth shared outing, The Fate of the Furious, frequent 'Grammer Johnson hit social media with a few words of appreciation for his time on set… and, more surprisingly, some choice criticisms of co-star(s) who, to this day, have yet to be explicitly named.
Quicker than a NOS-boosted Dodge Charger, people jumped to the conclusion that Johnson was referring specifically to Diesel. From there, anonymous reports sprung from the woodwork alleging Diesel showed up late to set and was inconsiderate of his colleagues' time. So shamelessly titillating was this fixation that a decidedly more diplomatic Instagram post published by Johnson two days later did little to douse the flames.
Diesel fans the flames
In fact, the fire only spread from here, catching brush when Diesel posted an even vaguer, yet significantly more ominous, video of his own.
Despite the fact that Diesel never made good on the promise to share his own helping of gossip -- or perhaps because he never did -- the intrigue continued to develop. In fairness, Diesel's exact words were, "Just give me a second, and I will tell you everything. [dramatically lower voice] EVERYTHING."
In the absence of Diesel's telling the world "everything," fans and the media went scrounging for third-party accounts to fill in this story's plentiful gaps... to no avail.
The Furious co-stars haven't offered up much intel
In a since-deleted Instagram post, Tyrese Gibson bounded between lightly chiding the ambiguity of Johnson's initial message and defending his friendship with the actor, all before publishing a second message showcasing his affection for longtime co-star Vin; Scott Eastwood painted disparate pictures of his time in production on Fate, claiming in an Esquire interview that his co-stars spent most of their time in their trailers, and in a later conversation with People that the set was lousy with cast parties and cookouts; Jason Statham just wanted to mind his own business.
Amid all this non-clamor, The Rock threw another log on the blaze, capping off his time filming Fate of the Furious with a gregarious thank-you to director F. Gary Gray and co-stars Gibson, Eastwood, and Nathalie Emmanuel. While Diesel's was hardly the only name absent from the post, it was certainly the one whose omission earned the most notice.
On the very same day, Diesel broached the topic in a Facebook Live video: a 30-minute stream-of-consciousness broadcast devoted primarily to thanking his 100,000,000 Facebook fans (a number that earned him an official award from Mark Zuckerberg, which he showed off on camera) for their loyalty.
Somewhat provocative was one remark Diesel dropped midway through the video, with a slight chuckle: "Loyalty is not the most common word out here in Hollywood. Sometimes you wonder if it even exists." He went on to acknowledge Johnson outright, and in an amiable manner, citing The Rock's admission into the Fast and the Furious franchise as a direct result of fan fervor; he said the same of later inductee Statham and Helen Mirren, who makes her first series appearance in Fate of the Furious.
Things died down, then The Rock kicked them up
Three months passed without word on the matter from either actor or any of their castmates. It wouldn't be until around Thanksgiving that Johnson, during promotions for his Disney film Moana, was prompted to double down on his initial declaration.
"I was very clear with what I said," he told the Los Angeles Times on November 19. "Would Universal have preferred that didn't happen? Sure, we talked about it. The irony is after that and as they do their tracking and all their analysis, the interest shot through the roof to a whole other level."
This wouldn't be the first or last acknowledgement of the innate connective tissue between the feud and public interest in The Fate of the Furious. Some fans and publications diagnosed the whole ordeal as a publicity stunt -- something in the vein of Andy Kaufman's fabricated rivalry with professional wrestler Jerry "The King" Lawler in the early '80s -- all in the interest of selling tickets to the eighth Fast outing.
The two stars have avoided each other during promotional tours
Seven months into the still-unconfirmed feud, the most recent interactions between Johnson and Diesel (or lack thereof) show little sign that they've buried the hatchet neither one wants to admit he's wielding. Johnson's absence from Fate of the Furious' preview at the Las Vegas-based film and movie theater industry trade show CinemaCon on March 29 registered as suspicious to those who've been keeping up with the rumors, especially given the fact that Johnson was on hand at the convention for his other imminent releases, a Baywatch film adaptation and a Jumanji installment.
One final nail in the coffin: the film's official premiere in New York City. Though present for the event's auxiliary red carpet, The Rock kept clear of the public -- and, as it seemed, from Vin Diesel -- all the way through the afterparty at Manhattan Cruise Terminal.
Meanwhile, Diesel could be seen schmoozing with the rest of his co-stars up until the night's end. He led the show with a pre-movie speech, offering the traditional round of thank-yous for his fellow cast members: "Can I hear it for the family I keep off-screen?" he said, going on to name-check a few of those, "Michelle Rodriguez, Tyrese, Ludacris," before switching gears.
When Diesel's speech finally did get around to Johnson, it was only en route to a verbal tribute to Paul Walker, whom the actor regularly calls his brother Pablo: "We have a lot of great talent in this movie, but there would be no Dwayne Johnson, who we love, there would be no Jason Statham, who we love, there would be no Charlize, who we love, there would be no Scott Eastwood, who we love, there would be no Kurt Russell, who we love, if it wasn't for the decades of work that my brother Pablo put into this franchise."
Where does the feud stand now?
This enmity may be nothing but the vivid imaginations of people who watch too many movies. Just days before the Fate of the Furious premiere, Diesel had nothing but kind things to say about Johnson to USA Today: "I don't think the world really realizes how close we are, in a weird way," he said. "I think some things may be blown out of proportion. I don't think that was his intention. I know he appreciates how much I work this franchise. In my house, he's Uncle Dwayne."
Stimulating though gossip like this may be, most people probably prefer to believe that The Rock does maintain the position of "Uncle Dwayne" at the Diesel household. After all, if the People's Champion and everyone's favorite half-drow can't find a way to stick together, then what chance do the rest of us have?
Update: The beef has been "squashed"!
That's according to TMZ's super-reliable anonymous sources, who say Diesel and The Rock are both totally in for the next Fast installment. Keep that in mind the next time you think there's no hope for this world.
Sign up here for our daily Thrillist email, and get your fix of the best in food/drink/fun.
Michael Arbeiter is a writer currently unencumbered by public feuds. Follow him @micarbeiter.