You have to understand: Vin Diesel is a huge nerd. He loves fantasy. He loves sweeping epics. He loves month-long Dungeons & Dragons campaigns where he traverses the invisible plains as a killer half-drow (look it up). That geekery comes out full force in movies like Riddick and The Last Witch Hunter, but it's the NOS fueling the engines of the brotastic Fast & Furious series, too.
Which is why, when Diesel takes to Instagram to announce his grandiose plans for the franchise, he refers to F&F as his "saga."
Nerd.
On a break from xXx 3: The Return of Xander Cage -- the man loves his sequels -- Diesel took to Instagram to break news that Fast would return for not only for its eighth installment, but a full trilogy, taking the high-octane series all the way to number 10: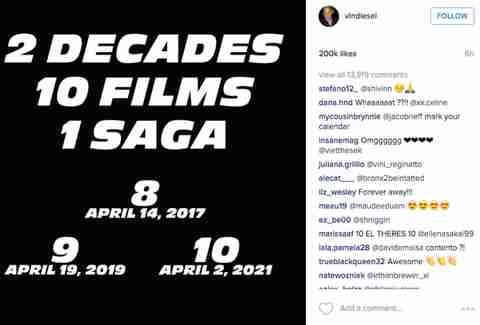 "As most of you know, I like to stay in character for the most part when given the opportunity to make magic," Diesel wrote in a separate, topless Instagram post. "However, it was Toretto Tuesday and the studio gave me big news to share..."
Current reports suggest Fast 8 will take place in New York City and Iceland. As Diesel's mentioned in many speeches since the release of Furious 7, every minute he films as ol' Dominic Toretto is in honor of his friend Paul Walker. During a panel at Las Vegas' CinemaCon in April, Diesel revealed his plans for the Fast 8, exclaiming to a crowd, "I swear to you and to my brother upstairs [Walker], we are going to make the best movie you've ever seen."
Diesel was not always a Fast hype-man. After the success of 2001's Fast & Furious declined an appearance in 2 Fast 2 Furious, pursuing his James Bond riff xXx instead. The bug bit him again after filming a post-credits cameo in Fast & Furious: Tokyo Drift. Lured back in, and with a love for D&D adventuring in his back pocket, he evolved the street-racing trilogy into the men-on-a-mission series we know today. For all the engine-revving, uppercut-throwing, Corona-guzzling of Fast, Diesel is really just Hollywood's action movie Dungeon Master.
Remember that the next time you see a 12-year-old kid rolling d20s and shouting "aura of vitality!" He or she is the next great blockbuster mastermind.
Sign up here for our daily Thrillist email, and get your fix of the best in food/drink/fun.
Matt Patches is Thrillist's Entertainment Editor. He previously wrote for Grantland, Esquire.com, Vulture, The Hollywood Reporter, and The Guardian. He rides or dies. Find him on Twitter @misterpatches.