Martin Scorsese's 'Vinyl' Is the Most Coked-Up Show Ever
HBO
HBO
Unless you've spent the past few months actively avoiding news about what Bobby Cannavale's up to next -- and if so, what is wrong with you? -- you've likely seen or heard something about Vinyl. Well, the HBO drama premieres this Sunday night and it's going to be a huge freaking deal. To prepare you for the onslaught of buzz, here's everything you need to know about the drug-and-nostalgia-fueled musical epic.

Why should I care?
For one thing, it stars Bobby Cannavale. But the 10-episode drama is co-created by Martin Scorsese, who also directed the two-hour pilot. Boardwalk Empire's Terence Winter and some dude named Mick Jagger are also co-creators and executive producers on the project, and, in addition to Boardwalk alum Cannavale, the series stars Olivia Wilde, Ray Romano, Juno Temple, and Mick's son James Jagger.

What is it about?
Set primarily in 1973, Vinyl centers on Richie Finestra (that Cannavale guy), the founder of a struggling New York City record label just as the punk, disco, and hip-hop scenes are preparing to rise up and worry a whole new generation of parents about their kids' deplorable music choices. The show hooks us in with a mystery: why is the formerly recovering Richie suddenly railing eight balls in his green Mercedes while clutching the business card of a homicide detective?
In true Scorsese fashion, drugs, violence, and domestic issues -- particularly Richie's crumbling marriage to former Warhol Factory Girl Devon (Olivia Wilde) -- complicate business matters over the course of the series (or at least the five episodes provided to critics), while our hero attempts to re-invent his flagging label by searching out a game-changing new '70s sound.

So there's lots of cocaine in it?
Oh, yeah; I may have even gotten a contact high just from watching Vinyl. It doesn't help that the camera keeps pulling an OH-FUCK-superspeed-zoom onto Richie's ecstatic, bloodshot face every time he rails a line. Despite the show's assertion that addiction is crippling Richie's personal life and career, the camera simply loves the stuff; at one point, the shot cuts from a pile of blow to icing sugar gently being dusted over a pile of pancakes. Overall, it feels as much like a "coke rules!" story as it does a cautionary tale -- so, yeah, shades of The Wolf of Wall Street.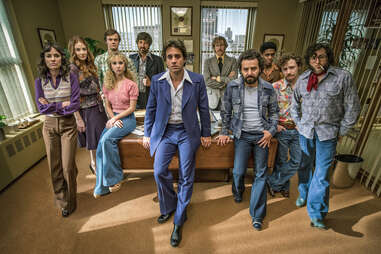 What else does it feel like?
Vinyl is unmistakably a Scorsese production, and it has his recognizable fingerprints all over it: the tracking shots, the voiceovers, the gritty New York street scenes, the flashbacks, the tortured antihero with mob ties, and the wiseguy-style man-banter -- plus, enough violence and drug abuse to make Henry Hill proud.
Boardwalk Empire fans, too, will recognize some familiar holdovers (and hangovers) from the world of Nucky Thompson: the pilot's flashback structure is similar to that of Boardwalk's first episode, and the episodes share that show's deliberate pacing and frequent run-ins with real historical figures, this time with famous musical acts: Led Zeppelin, the New York Dolls, the Velvet Underground, and others.
While Scorsese and Winter are indisputable pros, the show doesn't exactly feel radical or new. I felt some prestige TV ennui, too: yet another show that feels like a pastiche of many dramas that came before it.

Will it scratch your Mad Men itch?
The characters on Vinyl aren't as well drawn as the gang on Matthew Weiner's AMC period piece -- yet. But Mad Men did come to mind as I watched Vinyl, both with the internecine office politics at American Century, and in the suburban war of attrition taking place between Richie and his wife. (The spirit of Betty Draper looms large over his unhappy household.)
Like Mad Men, Vinyl is a staunchly faithful reconstruction of the era in which it takes place -- notably the wide lapels, funky interior decor, and shagtastic '70s hair that populates the show. But where Matthew Weiner showed the dark underbelly beneath the slick facade, Vinyl is so enamored by the period that even its darkest tendencies can't quite escape the show's adoring, rose-colored light.
How's the music?
In the pilot episode, Richie finds himself in the crowd at a New York Dolls concert at the Mercer Arts Center: real band, real place. There, amidst the sweaty, undulating bodies, he finds nirvana; his eyes roll back in his head, his jaw grinds, his head bangs to the beat. We're witnessing our protagonist being born anew, thanks to the sonic power of rock 'n' roll.
This, we're told, is what it's all about, and the creators clearly want to simulate this getting-lost-in-the-music magic for the audience throughout the series. Sometimes it works, and Scorsese and company manage to tap into the feeling of a dynamic era where every dive bar and trash-strewn street corner was pregnant with musical possibility.
The two primary fictional musical characters -- the raw, proto-punk "Nasty Bits" frontman Kip Stevens (Jagger) and soulful blues guitarist/former Richie protégé Lester Grimes (Ato Essandoh) -- both have great original musical moments. But their scenes don't always land, and it sometimes feels like we're watching a pale imitation when we could just dust off one of Scorsese's old concert docs and check out the real deal.

Which real-life musicians turn up?
Vinyl flies its '70s music fanboy flag freely, peppering the show with depictions of real-life acts that will either thrill music nerds or make them cringe because of how on the nose they are. In the first few episodes, the show trots out actors pretending to be Alice Cooper, Lou Reed, Andy Warhol, Robert Goulet, Robert Plant, Karen Carpenter, Bo Diddley, and others, with the likes of David Bowie and Elvis Presley scheduled to appear down the line.
While some of these feel like SNL sketches (a cartoonish Robert Plant), others lead to fun bits of character development, such as an emotionally wrenching scene where a hard-up Devon tries to get Warhol to sign a silkscreen of her so she can sell it.
Is the acting good?
Bobby Cannavale carries the show as Richie, and portrays him as a swaggering, vulnerable, romantic, cocksure, charismatic, brawling, grunting, inhaling, self-destructive Italian-American antihero who seems to have been lab-engineered with the sole purpose of starring in a Scorsese project.
The supporting actors put in fine work, too, although they generally have weaker material to play with. Olivia Wilde's character feels like a retread of a million other put-upon-wife archetypes, and to be sure, many of the female characters on the show feel underwritten. Juno Temple provides a pop of energy as young secretary/office drug dealer Jamie Vine, who sees promise in a young punk band. As "Nasty Bits" frontman Kip Stevens, James Jagger shares his father's swagger.
Two other standout performances: Andrew Dice Clay portrays a sleazy radio owner Buck Rogers exactly the way you'd expect Andrew Dice Clay to portray a sleazy radio owner, while Ray Romano plays against type as Richie's colleague and confidant Zak Yankovich.

So, should you bother?
If you like Boardwalk Empire, or Scorsese movies, or the music of the 1970s, or Mean Streets-era New York, or all things Bobby Cannavale, and are willing to invest many hours in a gorgeously scored, artfully crafted drama that takes effort to get invested in, then Vinyl is just the strain of Peruvian dancing dust to help you march toward TV nirvana. But if you know these things aren't your bag, we'd suggest staying far away.
Sign up here for our daily Thrillist email, and get your fix of the best in food/drink/fun.
Anna Silman is a staff writer at Thrillist and an alum of Salon and Vulture. Find her on Twitter: @annaesilman.