All of the Concerts You Can Watch From Home Right Now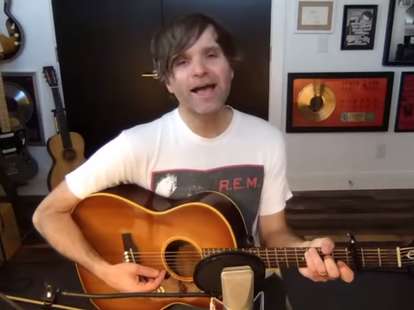 Ben Gibbard of Death Cab for Cutie

| YouTube
Ben Gibbard of Death Cab for Cutie

| YouTube
Just like the movie industry, the music business has also been fundamentally altered by the developing coronavirus pandemic. With large gatherings suspended and festivals like SXSW shut down, live shows have essentially been canceled across the world. But many musicians are making the best of an admittedly terrible situation. Artists have started livestreaming gigs from empty venues or the privacy of their own homes. Some are staging full-fledged concerts. Others are doing acoustic sets. And if there's a silver lining in all of this, it's the experience of getting unprecedented access to your favorite music with very little façade. It's just you, them, and the songs.
Ben Gibbard from Death Cab for Cutie
Nearly every day this week, the Death Cab for Cutie frontman has been doing live acoustic sets from the comfort of his home. Gibbard has been taking audience requests from social media, playing selections from his various projects, including The Postal Service, and doing covers. Tuesday evening, he sang Radiohead's "Fake Plastic Trees," introducing it by deeming Thom Yorke "Thomas Aquinas Yorke." (He's also been freaking out his audience by routinely coughing, and eventually explained that he came down with an illness in late February that he's still getting over.) On Wednesday, Gibbard encouraged fans to donate to the Aurora Commons in his hometown of Seattle. Anyway, chances are you're feeling a little melancholy right now, and Death Cab is the most melancholy music of all. -- Esther Zuckerman
Charli XCX's "Self Isolating" Live Series
Artists aren't just sharing their musical talents; some like British alt-pop star Charli XCX have launched their own creative live talk shows. She's going on Instagram just about every day at various times, joined by her frequent collaborators and friends for existential chit-chatting and some "structured" sessions. She's already gone live with French artist Christine and the Queens, and down the pipeline, she'll be doing personal fitness training with "the ultimate workout bro" Diplo, coloring with bedroom pop singer-songwriter Clairo, and more. Charli's a bundle of high energy and joy, and her series is a bright spot in this bleak times. Plus, if you still haven't had enough XCX, she's posting daily diaries detailing her days at home. -- Sadie Bell
Dashboard Confessional

Hands down, this is the best livestream you will ever remember. You'll always remember the sound of your laptop watching Dashboard Confessional do a live set on Facebook March 31. And if you get where I was going with those sentences then you'll be surely tuning in to see Chris Carrabba do his thing. -- EZ
Dropkick Murphys
Do you feel like you missed out on St. Patrick's Day festivities because you were cooped up inside? Well, never fear because the Dropkick Murphys livestreamed their annual concert and called it "Streaming Up from Boston." It's never too late to grab a pint of Guinness (or whatever alcohol you have on-hand at home), put on some green, and stomp around to Celtic rock. -- EZ

Fat Tony
"These days it feels like we're living in purgatory, unsure of what will happen next, or if things will get better or worse first," wrote Houston rapper Fat Tony on Instagram earlier this week. "The one thing I know is that we all gotta stay our ass at home." To help you do just that -- and to raise funds for the Houston Food Bank -- Tony will be playing an "extremely free" concert from the Brooklyn venue Purgatory, likely showcasing songs from his latest record Wake Up, which you stream now on Bandcamp in preparation for the show. -- Dan Jackson
Global Citizen's Together, at Home
The advocacy organization Global Citizen is putting together a handful of streams throughout the week with their initiative Together, at Home. So far, they've pulled some pretty big names, like Chris Martin of Coldplay and his chill piano musings and John Legend, who offered his typical smooth sounds while Chrissy Teigen drank wine atop his piano. All archived streams are available on Global Citizen's Instagram TV. Next up, they have former One Directioner/pop crooner Niall Horan at 4pm ET and rapper Common at 5:30pm ET. Expect more Together, at Home shows to be announced in the coming days as Global Citizen continues to announce them on their Instagram stories. -- SB
Indigo Girls
Looking to get your Lilith Fair vibes on from the privacy of your own home? Tune into the Indigo Girls' stream March 19 at 6pm. The duo will be performing a "low key, home grown" set and also doing a Q&A. It will last for 75 minutes, and will hopefully involve many many people belting "Closer to Fine" from the privacy of their homes just like, ahem, some of us did all throughout college. The Indigo Girls also have a new album, Look Long, coming out in May, so they will likely play some new ones too. -- EZ
Jimmy Eat World
Ben Gibbard's sets not emo enough for you? Jim Adkins of Jimmy Eat World is here for you. And, yes, during his March 20 stream, he did play "The Middle." And, while, sure, it was acoustic, it was still very possible to jump around your apartment to the pop-punk hit. Adkins promised to do similar performances "off and on" throughout the days of self quarantine, and encouraged listeners to donate to Music Cares. -- EZ
Jojo and Billboard Live at Home
Sometimes a good bedroom dance party is all you need. R&B hitmaker Jojo has been going live throughout the week with a capella sessions and dance how-tos, but she'll launch Billboard's new Facebook series, Billboard Live at Home, on March 19 at 1pm ET where you can expect her to be singing bops on bops. She recently posted a TikTok of herself singing a joke track that she's dubbed "Chill (Stay In)" (Get it? Like her hit "Leave (Get Out)") in which she calls COVID-19 "a nasty bitch" and encourages her fans to stay indoors -- so that might just make an appearance on the stream later.
Aside from Jojo, country star Luke Bryan and Josh Groban will also be upcoming guests on the Billboard series later this week. -- SB
Keith Urban
The Australian country singer did a show in his basement for a live audience of seemingly one: His wife Nicole Kidman, who can be heard intermittently cheering. At times during the stream, Kidman takes a more active role as concertgoer, dancing alongside Urban as he plays. Urban does acknowledge the weirdness of it all. "It's like Wayne's World," he remarks. If you love Urban's music, it's a must watch. If you just want a glimpse at the bizarre life of a major celebrity couple, it's also a must watch. -- EZ
Low Cut Connie
The Philadelphia-based band, that's one of Barack Obama's favorites, is doing a series of three concerts on March 19, March 21, and March 23. They are asking people to donate to Philly foodbank Philabundance in lieu of paying for the tunes. -- EZ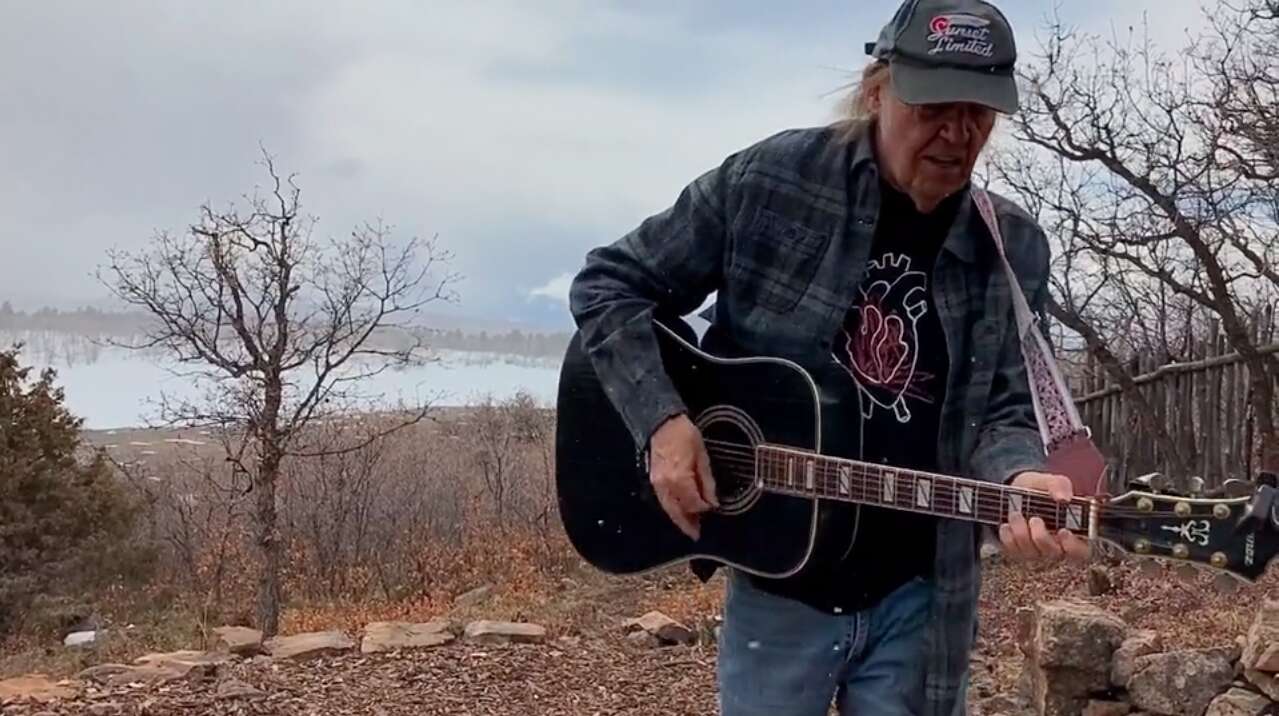 Neil Young's Fireside Sessions
With all the tours getting cancelled, folk-rock legend Neil Young announced that he would be streaming a series of "Fireside Sessions" from his website. The first stream, which was co-directed by Young's wife Daryl Hannah and "Bernard Shakey" (a pseudonym Young has used for film projects he worked on in the past), features renditions of rarely played Young tracks like "Little Wing," "Love Art Blues," and "Vampire Days," along with classics like "Tell Me Why." The set also functions as a tour of Young's Colorado property, which looks pretty scenic if you've been cooped up inside all day. -- DJ
Miley Cyrus' Bright Minded series
Miley Cyrus also launched her own makeshift talkshow, Bright Minded. Hers takes on a wellness and mental health leaning to try to keep fans zen as possible right now. She's doing everything from chatting with psychiatrists and doing pilates workouts to checking in with her famous friends like Amy Schumer and Demi Lovato. Bright Minded airs Monday through Friday at 2:30 ET on Instagram, and if you need help taking a deep breath, you really should tune in. Miley's taking this pretty seriously: She even had a Bright Minded talkshow host mug made. -- SB
Waxahatchee and Kevin Morby
Indie singer-songwriter Waxahatchee (AKA Katie Crutchfield) is of one of the many artists who was forced to postpone her spring tour that was meant to support her upcoming record Saint Cloud (out March 27). Since it'll be awhile until she'll be able to get back on stage, the singer is going live on Instagram with her longtime partner, songwriter Kevin Morby, on March 19 at 9pm ET. Her introspective, twangy guitar music feels comforting always, so her and Morby's intimate performance may be just what you need, and now more than ever, it's important to support smaller artists who make most of their income from touring. -- SB
Willie Nelson
Grab your cowboy hat or red bandana tonight at 7:00pm ET. Luck Reunion, an annual "anti-festival" held in the backyard of country music legend Willie Nelson, is heading to Twitch this year, giving viewers a chance to catch performances from artists like Paul Simon, Edie Brickell, Lukas Nelson, Micah Nelson, Jewel, Nathaniel Rateliff, Paul Cauthen, Margo Price & Jeremy Ivey, Randy Houser, David Ramire, and more. The 86-year-old legend will also perform, and you can toss some coins into a "a digital tip jar" if you're so inclined. -- DJ

Need help finding something to watch? Sign up here for our weekly Streamail newsletter to get streaming recommendations delivered straight to your inbox.