8 VR Experiences That'll Actually Get You Pumped About VR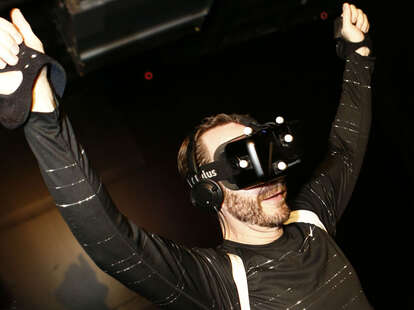 2016 Sundance Institute / Photo by Ryan Kobane
Virtual reality is no longer something out of sci-fi. Soon, every household hoping to keep up with the times will need a VR device, tapped for binge-watching and news updates. We will see the world closer than ever, luxuriate in the next Game of Thrones or The Avengers as if we're one of the characters. And we know this because the corporations who pull our strings are on top of it: Facebook's Oculus Rift unit is up for pre-order, Samsung cellphones can be converted into VR headsets with a fancy pair of goggles, and Google built its own viewer out of cardboard, for quick-and-easy consumption.
At this year's Sundance, artists, engineers, and storytellers gathered to debut the next wave of virtual-reality "experiences," and Thrillist was there. What I learned was that these aren't movies, they're not TV shows, and they're not video games. VR is VR -- new and riveting. Here are a few of the debuts showcasing the power of this soon-to-be-mainstream medium:
The Leviathan Project
Adapted from Scott Westerfeld's alt-history book series, Leviathan Project is the end product of three years of development by USC's World Building Media Lab. In its current stage, The Leviathan Project is like a VR Bioshock. Dropped into a steampunk laboratory that's situated atop a flying space whale (obviously), players pick up vials, pull levers, and turn knobs to solve a simple puzzle. Not using a joystick, but literally; each object is represented in the virtual world by a prop in the real world, like a movie set built just for the game. While totally impractical for home use -- unless "VR playroom" becomes the new "man cave" -- this immersive experience would work well as an added value to movie-goers, and theaters should dedicate space to VR as another way to lure customers to the multiplex.
Waves
If anyone's going to stretch, squash, and sculpt virtual reality's entertainment potential, it's Reggie Watts, the king of psychedelic improvisation. Waves -- don't tell Kanye -- casts the comedian and Game of Thrones' Nathalie Emmanuel as alternate-dimension beings who sip tea, jam with their clones, and battle a floating-head overlord (also played by Watts), who can only be defeated with laser beams and chill vibes. Kids, don't do hallucinogenic drugs, but VR can conjure the same trip. Those with Android phones and Google Cardboard can watch this one right now.
SONAR
This animated sci-fi short revives the lost art of amusement-park simulator rides. Viewers strap into a spaceship to search for a fellow crew member who is lost on an asteroid. What they find is simply hellish. SONAR blurs the line between game and film, bite-size experimentation that wouldn't fit in movies, on TV, or as a mobile time-waster. It also gives me hope that the decommissioned Back to the Future: The Ride can find new life in the VR realm.
Stonemilker
Björk was a pioneer of the modern music video and she'll play the same role in the future of musical virtual reality. Stonemilker plants a 360-degree camera on a rocky beach to capture the Icelandic singer's ethereal movements, ebbing and advancing along to the title track of her 2015 album Vulnicura. The VR creates an illusion of physicality -- the waving hand brushes against you, long notes resonate through the air, her eyes lock with yours -- and makes this a one-on-one performance with the heartfelt musician. Watch a YouTube version, which recreates the virtual-reality sensation with Google Maps-like technology, above.
The Abbot's Book
Part graphic novel and part Myst-like point-and-click adventure, The Abbot's Book is the brainchild of Hollywood special-effects artists Lyndon Barrois and Michael Connelly, who won an Oscar for animating the tiger in Life of Pi. The duo hope to drop eight episodes of their gothic horror story -- which spans 100 years of Crusades-era history -- with the first arriving as soon as the end of the year. While most VR experiences last around six minutes, Connelly says episodes of The Abbot's Book will run around two hours, an ambitious goal that will attempt to show where the technology is headed (instead of catering to where it is now). The snippet I saw -- which took me on a search through a haunted crypt -- was shadowy and spooky, illuminated by torches that I had to light. I have no idea if my eyes could have taken two more hours of it, but my brain was interested.
Click Effect
Annapurna Pictures, the company behind Zero Dark Thirty, Spring Breakers, and American Hustle, produced this documentary on the dolphin click "language." While it sounds like National Geographic pablum, there's potency to these up-close-and-personal images. Click Effect gives us a deeper connection to our aquatic counterparts by casting us as one of them. We see the sea through the eyes of a whale. We pick up a dolphin's sonar as it ripples through the waves. With silent, first-person observation, Click Effect brings us closer than ever to a race threatened by mankind's ignorance. Virtual reality: the empathy machine.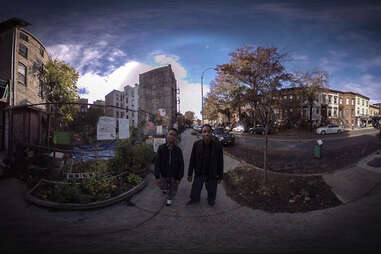 Perspective, Chapter 2: The Misdemeanor
Here's that "empathy machine" notion again. At Sundance 2015, Rose Troche and Morris May debuted The Party, a two-hander VR experience that simulated sexual assault at a college party gone awry. Disturbing and relevant, there was nothing quite like it. The duo returned this year with an experience that does the same thing for the friction between black communities and police. For those who reject the notion that there's a systematic problem plaguing the country's law enforcement, there's now a tool to help them see it with their own eyes.
Sisters: A VR Ghost Story
Scholars of scary movies will often admit that, after hundreds of hours of horror, very little gets under their skin. Virtual reality hopes to push the reset button. Sisters offers the haunted house experience with no regard for accident waivers. You're about to be the victim of paranormal activity, but how and where it plays out can't be predicted. Sisters is a basic incarnation. We're only a few years away from the Nightmare on Elm Street or Resident Evil of this limitless new medium.
Sign up here for our daily Thrillist email, and get your fix of the best in food/drink/fun.
Matt Patches is Thrillist's Entertainment editor. He previously wrote for Grantland, Esquire.com, Vulture, The Hollywood Reporter, and The Guardian. He is ready for the VR revolution. Find him on Twitter: @misterpatches.