Old School Skate Is Back: Vision Street Wear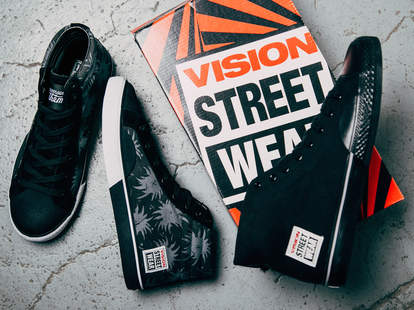 Iconic streetwear brand Vision Street Wear has been around since 1976, when the rise of skate parks and the invention of durable polyurethane wheels ushered in the '70s California skate scene. Vision was rocking it at the pinnacle of skate culture in the '80s and '90s, and after a quiet few years in the 2000s, is grinding its wheels against the pavement once more.
Vision relaunched last year, but the company isn't about retro apparel. They're all new, and it's Vision's brand new collaboration with streetwear company Us Versus Them that should get both old-school skate veterans and street-style newbies excited.

Since it began, Vision has aspired to be more than just another brand peddling merch. The company made a conscious effort to give back to the skate community through music and skating events, like the '88 Vision Pro Skate Escape, headlined by the Red Hot Chilli Peppers and featuring Tony Hawk.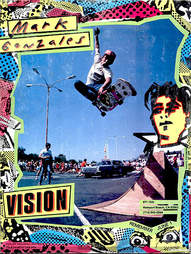 <em>Vision</em>
Vision's first shoe was the Canvas Hi Top, built to withstand the beating skaters give their shoes. Mark "The Gonz" Gonzales, named the most Influential Skateboarder of All Time by Transworld Skateboarding magazine, brought the shoe to popularity. The Gonz was sponsored by Vision in the '80s, appearing in their 1986 ad for the board design you see above.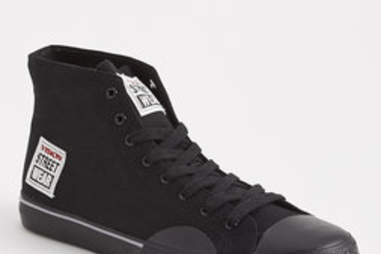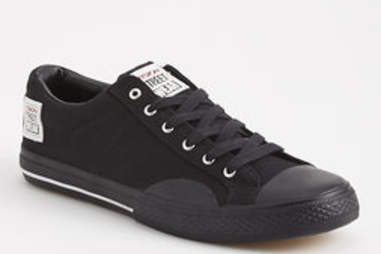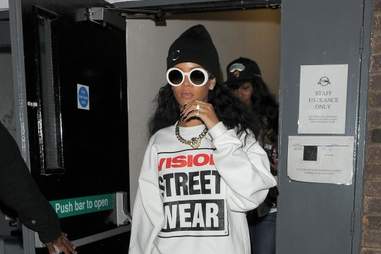 And let's not forget that Vision's apparel and footwear has been a favorite of groups like The Cure and INXS, and most recently, streetwear maven and unofficial World Cup tweeter Rihanna.
Vision Street Wear Canvas Hi LTD - Us vs. Them - $80
Today, the Vision x Us Versus Them collab brings the company full circle. SoCal brand Us Versus Them has been around since just 2005, and, like Vision, is known for loud graphics and a rebellious vibe. The collection includes shirts, tanks, fleece pullovers, and most notably, the limited-edition canvas hi-top above.