The Most Outrageous Moments From the 2016 VMAs
The MTV VMAs are ostensibly about celebrating music videos, but really, they're about creating moments: big, crazy, bizarre, and sometimes hilarious moments. We're living in an era of ambitious music videos -- Beyoncé's groundbreaking Lemonade, Drake's inescapable "Hotline Bling," and Justin Bieber's innovative "Sorry" -- but the VMAs are still more about the performances, the speeches, and the side-eye-filled cutaways to the crowd. Here's a look at some of the weird, outrageous, and outright baffling moments from the music channel's biggest night.
Laura Perlongo achieves peak "jacket with no shirt" trend
This was a very popular look for the night -- "Panda" rapper Desiigner and Ty Dolla Sign rocked their own versions -- but Laura Perlongo, the fiancée of Catfish host Nev Schulman, was the best example of this. Seriously, why wear a shirt when you have a jacket? I see no reason.
Farrah Abraham arrives as… Wonder Woman?
With a new Wonder Woman movie arriving in theaters, what better way to celebrate than by doing a little cosplaying? It might not have been the most on-trend look, but it was original. All she needed was a Lasso of Truth.
Jaden Smith continues to be Jaden Smith
On Netflix's The Get Down, Jaden Smith plays Marcus, a graffiti-obsessed boy living in 1970s New York, but in real life, he remains a visionary alien beamed in from a distant planet.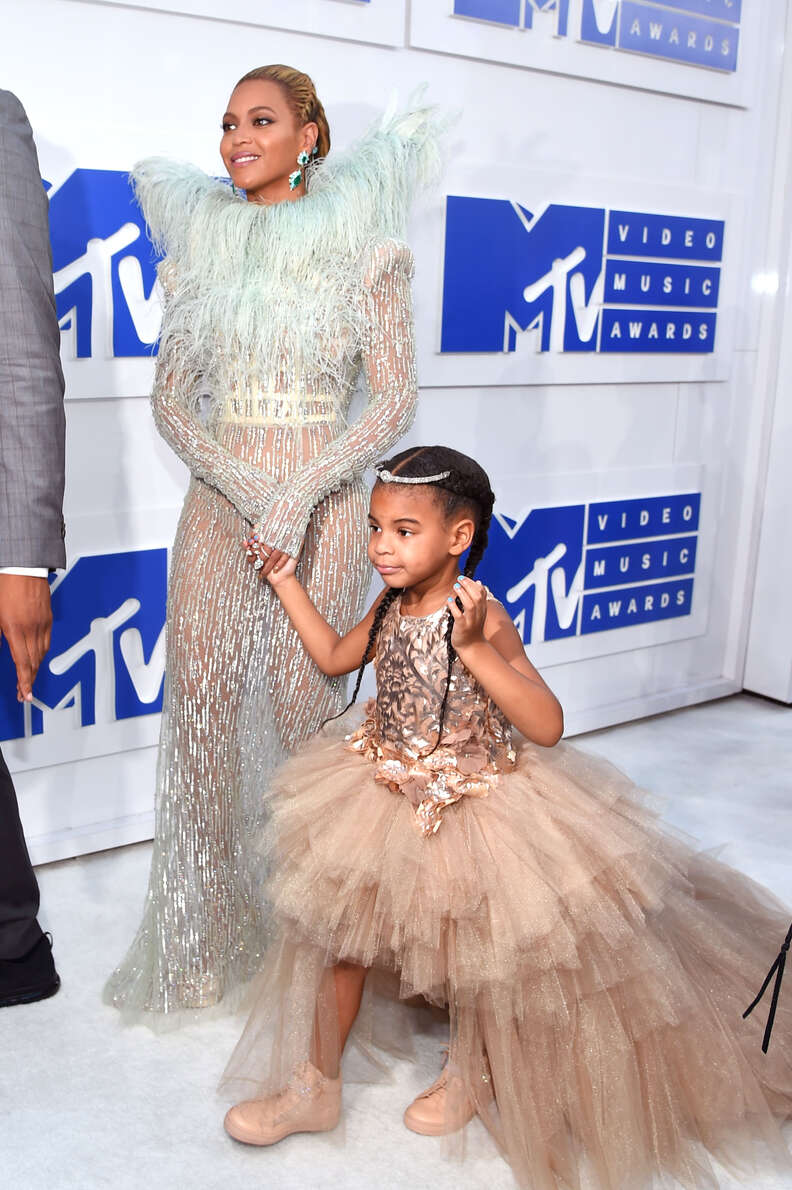 Beyoncé and Blue Ivy walk the white carpet together and OWN
This is how you make an entrance.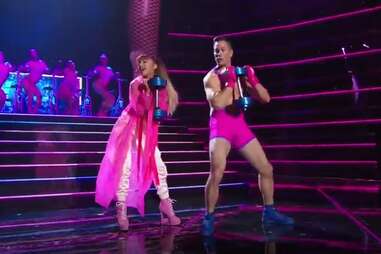 This wrestler struggles with a jacket
In one of the night's most bizarre performances, donut-licking singer Ariana Grande and rapper Nicki Minaj performed together in SoulCycle-core dance garb, surrounded by buff guys wearing wrestling singlets. Obviously, these beefcakes were mostly there to be eye candy, but the guy below should figure out how to put a jacket on someone. Seriously, bro.
Drake gets stuck in traffic
To underscore just how important the actual awards are, Puff Daddy gave away the first award of the night, for Best Rap Video, to Drake, and the Views rapper was… "stuck in traffic." Come on, Drake. Get in an Uber.
Michael Phelps loves Future
One of the biggest mysteries of the Olympics was what medal-winning swimmer Michael Phelps was listening to in that highly meme-able photo everyone was sharing. Now we know: he was listening to Future, likely dreaming about fucking up some commas. Though it was a little bizarre to hear Phelps introduce the Atlanta rapper as an "optimistic" artist -- many of Future's songs are bleak and menacing bangers about feeling numb from taking so many drugs -- hey, whatever inspires you to swim, it's cool, man.
Chance looking like the lost Mario Bro
The Coloring Book rapper has a thing for overalls, and he wasn't going to switch up his style for the VMAs, choosing these khaki overalls.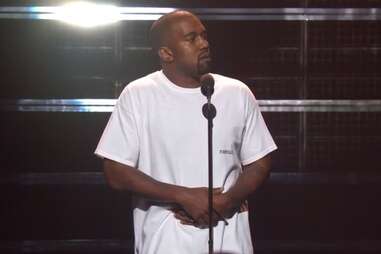 Kanye West talks his shit again
Before introducing his new video for "Fade," one of the moodier tracks off this year's Life of Pablo, Kanye West gave a speech during his heavily hyped "four minutes" of free time. What did Yeezus use the time for? It felt like a combination of a pro-wrestling promo, a Ted Talk, and a best-man speech, rambling and charming in the way that most of Kanye's #longform awards pep talks are. He referenced his ongoing feud with Taylor Swift, gave his ex Amber West a shoutout, called his wife a G, talked about the violence in his hometown of Chicago, and compared himself to Henry Ford and Steve Jobs. As far as Kanye "rants" go, it was actually pretty low-key.
Cat lady from the "Fade" video!
The "Fade" video was very not low-key! Singer Teyana Taylor helped Kanye recreate some of his favorite scenes from Flashdance with this very sweaty clip, which resembled a sexed-up workout video. And it ended with NBA champion Iman Shumpert making a cameo along with some sheep. And Taylor looked like a cat at the end! Really, just watch it yourself.
Josh "the Fat Jew" Ostrovsky throws bacon with Nick Jonas
Why did this happen? Just stop.
Beyoncé breaks a camera with a baseball bat
Can you imagine this show without Beyoncé's performance? It would be pretty depressing. The mega Beyoncé medley was the biggest showstopper of the night, an argument for the Lemonade singer as the premier pop artist of the moment, capable of driving huge crowds wild with heady and emotionally raw conceptual art pieces about the complexities of black life in America. Plus, she smashed a camera with a baseball bat!
Not cool, photobomber!
Not sure why this girl did this. Photobomb Halsey or something. Leave Beyoncé alone.
Britney Spears goes full Borat
While Britney Spears has been a headline-making performer for VMAs in the past, her performance this year had the misfortune of closely following Beyoncé's, and Britney also had the difficult task of sharing the stage with the charisma-challenged rapper G-Eazy and a bunch of shadowy hands. Plus, her outfit kinda looked like Borat's swimsuit. Sorry, Britney.
Rihanna gives us the heavy-metal logo
Rihanna received the Video Vanguard Award during the show, which meant the 28-year-old singer got multiple performances that drew from various points in her career, but the best visual moment -- well, maybe besides ANTI standout "Love on the Brain" -- was when we got this metal-as-hell Rihanna logo! If Rihanna tours with Slayer soon, don't be surprised.
Michael Phelps loves Jimmy Fallon's Ryan Lochte impression
Judging from the sound mixing of the show, it didn't feel like the crowd was super into Jimmy Fallon's impression of scandal-ridden Olympic swimmer Ryan Lochte, but one person was super into it: Lochte's fellow swimmer Michael Phelps. Get that photo, Phelps.
Rihanna curving out of Drake's kiss
Luckily, Drake was not stuck in traffic the whole night, showing up just in time in a prom-ready tuxedo to present Rihanna with her Video Vanguard Award. In typical Drake fashion, it was a speech that was more about Drake than the person he was there to celebrate -- seriously, at various points, it felt like he might propose to Rihanna in the middle of his speech -- but he finally got it together enough to present his "Work" dancing partner with this important award.
But then he went in for a kiss, and ended up kissing Rihanna's neck? It was the perfect awkward end to an equally awkward show.
Sign up here for our daily Thrillist email, and get your fix of the best in food/drink/fun.