I first met Ela Darling in March 2016, after she spoke at a virtual-reality conference in New York City. A month later I visited her studio in Los Angeles, which turned out to be her modest apartment equipped with a cobbled together 360-degree camera setup. Darling gave me the full tour, and painted a picture of virtual reality's future.
Then she showed me the bed where she shoots live-cam VR porn videos.
Darling is a porn actress and a pioneer of the sex industry's technological future. Her platform, CAM4VR, is one of the first legitimate plays at the inevitable: virtual porn. She says she got the idea for VR porn from the 1985 John Hughes movie Weird Science. In 2013, Darling became the Kelly Le Brock to two computer geeks (James Ashfield, a quantum physics major, and his college roommate) who'd built a makeshift virtual-reality camera out of a couple of GoPros and posted a note on Reddit looking for a porn star to test it. Darling saw their post and showed up at what turned out to be James' dorm room.
"James has a comprehensive understanding of the programming involved in virtual reality," says Darling. "He did calculus to design our new [VR] camera that we use to shoot the latest version of our live-cam stuff." And the rest is virtual-porn history.
Or it will be, if all goes well for Darling and her business partners. Here's what the budding porn mogul says we need to know:
Recommended Video
The Chopped Cheese Pizza Has Arrived!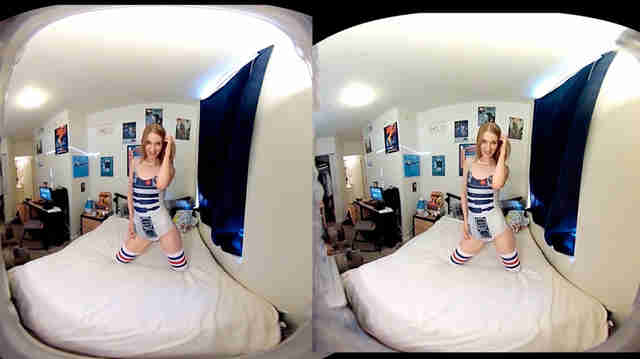 In the beginning, virtual-reality porn was hard
"[When I met James,] I didn't know how we were supposed to shoot yet. [The camera] was two GoPros, in this little wooden box that they'd built, held together with duct tape, basically. James had designed this thing. I don't even know how he'd adhered it to the wall. But he basically stuck it to the wall in front of his bed. Because it's 180 degrees and it's stuck to the wall, the only place for a director to be is behind the camera. And the camera's on the wall. So there is no 'behind' the camera.
"So I get there, and we talk about what to do, talk about wardrobe. I end up settling on an R2-D2 swimsuit with some thigh-high socks… Because it works, you know? I knew that the people who were going to be consuming this would appreciate [these choices], and it's also my jam. They said, 'This is 180 degrees, so there's no place for us to be in here. We're kind of hoping that we could leave you alone and you could just kind of do it…'
"I was like, 'But what do you want me to do…?' They were like, 'Um, you know. Do it… like a porn.'
"I thought, Fuck it. Asking questions clearly isn't going to achieve anything at this point. I'm just going to wing it. They can like it. Not like it. If they hate it? Bummer.
"I basically treated it like a live-cam situation. Because I used to do a lot of camming. But I just talked to the camera like it was a cam client, and I was really flirty, and I made it into a 'first date' kind of a thing, which is how I usually approach cams. With, like, a lot of camaraderie, and a lot of conspiratorial talk like, [sexy voice] Oh my gosh! Isn't this SO crazy that we're here doing this thing together…?"
VR porn is an art, not a science
"Later, when we got into the 360-degree 3D, there were 12 GoPros that were all synching up at the same time. That was really tough. I would do a 20-minute scene, and by the time I was done, four of the cameras would have shit the bed halfway through. So I'd have maybe 10 minutes of actual 360 degrees before something crapped out.
"It's actually kind of a bitch, because, when you really get down to it, the apex and the nadir of 360-degree 3D VR are always going to be immersion-breaking, so you have to accommodate for that somehow. And it was cool, sure, but I just feel like for 360 3D, if you're doing a Caligula-style orgy, where everywhere you look there's carnal meat? Then that's great. But for most porn, it's two people. And you just don't need 360 degrees. I don't care what your PA bought at a yard sale to decorate your wall with for $2. That's not what I'm here for."
VR isn't even the future. This is.
"We moved on to doing volumetric capture using a time-of-flight depth camera, to shoot holographic porn. That's a really fancy way of saying that we got a Microsoft Kinect and we started making porn with it. But it was basically capturing a performer's body in space, placing her in a 3D, digitally rendered environment. And that was really cool, but [bodies] are still very artifact-y. And when you look at the people, the sides of their bodies are very blocky. That's the problem. [The tech] is just not fucking there yet.
"If you're very, very forgiving, you can enjoy it. But most consumers are not watching VR apologetically. They're watching VR because they want this new, next-level experience. And you're promising a next-level experience, but you're delivering this beta-type, poorly constructed experience.
"From there we started making a dating simulator. Which was really cool. We dreamt it up in a few days. James spent a week or so developing it. It was cool. It was very immersive. It was very gripping. But ultimately the best part about it was it was like you were really talking to a performer. And then we thought, Why don't we actually let people talk to someone?"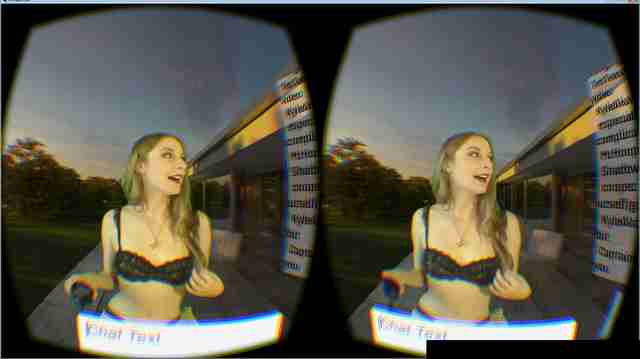 When you're early to the VR porn party, you wait for the industry to catch up
"When we did the live-cam thing with the green screen… we realized there were a lot of problems for the performers themselves...  I can't ask a veteran performer to give up her whole revenue stream and come and cam in VR and give up all of her existing clients. She has to cater to those clients; she has to keep working with them to keep them. So we found a way to do this in a way that allows her to maintain her current clientele, while also appealing to the VR fanbase, and while also shooting her own VR 360 content, and 2D content.
"Helping performers succeed and become their own entrepreneurs is really important to me. We get paid a day rate. We don't get residuals. That's what we're working on. What we're doing with the new VRTube Live program is, instead of having a bunch of rich white dudes profiting off of sex workers, we're giving performers the option to enter the VR sphere on their own, without having to go through a studio. At this point, if you're a performer, and you want to do a VR performance, you basically have to go through a studio. You have to find someone who has the equipment, and the post-production technology, and the software, everything. But with this? It's very easy for a performer to make her own content, and sell it, and benefit that way.
"It's very easy to exploit people. Especially when you're trying to show the world what these marginalized people have experienced. That's something I try to avoid. Because sex workers are marginalized people. Women are marginalized. Trans people are marginalized. You've got these marginalized people on top of marginalized people. It's like stacks on top of stacks. Letting those people speak for themselves? Giving them a voice? While not speaking for them? That's so fucking important."
Same goes for porn watchers
"Our company has mostly been funded by my porn work. I'm doing porn to support us. But the computer that we use? I'll tell you something: it wasn't powerful enough to support the Vive, and we fucking develop for this shit.
"[Being VR-enabled] is not only affording the headsets. It's also affording the computers that are necessary to support the headsets, and also affording the level of internet connectivity that is required to engage in these experiences. It is so privileged, across the board. We have to recognize that privilege, and we have to find ways to overcome it.
"In order for the 99% to be able to put this on and jack off with it, we have to have the other content, too. Otherwise, it's [deeper voice] 'Oh, here's my $700 masturbatorium.' From a pornographer's standpoint, that device has to have merit outside of porn. Otherwise people will just see it as perversion."
No, VR porn is not a gimmick
"Porn has some baggage [when it comes to new tech]. I remember four years ago, right before Comic-Con, I shot for Penthouse. They paid me a very nice fee for the day. I did a solo cam scene, a girl-girl cam scene, a solo masturbation video, a girl-girl masturbation video, a solo 3D thing, a girl-girl 3D thing. We obviously shot a lot of content that day. They had spent a lot of money on 3D back then. They also invested in 4K, too, and nobody cares about 4K anymore.
"3D and 4K are accoutrements to the porn they were already doing. It didn't require any extra skills; all it took was a decision to invest in some new equipment. But VR is different. The whole experience is different. You're giving people something that they've never had before in porn. Even with 3D tech, it's like, OK, here's a 2D experience that you're making shittier for me, because now I have to wear these shitty goggles, and I'm getting a shitty headache. The value change is negative.
"But with VR? There's a huge value change, and it's positive. I'm immersed in this whole reality of this person in front of me. It is my entire reality at the moment. That's so much bigger. The most compelling experience I've found in the Oculus store and Gear VR is the chat program. There are five people in a virtual room, and you just talk to people. It's so engaging, so enthralling. Now, could I take that situation and extrapolate it out to something sexual? To something that's personally rewarding for me? Then you've got an intrinsic reward system. A pretty girl thinks what I just said was funny. A pretty girl is acknowledging me. She's saying my username now. She's asking me my fetish now. She's indulging my fetish. Those are compelling experiences."
Sign up here for our daily Thrillist email, and get your fix of the best in food/drink/fun.