Fired 'Walking Dead' Creator Wants $280 Million After Emailing Staff "F*ck You All"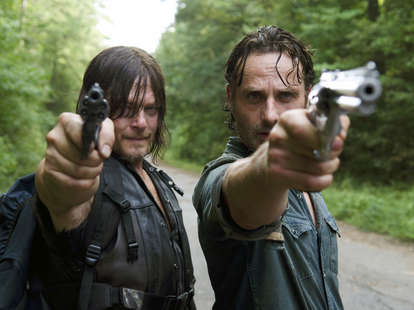 "I am in a state of absolutely boiling rage right now."
If that's your internal monologue as you fire up your computer to send out a furious email to your coworkers, the next morning at work won't be a pleasant one. If that's the first line of an actual emailyou sent to your coworkers, well, you might get fired and wind up having your correspondence released to the public as part of a legal battle with your employer, which is exactly what happened to Frank Darabont, the former executive producer of AMC's hit zombie show The Walking Dead.
A brief recap of the essential plot details before getting to the juicy quotes (and there are LOTS): Darabont, a writer/director/producer most well known for directing the Stephen King adaptations The Shawshank Redemption and The Green Mile, was the executive producer of Season 1 of The Walking Dead. It... did not go well. Disputes over budget and personality clashes led to Darabont's termination as showrunner way back in 2011 -- the director eventually filed a lawsuit against AMC seeking $280 million, which precipitated the release of his emails, as they were entered into court records and epistolary history.
These are the Hamlet of angry work emails, a masterwork of unparalleled vitriol and shocking lack of regard for others' feelings written with exceptional style and diction, emphasizing time and time again the fact that Darabont is obviously surrounded by lazy, incompetent morons, jeez, does he have to do everything around here?
They are hilarious.
According to Variety, Darabont has said that the emails contain "hyperbole," but doesn't back down from their basic substance. A classic "sorry, not sorry" from a man who clearly has a lot of feelings and not much of an emotional filter.
But you want to know what he actually wrote. Check out some of the highlights, and put them in your back pocket the next time you don't get those Excel sheets filled out exactly the way you asked.
Explaining that he was dissatisfied with a script turned in by two writers (July 21, 2010):
"I am the writers room. The lazy fucking assholes who were supposedly going to be my showrunners threw that responsibility on me after wasting five months of my time.
"If it were up to me, I'd have not only fired Chic Egles and Jack LoGuidice when they handed me the worst episode 3 script imaginable, I'd have hunted them down and fucking killed them with a brick, then gone and burned down their homes."
Revoking the email carbon-copy privileges of the two aforementioned writers (July 21, 2010):
"Professional courtesy is something one earns, and those douchebags have not earned mine. I don't want to see them cc-ed on ANYTHING any more."
Implying the camera operators have less vision than a blind man (June 13, 2011):
"Tell these operators that if they cannot provide us footage that works, we need to replace them with people who can. What the fuck are we paying them for? Ray Charles could operate better."
Describing his writing style (June 13, 2011):
"YOU NEED TO PAY ATTENTION TO THE MOTHERFUCKING SCRIPT! I EVEN CHOOSE MY GODDAMN COMMAS FOR A REASON! WHY AM I WORKING SO FUCKING HARD IF YOU'RE SHOOTING EVERYTHING SOME OTHER WAY THAT DOESN'T WORK?"
Attempting to convey the extent of his rage (June 14, 2011):
"Everybody, especially our directors, better wake the fuck up and pay attention. Or I will start killing people and throwing bodies out the door."
On potential heart troubles (June 14, 2011):
"And on a personal note:
"Fuck you all for giving me chest pains because of the staggering fucking incompetence, blindness to the important beats, and the beyond-arrogant lack of regard for what is written being exhibited on set every day."
"Right now we're like those crews in Japan shuffling through miles of rubble and wondering where to even begin because the task is so enormous and the devastation so huge."
On a bad day at the office (June 16, 2011):
"Seeing those dailies today left me gobsmacked and thinking I should fake my own death, leave town, and live under an assumed name."
Reminding the world not to trust subsequent statements that he relies on hyperbole (June 16, 2011):
"I promise I'm not being a hyperbolic wiseass."
On his concern that a director may have had an undetected stroke due to her apparent lack of competence (June 16, 2011):
"I honestly think we should recommend to Gwyneth that she go get a brain scan and see if she's had a problem. She may be in real danger. It's that bad."
Update 10/13/2017: The judge in the case seems unmoved by Darabont's emails
Lawyers for Darabont and AMC met in New York State Supreme Court on September 15 in the hopes that Justice Eileen Bransten might make a ruling based on the known facts contained in the lawsuit. Both sides were disappointed, and when AMC's lawyer suggested that Darabont had lost his job thanks in part to the aforementioned emails, Judge Bransten waved her hand and said, "That's the artiste," according to Variety. The legend of the cranky, difficult genius lives on.
A trial is expected sometime in 2018, though Judge Bransten didn't set a future court date at the September hearing. Until more news comes out, the world waits on the edge of its seat to find out whether Frank Darabont will get the $280 million he deserves for having to suffer through the pain of working with people he didn't like, all to make a show about zombies.
Sign up here for our daily Thrillist email and subscribe here for our YouTube channel to get your fix of the best in food/drink/fun.
Anthony Schneck is an Entertainment Editor at Thrillist. Follow him @AnthonySchneck.