All the Best Black Friday Deals at Walmart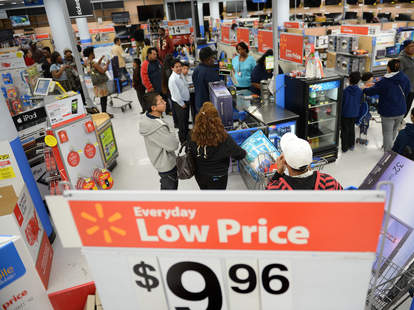 credit: Getty Images/AFP/ROBYN BECK/Staff
Check out our other Black Friday guides for Amazon, Best Buy and Target to make sure you don't miss the best deals.
Thanksgiving has come an gone this year with a questionable degree of significance, and that can only mean one thing: Black Friday has risen like a consumer-driven phoenix from your turkey's smoldering ashes. The sales blitz is back again this year with unheard of deals at retailers everywhere, but nothing really come close to the circus happening at your local Walmart.
So without further ado, here's everything you need to know about Walmart's Black Friday deals frenzy, complete with information about what to buy, when to get there, and more.
Thanksgiving and Black Friday Hours
Before you jump into the deal-hunting void, make sure to check when Walmart is open, and when discount prices are actually valid. The super-retailer is splitting its Black Friday sale between its website and brick-and-mortar locations, in an attempt to spread the holiday bedlam far and wide. So stay informed as to best time to log on, as well as when to arm yourself with ample shopping armor and brave the crowds.
November 23: Black Friday sales begin on Walmart's website at midnight and start at physical stores at 6pm nationwide.
November 24: Walmart will be open on Friday, but Black Friday deals are only available while supplies last. But hey, the company says it's "stocked with hundreds of deals and more availability... than ever before," so here's to hoping, even for the stragglers.
Black Friday Deals
Smart TVs
Computers
Kitchen
Getty Images/Getty Images News/Joshua Lott/Stringer
Appliances
Bedroom
Gaming and Entertainment
Toys
Sign up here for our daily Thrillist email and subscribe here for our YouTube channel to get your fix of the best in food/drink/fun.

Sam Blum is a News Staff Writer for Thrillist. He's also a martial arts and music nerd who appreciates a fine sandwich and cute dogs. Find his clips in The Guardian, Rolling Stone, The A.V. Club and Esquire. He's on Twitter @Blumnessmonster.