How the 'WandaVision' Finale's Post-Credits Scene Sets Up the 'Doctor Strange' Sequel
All our lingering questions are about the Book of the Damned.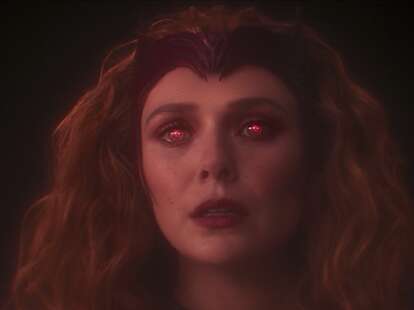 WandaVision, Disney+'s popular series that kicked off Phase 4 of the Marvel Cinematic Universe, ended up being largely a story about a woman whose grief is so all-consuming it devours a town. This being the MCU, however, it can't just be that. It also has to be a tease for an upcoming movie and drop a bunch of little Easter eggs for viewers to parse out. As it turns out, the WandaVision finale, in its moments with Vision and the mid-credits scene involving Monica Rambeau, sets up multiple upcoming projects (and reveals a killer joke), but the clearest illustration of this Marvel staple comes in the final post-credits scene.
In the short sequence, Elizabeth Olsen's Wanda, having absconded to a cabin in the mountains somewhere, brews herself some tea. But we learn that that's just her corporeal form. At the same time, she's flipping through her new reading material, the Darkhold, a.k.a. the Book of the Damned, all while wearing her new snazzy, Scarlet Witch regalia. So what does this mean going forward?
The Darkhold is your regular old book of creepy magic, a Book of the Damned or Book of Sins or whatever you want to call it. According to the Marvel lore, it was created by an Elder God named Chthon, who fled to another dimension when under attack from a creature known as the God-Eater. He made the Darkhold to give himself a link back to Earth. The Darkhold has popped up throughout comics history since the 1970s, and has often been a link between Marvel characters and Dracula. And while we're not expecting Drac to necessarily make an appearance in the MCU, it is worth noting that in 1983 it figured into a story that linked the Scarlet Witch, aka Wanda, with Doctor Strange and another WandaVision character, Monica Rambeau, who eventually becomes Captain Marvel. Marvel TV projects have employed the Darkhold before—notably it was part of an Agents of S.H.I.E.L.D. plot—but this is the first time it's playing a major role in the main storyline.
So how does this connect with the new Doctor Strange movie?
Marvel head honcho Kevin Feige has been cagey about whether WandaVision will get a second season. What he has not been obtuse about is that Wanda's next appearance in the MCU will be in the upcoming Doctor Strange sequel, 2022's Doctor Strange in the Multiverse of Madness. Agatha Harkness makes continued reference to the Scarlet Witch being stronger than the Sorcerer Supreme, the implication of which is that Wanda is more powerful than Doctor Strange. At the end of the finale, Wanda leaves behind the wreckage of Westview, but she is now essentially a fugitive. The last we see her she's studying up on the Darkhold, honing her powers. This is not a villain arc, exactly, but it's also easy to see how it might bring her into conflict with Stephen Strange. (She's also someone who bestowed untold trauma on innocent citizens! Maybe worth keeping in mind!)
In the climactic showdown, Wanda employs some magic runes and absorbs all of Agatha Harkness' power sealing her victory in this witch-on-witch fight. When the battle is done, Wanda doles out Agatha's punishment: She traps her foe in the "role" that she had been playing before the big reveal. Agatha is now doomed to be nosy neighbor Agnes forever, or at least until Wanda wants her assistance. She knows where to find her: Right in the cheeky little prison she has erected inside her mind. This leaves the door very open to a possibility for an Agatha return, maybe even in Doctor Strange.
Could this in any way involve Bruce Campbell and

Evil Dead

?
Probably not, but there is a wild theory circulating. You see, Doctor Strange in the Multiverse of Madness is being directed by horror legend and Evil Dead auteur Sam Raimi. Bruce Campbell, otherwise known as Ash Williams, has heavily implied that he is part of the cast. Ash, of course, knows something about bad books and whatnot, given his history with the Necronomicon, a.k.a. The Book of the Dead. Also: Ash has been a part of the Marvel comics before and Scarlet Witch was even involved. So does this mean anything? Yeah, we doubt it—it's most likely just wink-wink fan service for Evil Dead fans and a way to keep the perfect streak of Campbell cameos in Raimi-directed Marvel movies going—but it's really fun to speculate anyway.
Need help finding something to watch? Sign up here for our weekly Streamail newsletter to get streaming recommendations delivered straight to your inbox.