Two years after Dawn of the Planet of the Apes left us bracing for an all-out ape-vs.-human war, franchise masterminds finally gifted us with a glimpse of that primal conflict in War for the Planet of the Apes' first official trailer. And man (ape?), does it look bleak.
The third movie in the rebooted Ape series sees Caesar (one of the most impressive CG creations ever) rallying his simian troops for a battle against the humans, ratcheting up their classic spear-and-fist ambush tactics with their newfound embrace of firearms. We catch moments of a setpiece standoff between fortified apes and human special forces in a dense forest, shots of gun-toting apes on horseback, and a snowbound firefight where tanks and helicopters bear down on apes who appear to have taken over a military base. We even get a look at a freshly chrome-domed Woody Harrelson in the role of the ruthless Colonel charged with bringing the apes down, setting him up as Caesar's ultimate human foil. It looks awesome, in the truest sense of the word.
For all the trailer reveals, however, we've still got plenty of questions. Who are the humans we see fighting on the apes' side? Where the hell is Steve Zahn? And most important: what genius decided to end the trailer with Woody Harrelson literally saying the line "It will be... a Planet of Apes"?!
Hopefully, all those questions will be answered when the film hits theaters on July 14th, 2017. For now, we'll have to be satisfied with the promotional stills, below, depicting our ape heroes (and Woody) in all their glory:
Recommended Video
Huge Hollywood F#@k-Ups You Totally Missed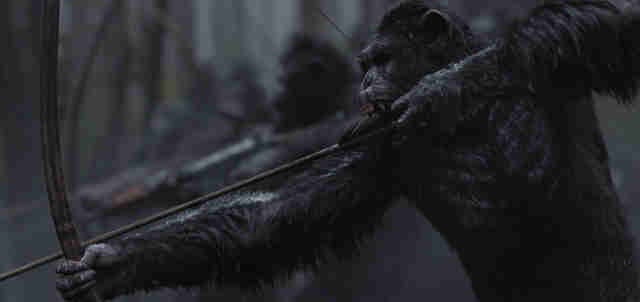 Sign up here for our daily Thrillist email, and get your fix of the best in food/drink/fun.