Brad Pitt Takes a Huge Risk with His New Netflix Movie 'War Machine'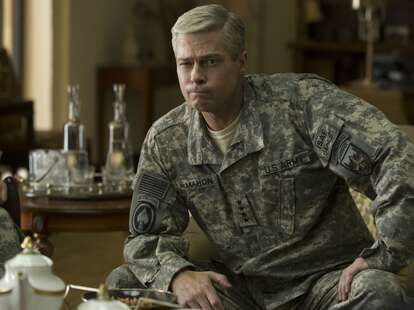 Brad Pitt likes to gamble.
The 53-year-old actor, ex-Mr. Angelina Jolie, is a bona fide movie star who's so famous he could buy a small island by selling his underpants. But he's also spent his career defying a standard set by contemporaries like Tom Cruise (action-head), Matt Damon (low-key blockbusterer), Cate Blanchett (the best), George Clooney (actor-turned-director), and Leonardo DiCaprio (Oscar-chaser/bear-fighter). Pitt, for better or worse, plays Hollywood for everything they have. The unhinged grime of Fight Club, Meet Joe Black's stoic existentialism, handing himself over to Quentin Tarantino (Inglourious Basterds) and Terrence Malick (The Tree of Life), and segueing to the role of producer on movies like 12 Years a Slave, Eat Pray Love, Kick-Ass, Moonlight, and Netflix's The OA.Pitt will forever bring the looks that earned him two People's Sexiest Man Alive awards, but whenever he latches on to a project, you're never quite sure what you're going to get in the end.
War Machine, Pitt's first movie to debut exclusively on Netflix, is one of his biggest risks. A political satire that doesn't check the typical Netflix-users-enjoy-[BLANK] algorithmic boxes, with a tone that wavers from comic strip absurdity to stark realism on a whim, the latest from Animal Kingdom and The Rover director David Michôd captures the confusion and corruption of modern war... or whatever you prefer to call the last 15 years of Middle Eastern military activity. As War Machine illustrates, the men involved can't define that occupation, let alone solve the crisis at hand.
Based on the late Michael Hastings' The Operators, War Machine casts Pitt as a lampoon of General Stanley McChrystal, who served as Commander, U.S. Forces Afghanistan from June 2009 to June 2010. Pitt's Gen. Glen McMahon ("The Glenninator" to his subordinates) is a tough-as-nails, American warlord who barks his way through bureaucracy with a persona that's part Don Imus, part Popeye. He's a caricature, or he starts that way, backed by a motley crew who make the gang from M.A.S.H. look like Seal Team 6. None of them are idiots, though they're all stuck in their ways, the quirks of aggression, addiction, devotion (mostly to their General), and disinterest in standard operating procedure all standing in their way of the actual mission: remove American troops from conflict.
Their first steps into the war zone plays like a militarized Veep. The escapade soon winds through the labyrinthine timeline of truth to become a chewier thinkpiece. Michôd and Pitt resist joking too hard at the war effort's expense. As War Machine's narrator, a Rolling Stone features writer who later implodes McMahon's persona, says over a sweeping shot of Afghanistan President Hamid Karzai's compound opulent compound, "Wars aren't fought by nations, or by armies, they're fought by men."
Real people conceived plans that would rev up the American offensive and, in the eyes of marines and Washington observers alike, bungle the operation. War Machine is dense, analytical, and convoluted as an expression of war in the new millennium. McMahon and his troops couldn't just flood the country and "shoot the Nazis." Insurgents look like civilians. Motives, American and Afghan, are murky. As War Machine wades through the rippling effect of McMahon's every move, as cartoonish as they can seem, the real world implications become more and more apparent -- and mind-boggling.
You can almost see Pitt, expert gambler, reading the table as War Machine attempts to be both goofy exploitation and authentic docudrama. The movie has a silly streak, thanks to Anthony Michael Hall's vein-busting riff on General Mike Flynn, Topher Grace's civilian press adviser, who lives by PR Douchebaggery 101, and Alan Ruck's political suit, whose mere presence in a conversation about war McMahon takes as an insult. But as new troops enter the scene, and McMahon's motivational speeches about "winning" start falling on deaf ears, War Machine becomes more like Jarhead, a languid look at stagnation, forced into bloodshed by an old school guy who just wants to kick ass.
These clashing takes on the same premise never coalesce, but the larger-than-life performance by Pitt is still a keystone. While it's tough to feel compassion for an optics-obsessive warmonger, his fall pulls back a curtain on a decade's worth of headlines that have all blurred together. From the death of Pat Tillman to Bowe Bergdahl's desertion and capture, it's easy to forget that the systemic failures of war still fall on the backs of real men. McMahon makes decisions, and occasionally wild ones worth of his yuk-yuk-yuk persona, and they ripple through global politics. And his ideology is in constant conflict with itself; though he meets with Afghanistan leaders, recruits one man to become his mouthpiece to the nation, he's still driven by the fire to crush an opposition... against his advisors' orders. The look on Pitt's face when it all goes to shit, after an hour-long satirical romp, says it all.
Is War Machine wildly entertaining? Not for those who kick back expecting Netflix to ease their stressful day at work. But is it wildly fascinating? Absolutely -- you'll be racing to dig up Hastings' original reporting and every 2009 era war report you can get your hands on. Pitt took a risk, and you should too.
Sign up here for our daily Thrillist email and subscribe here for our YouTube channel to get your fix of the best in food/drink/fun.

Matt Patches is the Executive Entertainment Editor of Thrillist. He previously wrote for Grantland, Esquire.com, and Vulture. Find him on Twitter @misterpatches.