HBO's got a void to fill now that their most popular series, the cultural force that was Game of Thrones, has wrapped up after eight seasons. They've still got critically acclaimed series like the star-studded Big Little Lies, or cinematic ventures like Westworld on their roster, but without GoT, it looks like they're hoping to hold onto subscribers with "the next GoT," whatever that might mean.
It's possible that the answer to that is yet another lavish genre adaptation -- enter the upcoming series Watchmen. The material is drawn from what has been lauded as one of the best comic books of all time, the DC comic Watchmen from Alan Moore and Dave Gibbons, which follows a group of superheros seen as outlaws who are investigating a murder of one of their own in an alternative history of the US at the height of the Cold War in the '80s. It's already been adapted for film back in 2009 by director Zack Snyder, who made it... very Zack Snyder, turning it into a divisive property. The show has been in the works for quite some time with The Leftovers and LOST showrunner Damon Lindelof at its helm, as talks began as early as June 2017 before a pilot was ordered in September of that year, and then HBO officially gave Season 1 the go ahead in August 2018.
The show has since been primed for a 2019 premiere, and now that we're approaching its release, we've compiled everything we know about the gritty superhero series so far.  
Recommended Video
The 5 Most-Plausible Endings for Your Favorite 'Game of Thrones' Characters
When is HBO's Watchmen coming out?
One of the most highly anticipated upcoming series of 2019, Season 1 premieres sometime this fall, although no official premiere date has been given.
Is there a trailer for Watchmen?
To get fans amped, HBO dropped a first look at the forthcoming show in late May 2019. The teaser features the cast dressed like faceless vigilantes wearing the classic Rorschach masks, characteristic of the original comic, appearing as if they're preparing to rise again as a voice eerily states, "We are no one, we are everyone, and we are invisible." The dystopian clip doesn't reveal much about the plot, but based on the foreboding repetition of "tick tock," and one character's creepy reference to "the end of the world" (like the Doomsday Clock theme of the original), it seems as if a showdown between the watchmen and the state is coming.
How many episodes will there be?
It looks like Season 1 includes 10 episodes that will air weekly.
Who are the showrunners?
Lindelof, who was behind one of HBO's best series, The Leftovers, as well as LOST, among other projects, is spearheading Watchmen as creator/writer/executive producer. He's working along with Nicole Kassell (The Woodsman, The Americans) and Stephen Williams (LOST, Westworld) who will both direct and executive produce, and Tom Spezialy (The Leftovers) and Joseph Iberti (Mr. Robot) will also executive produce.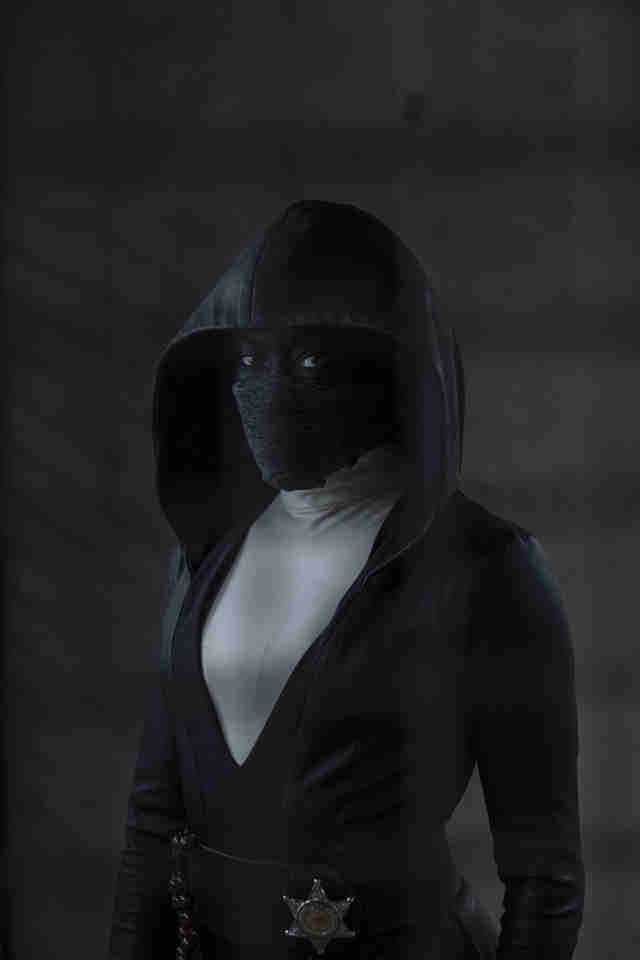 Who is in the cast?
The cast is led by recent Oscar winner Regina King (If Beale Street Could Talk), who previously worked with Lindelof on The Leftovers, and Jeremy Irons (Dead Ringers), who will be playing an older Adrian Veidt (aka, Ozymandias), a main character and villain from the original work. King appears to be one of the superheros, although little is known about her role. As for Irons, based on the trailer, his character appears to have remained in power with a very systematic, utopian view on society… which happens to be failing and more dystopian than anything.
The show is also made up of a large ensemble cast featuring Yahya Abdul-Mateen Il (Aquaman), Don Johnson (Miami Vice), Tim Blake Nelson (The Ballad of Buster Scruggs), Louis Gossett Jr. (Roots), as well as Adelaide Clemens (The Great Gatsby), Andrew Howard (Limitless), Tom Mison (Sleepy Hollow), Frances Fisher (Titanic), Jacob Ming-Trent (Superfly), Sarah Vickers (Endeavour), and Jean Smart (24). Little to no information is known about their regularity on the show or who they will be playing, other than Smart is said to be an FBI agent.
James Wolk (Tell Me a Story) and Dustin Ingram (Good Trouble) both have reccurring roles, Wolk reportedly as a senator. And according to Deadline, Hong Chau (Downsizing) will play a key role. Plus, child actors Dylan Schombing, Adelynn Spoon, and Lily Rose Smith will also appear.
That's a big cast! And not a lot of information! Basically, all we know right now is that some cast members will be reviving infamous and beloved characters from the comics, like Irons, and a handful of them will be playing entirely new roles.
So, is this a sequel or a direct adaptation or something else?
Here's where things get a little confusing. What we do know is that in no way is the show related to or a continuation of the 2009 feature film directed by Zack Snyder. But because information regarding the show has largely been kept under wraps, it's hard to say what it will actually be about… aside from masked heroes being outlawed in today's time. Although, ever since it was announced that Lindelof had something regarding Watchmen in the works, he's stressed repeatedly how the show will not be a direct adaptation of the 12 original comics, and is instead a "remix" of them.
In fact, Lindelof is so anxious about what fans might think of him fiddling with such untouchable text that he took to social media to share a five-paged open letter partly about his personal relationship with Watchmen, but mostly about what he intends to do with it. He wrote, "We have no desire to adapt the 12 issues Mr. Moore and Mr. Gibbons created 30 years ago. Those issues are sacred ground and they will not be retread nor recreated nor reproduced nor rebooted … they will however be remixed." He said, "We're not making a sequel either. This story will be set in the world its creators painstakingly built … but in the tradition of the work that inspired it, this new story must be original."
What all of that means isn't totally clear, but supposedly the HBO series will drawn from events in the original, add some new characters, and above everything else, make the series contemporary. So, yes, there are characters you know and love, and probably a handful of context and easter eggs if you're familiar with the world Alan Moore and Dave Gibbons created, but the upcoming epic invites in new fans, too.
Nine Inch Nails is writing the score
Apparently, Lindelof is a big fan of Nine Inch Nails, and Nine Inch Nails are big fans of Watchmen, so the two tag-teamed and Trent Reznor and Atticus Ross of the band are scoring the series. This isn't the first time the recording artists have provided a film score, previously lending popular compositions to Gone Girl, The Social Network, and more.
Because Watchmen is, for the most part, still pretty hush hush, we'll continue updating this post as more information about the new series is revealed.