HBO's got a void to fill now that their most popular series, the cultural force that was Game of Thrones, has wrapped up after eight seasons. They've still got critically acclaimed series like the star-studded Big Little Lies, or cinematic ventures like Westworld on their roster, but without GoT, it looks like they're hoping to hold onto subscribers with "the next GoT," whatever that might mean.
It's possible that the answer to that dilemma is yet another lavish genre adaptation -- yes, we're talking about Watchmen. The material, drawn from the iconic comic book by Alan Moore and Dave Gibbons, has a lot to live up to. Not only has Watchmen been universally lauded as one of the best stories ever put to the paneled page, there are a majority of fans that still feel let down by Zack Snyder's 2009 bloated, over-stylized, divisive movie adaptation. (At least the movie's credit sequence holds up.)
In short, the comic follows a group of superheroes -- or outlaws, depending on who you ask --  who, amid the backdrop of the U.S. in the Cold War '80s, are faced with a personal challenge as one of their own is mysteriously murdered, while the Doomsday Clock (a method in which the world gauges how close we are to civilization-ending catastrophe) ticks closer and closer to midnight. Sure, we've come a long way from those tense times, yet the new series may be more relevant than you think: As of writing this, the 2019 Doomsday Clock is positioned at two minutes to midnight.
HBO's Watchmen has been in the works for quite some time with The Leftovers and LOST showrunner Damon Lindelof at its helm. Development talks began as early as June 2017 before a pilot was ordered in September of that year, with HBO officially giving Season 1 the go-ahead in August 2018.
The show has since been primed for a 2019 premiere, and now that we're approaching its release, we've compiled everything we know about the gritty superhero series so far. 
Recommended Video
These Are the 7 Best Jim Pranks From 'The Office,' Ranked
When is HBO's Watchmen coming out?
One of the most highly anticipated upcoming series of 2019, Season 1 is expected to premiere sometime in October.
Is there a trailer for Watchmen?
After releasing a teaser in late May 2019, HBO finally dropped a full-length trailer for the San Diego Comic-Con crowd in July. Up until this point, audiences were given only a glimpse at the ominous group dressed as Rorschach -- real name Walter Kovacs, if you're nasty -- and the police officers hiding behind their own yellow cowls. Now, upon closer inspection of the Watchmen trailer, it's looking like those wearing the iconic inkblot masks are not heroes -- instead, a white supremacist group known as "The Seventh Cavalry" who are using the Rorschach mask as their own symbol of hate. 
Series creator Damon Lindelof explained this choice during HBO's presentation at the TCA Summer Press Tour. "What in 2019 is the equivalent of the nuclear standoff between the Americans and the Russians?" he asked, comparing the subject matter in the new series to the main conflict explored in the comics. "It is race and the police." 
A whole slew of Easter eggs and hints are on full display in the clip, including the appearance of Hooded Justice, one of the original members of the Minutemen, who shows up in what looks like a fictional made-for-TV movie, titled "American Hero Story," that may explore the lives of the original heroes.
A brief glimpse of The Tulsa Sun newspaper and its cover story titled, "Veidt Officially Declared Dead," the biggest connection comes in the form of Jeremy Irons' Adrian Veidt. In the comics, it was revealed that Veidt's -- that's Ozymandias, if you're nasty -- plans of staging an alien invasion caused the death of The Comedian, kicking off the whole 1986 story. A squid shower, alluding to Veidt's history with the Alien Monster -- better known as the Squid -- makes us certain he'll still be pulling the strings.
Hidden identities are another common theme in the trailer, showing both law enforcement officials, vigilantes and members of the radical Rorschach-themed hate group all hiding behind masks. The theme of duality in human nature -- light and dark, good and evil, etc. -- will surely be explored here. And we suspect the moral lines will get quite muddied.
Aside from the hint that Dr. Manhattan will be returning to earth and the quick appearance of Night Owl's Owlship, there are a few visuals that allude to Robert Redford as the sitting president, which transpired towards the original paneled story's end as well as the comic sequel, Doomsday Clock. 
How many episodes will there be?
It looks like Season 1 includes 10 episodes that will air weekly.
Who are the showrunners?
Lindelof, who was behind one of HBO's best series, The Leftovers, as well as ABC's 2004 game-changer, LOST -- among a whole gang of other projects -- is spearheading Watchmen as the show's creator/writer/executive producer. He's working along with Nicole Kassell (The Woodsman, The Americans) and Stephen Williams (LOST, Westworld) who will both direct and executive produce, and Tom Spezialy (The Leftovers) and Joseph Iberti (Mr. Robot) will also executive produce.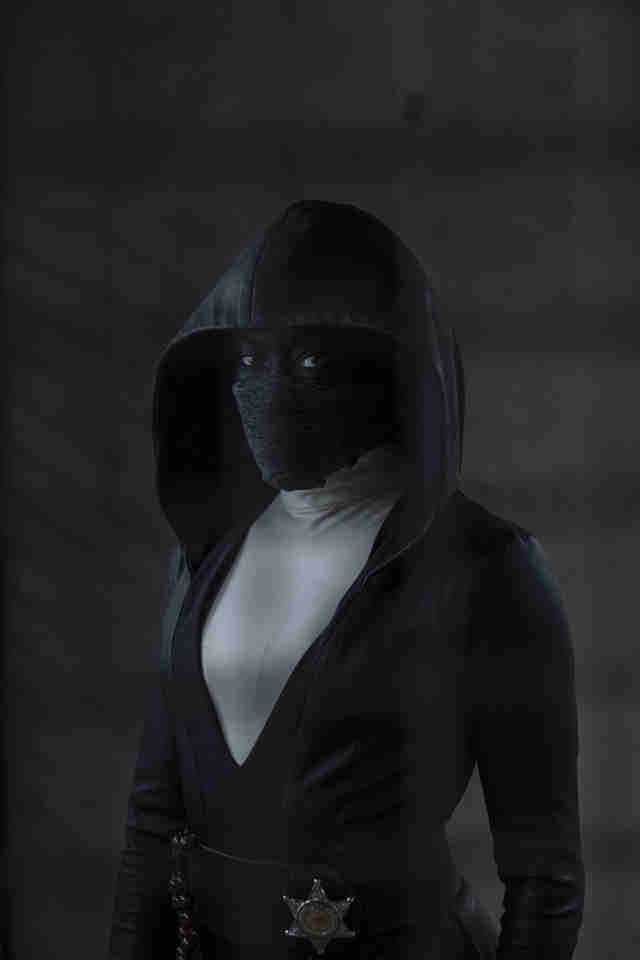 Who is in the cast?
The cast is led by recent Oscar winner Regina King (If Beale Street Could Talk), who previously worked with Lindelof on The Leftovers, and Jeremy Irons (Dead Ringers), who will be playing an older Adrian Veidt (better known as Ozymandias), a former superhero vigilante known for his supreme intelligence. Played by Matthew Goode in Snyder's film, Ozymandias revealed himself as the main big bad in the original comic, as well as the 2009 movie. Based on the trailer, his character appears to have remained in power with a very systemic, utopian view on society… which happens to be failing and more dystopian than anything.
King appears to be one of the superheroes, playing a character named Angela Abar, but beyond that, little is known about her role. However, it's hard not to wonder if there's a connection between the police badge she's sporting and the Silk Spectre cowls we see the officers wearing in the trailer. Could she be the vigilante previously played by Malin Ackerman in Snyder's movie? That remains to be seen, but isn't speculation fun?
The show is also made up of a large ensemble cast featuring Yahya Abdul-Mateen Il (Us, Aquaman) as Cal Abraham, Tim Blake Nelson (The Ballad of Buster Scruggs) as Looking Glass, Louis Gossett Jr. (Roots) as Old Man, as well as Adelaide Clemens (The Great Gatsby) as Pirate Jenny, Andrew Howard (Limitless) as Red Scare, Tom Mison (Sleepy Hollow) as Mime, Frances Fisher (Titanic) as Jane Crawford, Jacob Ming-Trent (Superfly) as Panda, Sarah Vickers (Endeavour) as Marionette. We're not leaving out Jean Smart (Legion) and Don Johnson (Miami Vice), either. In the new trailer, it was revealed that Smart will be playing an FBI agent who is revealed to be a much older Silk Spectre, while Johnson is Chief Judd Crawford -- police chief by day, vigilante by night. 
James Wolk (Tell Me a Story) and Dustin Ingram (Good Trouble) both have reccurring roles, Wolk reportedly as a senator. And according to Deadline, Hong Chau (Downsizing) will play a key role. Plus, child actors Dylan Schombing, Adelynn Spoon, and Lily Rose Smith will also appear.
So, is this a sequel or a direct adaptation or something else?
Here's where things get a little confusing: What we do know is that in no way is the show related to, or a continuation of, the 2009 feature film directed by Zack Snyder. After a long wait, we are finally getting details about the project, which seems to be blending influences from the original comics and Doomsday Clock -- the sequel series that was released as part of the DC Rebirth relaunch. That said, Lindelof has said that this Watchmen won't be a reboot of these stories, but a "remix."
In fact, Lindelof is so anxious about what fans might think of him fiddling with such untouchable text that he took to social media to share a five-page open letter partly about his personal relationship with Watchmen, but mostly about what he intends to do with it: "We have no desire to adapt the 12 issues Mr. Moore and Mr. Gibbons created 30 years ago," he wrote. "Those issues are sacred ground and they will not be retread nor recreated nor reproduced nor rebooted … they will however be remixed." Lindelof continued, "We're not making a sequel either. This story will be set in the world its creators painstakingly built … but in the tradition of the work that inspired it, this new story must be original."
During the 2019 TCA Summer Tour, the show-creator reaffirmed this to be true. He told members of the press that they aren't messing with 12-issue comic series, which ran from 1986 to 1987 For Lindelof and crew, they are "canon."
What we do know is this: The story takes place in Tulsa, Oklahoma, where cops and criminals wear masks to hide their identities. Ozymandias is still a bad guy and Robert Redford has been president since 1992. In this reality, the digital tools we take for granted like smartphones and the Internet do not exist, and sometimes it rains tiny squid. "It is not supposed to be a world that you recognize to Trojan horse themes that are in a real-world, in a fictional one," Lindelof added. "What is actual history and what is alt-history? Things start to get blended in the middle."
Nine Inch Nails is writing the score
Apparently, Lindelof is a big fan of Nine Inch Nails, and Nine Inch Nails are big fans of Watchmen, so the two have joined forces, with Trent Reznor and Atticus Ross coming on board to score the series. This isn't the first time the recording artists have provided a film score, previously lending popular compositions to movies like Gone Girl, The Social Network, Bird Box, and more.
Beneath the surface of this team-up is some intriguing history that exists between Reznor and HBO. In 2010, it was originally announced that the NIN frontman -- let's be clear here, Trent Reznor is and always has been Nine Inch Nails, so maybe calling him the frontman is a bit misleading, but we digress -- was working with the network to adapt NIN's 2007 album, Year Zero, into a mini-series. 
While the project never came to fruition, it's completely impossible to not recognize the dystopian, anti-establishment themes that play out in both Year Zero and Watchmen. The two stories explore a society driven by fear -- one being America as it existed under Ronald Reagan's administration, and Richard Nixon's before it, a concept repeated in NIN's thematic album, which was inspired by the 9/11 terrorist attacks and George W. Bush's response. In short, the union of Watchmen and Nine Inch Nails is not just a match made in heaven -- it makes perfect sense.
Because Watchmen details are, for the most part, still pretty under wraps, we'll continue updating this post as more information about the new series is revealed.