Alexa Demie, Star of 'Euphoria' and 'Waves,' on Fashion, Trauma, and Gen Z
Chris Delmas/AFP via Getty Images
The parallels between the two projects that have defined Alexa Demie's breakout year are striking. Waves, Trey Edward Shults' film currently playing in limited release, and the HBO series Euphoria are both A24 projects with killer soundtracks that document the lives of teens today. Both are stunningly shot, and wrestle with tough topics including drug use and abuse.
Demie is the lead of neither piece, but she's also impossible to ignore, giving performances that simultaneously feel eye-popping and entirely naturalistic. On Euphoria, she's Maddy Perez, a high school provocateur in a tortured relationship with jock Nate. In Waves, she's Alexis, the girlfriend of Kelvin Harrison Jr.'s Tyler, a kind soul, who finds her world in shambles as he spirals. Waves -- Shults' follow-up to his moody horror It Comes at Night -- is an impressionistic story that follows Tyler's family as they grapple with his demons.
Off-screen, Demi is a multihyphenate with budding careers in fashion and music in addition to acting. She's also emerging, along with a number of her Euphoria castmates, as a style icon, mixing old Hollywood bombshell sensibilities with Instagram-ready ensembles. When Demie enters a basement conference room in a New York hotel for our interview, I realize she's easily one of the most fashionable people I've ever spoken to or possibly even encountered, her look a funky spin on business attire, accented with tiny sunglasses. We sit down to discuss the new movie, portraying trauma on screen, and becoming a Halloween costume.
Thrillist: How did you and Kelvin go about building your relationship?
Alexa Demie: So Kelvin was actually living with a friend of mine. I was going over there to just see her and then I ended up meeting him there and then a couple of days later heard about the film. They were probably a week or two out from actually starting. I was, like, the last person cast. I knew I didn't have as much time because they had all been like hanging out and getting to know each other. I didn't know Kelvin at all and it's a really intense script and we'd have to be really vulnerable in front of each other. We kind of went through questions.
Like "getting to know you" games?
Demie: Exactly. We were playing like "getting to know you," "20 questions" games, which I've never done before for a project or, like, in life. That was new for me, but it was cool because I felt like it really connected us quickly which was so necessary for what we were about to jump into.
Had you hung out with him at all when your friend was living with him?
Demie: Just for like a day or two, and then I got the audition shortly after that. It felt really meant to be.
Trey's style is so distinctive. There's that opening sequence that features you and Kelvin in a car as the camera swings around. What was the experience of doing that like?
Demie: Everything with Trey in general felt really free. He's very aware of what he's doing, but he does it in a way that isn't invasive to our process or the scene. Half the time we didn't even realize that he was there. We would forget he was there. He would make sure he was out of sight so that while we were filming we didn't look and see, "Oh, there's Trey with a camera." It really allowed us to be in those moments and it felt really real just because of his style. I feel like he puts a lot of trust into his process and into us. It was really just like a collaborative experience of us trusting him and him trusting us and him allowing us to just go as far as we wanted to go with everything.
The music is such a huge part of this film. You're a musician and you're also on Euphoria, another project where the soundtrack is crucial. Has working on them inspired you to look at music in different ways? Have they changed your approach to your own music?
Demie: I'm so grateful that both of these projects are so music driven. I love music and I really believe that music is just as important in film and TV and in guiding scenes. It can either pull you in deeper to scenes or it can take you out if it's not a good song choice. It's inspired me in general. I like to listen to music before a scene. I have specific songs that I listen to for each project.
Were there any specific songs for this?
Demie: There was one song in particular for this. It's by Lauryn Hill. It's called "To Zion." It's a song my mom dedicated to me when I was younger. I would listen to that over and over again for this particular film. I feel like it's been a blessing to be able to keep music in my life while being an actress and filming. I think Trey was making a point to play all these songs when we weren't filming. When we're just hanging out and not filming, he would play all of these songs. We felt in it the whole time. So that was really nice. I think it's always inspiring for me when music plays a big part.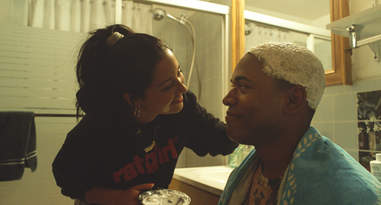 Demie and Kelvin Harrison Jr. in 'Waves'

| A24
Was there one moment where he was playing one of the songs that really hit you in the right way for a scene?
Demie: There was one song he kept playing but it's not in the movie. It didn't make it in the movie. It was a Kanye song, I think it was from My Beautiful Dark Twisted Fantasy. That album in particular was an album for me. I forget the name of it, but..."Runaway."
That song feels appropriate for the subject matter.
Demie: Totally. That song and video in particular hit me in a different way.
In very different ways, in both this and Euphoria, you are playing women dealing with relationships that ultimately turn abusive. How do you tackle the responsibility of doing that?
Demie: Well, it's definitely not easy. It's a lot of internal work that I have to get in character and get out of that. You don't want to stay with that. As far as the responsibility, I'm an actress and I'm just trying to do my best and portray it in the best way I can. I don't want to tell people what to do or how to live their lives, but it's been really nice getting some responses from girls and boys that have gotten out of those situations. It feels really good because obviously I don't believe anyone should be in a relationship like that. But where I'm coming from is as an artist and trying to do the best that I can in the role.
How were you working with Kelvin to get to those scary places?
Demie: Honestly, we were kind of each just doing our process. It wasn't like, "let's do this." He did his process, I did my process, and then we just fully allowed ourselves to be as vulnerable as we can be with each other.
How did you approach that abortion clinic scene and the aftermath of it when Alexis and Tyler get into a fight over her decision to keep their child?
Demie: I listened to the [Lauryn Hill] song a lot. I just put myself of being pregnant and not knowing and then deciding I don't want to let this go, and I actually want to make the decision for myself to keep the baby. I have some people in my family that have gone through similar situations, so I pulled from that. I was pulling personal and imaginary experiences.
What does that Lauryn Hill song mean to you?
Demie: That song is something really special for my mom and [me]. She had me really young and a lot of people told her not to because she was so young. She decided and made the choice for herself. She dedicated that song to me, and we just always cry when we listen to it.
What was your reaction to the Waves script when you read it in the first time?  Without spoiling anything, the second half shifts dramatically in tone.
Demie: It was really cool reading it because it was digital and the songs were somehow embedded into the script. They were playing with each scene. And then he also had big letters, small letters, colorful letters. I just appreciated his creativity. I was like, "okay, this is something I would do if I were writing something." I was really appreciative of that. I haven't seen a transition like that. I thought it was really beautifully written. And then I watched his short film Krisha and I was like, "Oh my God, I have to work with him."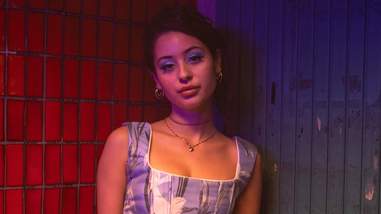 Demie in 'Euphoria'

| HBO
Both Waves and Euphoria are very keyed into modern life. There's a whole sequence in Waves that revolves around texting. Is there any weird burden of Gen Z representation that you take on?
Demie: If I read something, I don't like lingo that's really trendy right now or overuse of social media, but I think both of these projects did it in a real beautiful way. Like that text fight with Kelvin -- you feel that. And then even the dots and you're waiting -- we've all been there. And then in Euphoria, I just feel like they are all done in such tasteful ways. It's not, like, in your face. It's not done in a campy way. It's very artistic and tasteful. It's our time. We're constantly on our phones, so we have to show that. Even me telling [Tyler] something that serious over text, which is usually something you should call or tell in person.
But who calls?
Demie: Yeah, who calls anymore? It's very real to what's going on right now. I don't mind the way that it was done.
Your Euphoria character was a Halloween costume this year. Were you surprised that her style clicked and took off?
Demie: It's something [creator] Sam [Levinson] always wanted. He wanted girls to copy the makeup. He wanted girls to dress like Maddy. And of course you're like, yeah, that's cool. But to actually see it happening in such a major way, it's still kind of shocking everytime you see something. But I think it's really cool.
Do you have any hopes for Maddy going into Season 2?
Demie: I just want to explore her more in a more independent way. But also I think all of us just trust Sam. He has such a genius mind that I think we're excited to read whatever he comes up with. Every table read was always so exciting. So honestly, wherever he thinks she should go, I trust him totally.
Were you following the reaction to the show, from the panic to the fandom?
Demie: I think we were all experiencing it together. A bunch of us would watch it together, and every episode kept getting crazier and crazier. By the time we got to the carnival episode, that's when I really started seeing a bigger reaction and a shift. We were going through it with everyone watching it. It felt special to be able to experience that and also have reactions and also see reactions live, being tweeted.
You've worked in fashion. Was there one moment where you were in a costume where you were just like, "Whoa, this is something new?"
Demie: I was never like "whoa" because [costume designer] Heidi [Bivens] was very collaborative. In the script [for the carnival episode], it said, "she wears the craziest outfit." So I had seen that outfit, and I showed it to Heidi and she was like, "This is perfect." Then she custom-dyed it purple because it didn't come in purple. She wanted it to match the younger me in the beginning. It was never like "whoa" because Heidi and I would send looks back and forth to one another. It's definitely not how I dress in my personal life.
How are you finding looks?
Demie: Like new designers on Instagram or I'll look up old runway shows, and she kind of found ways to recreate them in a more modern way. For the last episode, we had a whole custom moment which was really cool.
You're working on an EP. How would you describe what you're playing with in that?
Demie: Well, I'm really conceptual. I like a full story. That's why I love projects. I like beginning, middle, ends and like real instruments.