Everything We Know About Season 2 of Amazon Prime's 'Wayne'
Is the action comedy coming back?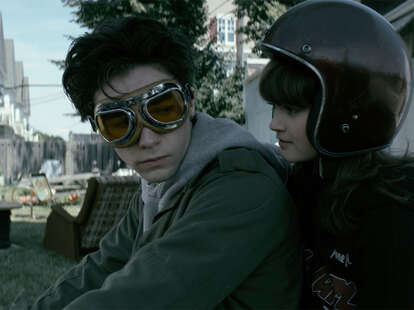 YouTube Premium's plan to create original content to compete with the likes of Netflix, Amazon Prime, and Hulu was short-lived, but it still managed to churn out a few hits—including Cobra Kai, which got scooped up by Netflix, and Wayne, the pitch-black action comedy about a vigilante teen. The show from Shawn Simmons about a teenage boy (Mark McKenna) driving cross-country from Brockton, Massachusetts to Florida in search of his late father's stolen Pontiac Trans-Am became an instant success, amassing tens of millions of views on YouTube and critical acclaim. Despite being a cult favorite, Wayne faced the brunt of the streaming wars when YouTube decided to cut back on investing in original programming just months after it aired.
At first, it seemed like the show was basically stripped of a chance at Season 2—but that's not really the case. The show wasn't officially canceled by YouTube. Co-writer Rhett Reese explained it best on Twitter back in 2019: "Wayne wasn't canceled, per se. Rather, its network was canceled." So, instead of accepting defeat, the series found a home on another streaming service and arrived on Amazon Prime in November 2020. With the show now "presented by Amazon Prime," it's definitely fair to wonder if that means fans can finally buckle up for a second season. Here's what we know about where Wayne Season 2 stands right now.
Will there be a Season 2 of Wayne?
Even though Wayne moved over to Amazon, that doesn't mean it's guaranteed a second season. It still hasn't been officially been renewed yet—but it's not out of the realm of possibility. Considering former YouTube original Cobra Kai landed on Netflix and got a renewal, more episodes following the whirlwind romance of Wayne, his brazen girlfriend Del (Ciara Bravo), and their search for justice could get the go-ahead from Amazon eventually.
In fact, the cast and team behind the series are really pushing for it. When the show was released on Amazon, showrunner Shawn Simmons and stars Mark McKenna and Ciara Bravo encouraged viewership on their respective social media, saying that if the show finds an audience on Amazon, the streamer might bring it back. Meaning, if they've gotten word from Amazon that the show's success on the platform could earn it a Season 2, it seems like it's at least being considered. It sounded like things were looking up shortly after it premiered, too. Co-writer Rhett Reese told Complex in December 2020 that the team behind Wayne got "good feedback from Amazon," so the possibility is there.
It has been a minute since the show dropped on the platform, though, and there hasn't been any word on its status. For what it's worth, IMDb indicates that the show only ran in 2019 and isn't moving forward. Of course, it's important to note that there still hasn't been an official cancelation announcement either, so it might not really be the end. It's possible that Amazon is still analyzing the viewership data. The series did drop in the middle of the pandemic when much of Hollywood was shut down and Amazon Studios had to put many productions on hold, or potentially evaluate which to prioritize, so a renewal could be effected by those factors and still come down the line. In the meantime, just keep channeling your inner Wayne and threatening everybody you know into watching it. Just kidding, gentle suggestions are fine (please don't threaten anyone).
When will Wayne Season 2 be released?
Without an official renewal, it's total speculation when more Wayne might arrive. Showrunner Shawn Simmons told Screenrant that he's already written the Season 2 premiere and has the entire season mapped out, so should Amazon renew the dark comedy, it sounds like the team wouldn't need too much time to write out the rest of the script before moving into production.
It's also important to note what the show's stars are up to in the meantime. Mark McKenna landed one of the crucial roles on the upcoming Peacock teen drama One of Us Is Lying, and according to IMDb, that series is in the process of filming right now. Then, towards the very end of 2021, the actor's going on tour with his (very good, The 1975-inspired) band milk.
Ciara Bravo's schedule appears to be available in the near future, but Dean Winters, who plays her father, is among the stars of Peacock's Tiger King-inspired show Joe Exotic, which just went into pre-production. So, it doesn't seem like we'll be hitching a ride back to Brockton anytime too soon if the cast isn't available to film until early 2022.
Looking at that speculative timeline, don't expect Wayne back until maybe the latter part of 2022—should it get the green light on another season. For fans who tuned into Wayne when it first hit YouTube way back in early 2019, that certainly seems like a long wait, but if it works out, it'll feel as satisfying as one of Wayne's (unhinged) acts of revenge.
Who in the cast will be back?
Wayne wouldn't be the same without, well, Wayne, so Mark McKenna who plays the titular, nunchuck-wielding, motorbike-driving bad boy with a heart of gold should obviously be back to lead round 2. Since he's smitten with Del, the Bonnie to his Clyde—despite being chased by her father and goon-like brothers across state lines—Ciara Bravo, who portrays the sassy teen, should also be back.
As for the rest of the cast, Wayne hasn't killed anybody with his ultra-violent ways (yet), so it makes sense for just about everybody to be back. Expect to see more of Del's father, played by Dean Winters, and her brothers Carl and Teddy (twins Jon and Jamie Champagne), the few looking out for Wayne, Principal Cole (Mike O'Malley) and his friend Orlando (Joshua J. Williams), as well as those who were on his tail, Officer Jay (James Earl) and Sgt. Stephen Geller (Stephen Kearin). It is unclear whether or not we'll be seeing more of Wayne's adversaries down in Ocala like Reggie (Francesco Antonio), his stepfather Calvin (Kirk Ward), or even his mother (Michaela Watkins), though, now that he's been caught and is being forced back up to Brockton. If we had to guess, there's probably still more fight left to fight surrounding that car, especially if Wayne didn't get to haul it back up north with him.
What will Season 2 of Wayne be about?
After bearing witness to a whole lot of violence throughout the first season of Wayne, the season finale was a punch in the gut for the audience. While the anti-hero may have won the battle against his gator-owning enemy Reggie and got his dad's car back, Del's family and the authorities finally caught up with them. Now that he's getting dragged back up to Brockton by the cops, Shawn Simmons confirmed to Inverse that inevitably Season 2 will start off with Wayne in juvie. He said, "The whole season's about Wayne trying to go straight, trying to earn back Del, and find the peace he deserves." Does that mean he might break out of jail for her? We wouldn't put it past him! Although, if he's trying to clean up his act to potentially get on Del's father's good side, that might not be the case. But based on that final shot of him holding onto her nameplate in the Season 1 finale, it seems likely he's going to do whatever it takes to get to her.
It's unclear where Del will land, but Simmons did say to Inverse we'll be seeing even more of her father—so figure Wayne having to win him over, or Del having to run away yet again, being a challenge next season. Mark McKenna told Screenrant that he wants to see Wayne "feel something that isn't anger" in the new episodes, so finding his way back to Del might just check all of those boxes.
Whatever happens, Simmons explained to Screenrant that since he's had a lot of time to think on the next season, he knows exactly where the action comedy would go, which sounds even bigger and more badass than the first. Hopefully we'll get to see what that looks like soon, but as we wait for more Wayne, continue to check back as we'll update this post as more information becomes available.