Getaway Guide: Cabin Life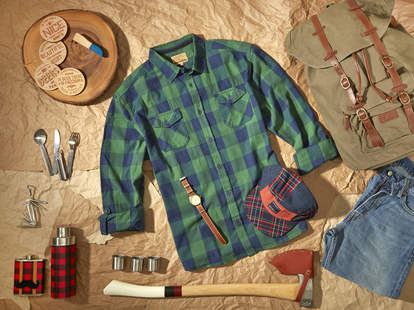 Cabin weekends mean rugged but classy: rucksacks, plaid shirts, a classic thermos (okay, it's a cocktail shaker), boots and other rustic gear. So whether you're holed up in a cabin with a few good friends or just one really, really good friend (eyyyy), be sure you've packed all you need to enjoy your out-of-the-way getaway.

The perfect zipup for cozying around a campfire.
This beast of a canvas bag will have you covered on the trail and in the cabin.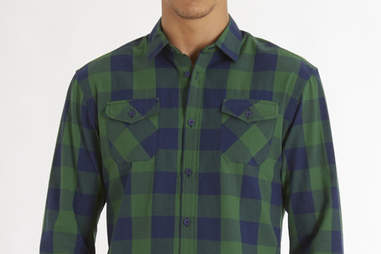 This is the proper wood-chopping, fire-stoking look.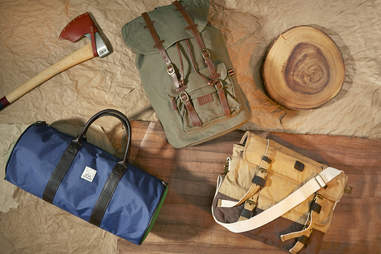 M.A.
A weekend "away from it all" might just be your thing - up in the mountains or by a lake, under starry skies and around cozy campfires. Make sure you're prepared - pack everything you could need in the wilderness (read: 20 yards from your car) in one of these durable, outdoors-ready packs.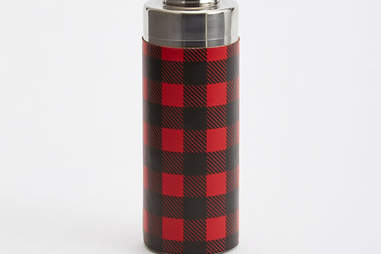 There is no such thing as a completely dry campsite.
Wireless - you can't plug into a tree.
Throw it all in here and hit the trail.
M.A.
Not all summer getaways are created equal. If you're not about hokey beach towns, digging sand out of places sand should never be, and using all the aloe vera in this hemisphere to treat your sunburn, fear not. But do dress for the Great Outdoors - bring a light jacket, tough jeans, and plaid. Plenty of plaid.
Protect those ankles, rockstar-style.
Because sporks never win.
There's no hiding these awesome shorts.