'Westworld' Easter Eggs You Might Have Missed
This post contains spoilers through the sixth episode of Westworld, "The Adversary." Head to Westworld World, our show hub, for recaps, theories, and deep dives.
Westworld pulls from a treasure trove of influences, including Michael Crichton (especially his original Westworld and Jurassic Park), open-world video games (in particular Red Dead Redemption), classic art and literature (Shakespeare, Alice's Adventures in Wonderland), philosophy (shout-out to Julian Jaynes' writings on the bicameral mind), and religion (so many biblical references) -- many of which get special shout-outs on screen and in dialogue.
"As a reformed gamer, I was fascinated in how any popular game is instantly scoured for mistakes or Easter eggs," series co-creator Jonathan Nolan told Entertainment Weekly in October. "That programmers quickly realized mistakes could be deployed as Easter eggs for the hardcore gamers who quickly work their way through the main narrative." We happily rewatched every episode of the show multiple times to find hidden references, in-jokes, and homages; our favorites are listed below.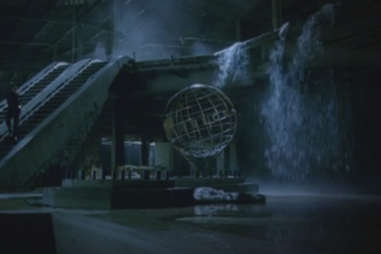 Delos globe
Sub-level B83 is home to a rusting globe bearing the word Delos, the mysterious corporation that runs Western World, Medieval World, and Roman World in Crichton's 1973 original, and that plays a similar role here.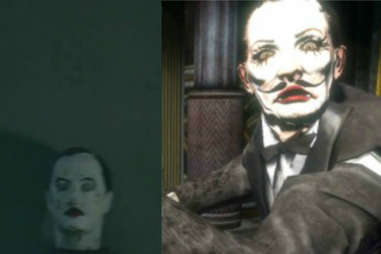 Vitruvian Man
Leonardo da Vinci's Vitruvian Man is all over the place. Namely, the opening credits.
Logan & William vs. John & Peter
The naïve Westworld newb William (played by Jimmi Simpson, above right) and his douche-y park-veteran pal Logan (Ben Barnes, left) nicely parallel the protagonist duo found in Crichton's 1973 movie: rookie guest Peter Martin (Richard Benjamin) and jerky veteran John Blane (James Brolin). If this parallel is valid, Logan better watch out.
Robo-rattlesnake
In the movie, a rattlesnake bites John Blane, but HBO's slithering automaton is no threat to Ford, who's just like, "Nah, dude."
Not-so-human hands
Ford says this of his decommissioned drinking buddy Old Bill: "[The early models] repeated themselves, broke down constantly -- a simple handshake would give them away." In Crichton's Westworld, robots could be identified by looking at their hands and their giveaway flaw: easily discernible ridges.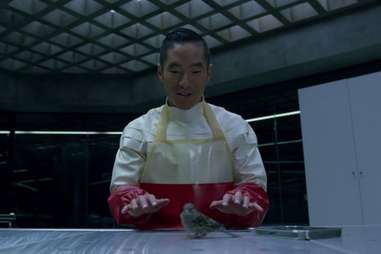 Jurassic Park
In Episode 5, Delos repairman Felix (Leonardo Nam) attempts to revive a damaged robot bird, offering a phrase of encouragement that should sound familiar: "Come on, little one." Jurassic Park and Westworld have another (admittedly less overt!) thing in common: tragic engineers named Arnold who died on the job.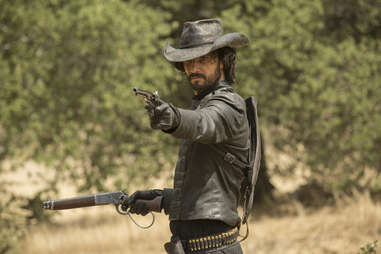 Apocalyptic characters and names
The characters in Westworld are less than subtle, especially when it comes to symbolism. There's Teddy Flood (Dolores' suitor, played by James Marsden), who might make you recall the purge story behind Noah's ark; Hector (Rodrigo Santoro), whose last name is a modified spelling of eschaton, or the end of the world; and Wyatt (Sorin Brouwers), Teddy's nemesis in the new narrative, who's described as a "pestilence" -- i.e., a fatal epidemic, and one of the Four Horsemen of the Apocalypse found in the New Testament's Book of Revelation. Eerie!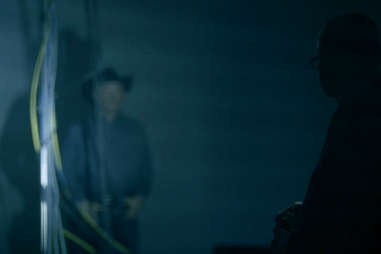 The Gunslinger
Ed Harris' Man in Black is already a nod to Yul Brynner's Westworld menace, but the show's best and most blatant Easter egg to date arrives in Episode 6. As Bernard heads down to B82, a restricted and retired floor of the Mesa Hub, he shines a flashlight on what appears to be the infamous Gunslinger lurking like someone who wants to photobomb a picture that's never going to be taken.
Sign up here for our daily Thrillist email, and get your fix of the best in food/drink/fun.