What's Really Happening to Dolores on 'Westworld'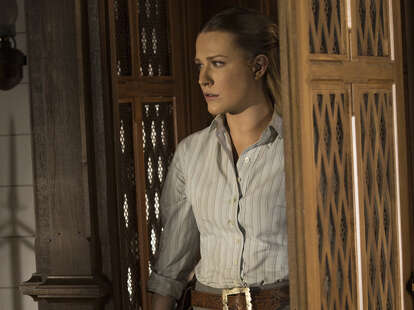 Maybe you can relate to Sweetwater's resident ingénue. In "The Well-Tempered Clavier," the ninth and penultimate episode of the first season of HBO's Westworld, Dolores Abernathy descends upon a town she's seen before. Is it a flashback? A vision? The audience can't say for certain, and Dolores is even more unsure. But the town's church is standing like a monolith in a wasteland of crossed-wire thoughts and hallucinations, and she willingly submits to its tractor-beam grasp.
The result is a flood of revelations, dense and difficult to interpret even if you've been spending your Monday through Friday mulling over Westworld theories. Casual fans relate to Dolores's confusion, but after "The Well-Tempered Clavier," they may have felt more like that stray host from Episode 3:
Fear not, brain-rattled viewer. Dolores's journey is simpler than it looks on the surface. Here's a beat-by-beat explanation of what you witnessed, and how it all leads up to Westworld's grand finale.
Let's start at the beginning. At the end of Westworld's eighth episode, "Trace Decay," just as Dolores recognizes the voices in her head as Arnold, Logan ambushes her and William with a legion of Confederate soldiers. "The Well-Tempered Clavier" picks up a few hours later, with the couple tied up in chairs and Logan basking in his wicked scheme. As show clues have insinuated, and this episode eventually confirms, the William-Logan plot is taking place about 30 years before the office goings-on of Dr. Ford, Bernard, and the Delos corporate spies.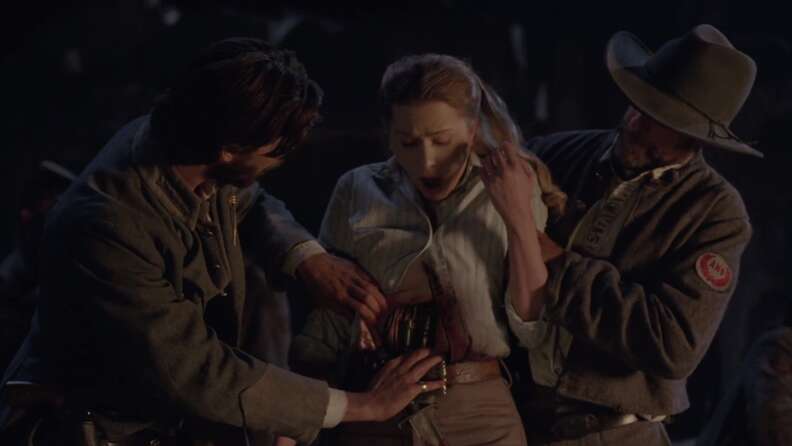 After wading into Maeve's in-game conspiracy and Bernard's quest to unlock wiped memories, "The Well-Tempered Clavier" picks back up with Dolores and William, now the playthings of Logan, the Westworld equivalent of Sid from Toy Story. With William's affection for Dolores grating on his nerves (somewhat fairly -- the guy is supposed to marry Logan's sister), Logan slices the female host to reveal her motorized innards and stomp on his pal's rose-colored glasses. Dolores shrieks, her fake blood oozes out of the wound, and Logan reminds William and the audience that she's just a machine.
The act of violence leaned in to another theory: Many believe that whatever William experiences in the park shapes him into Ed Harris's vindictive Man in Black character. A smaller contingent (like, very small) wonders if it's Logan who claws his way back to the park all those years later, not William. In episode five, MiB tells Teddy, "When this place started, I opened one of you up once. A million little perfect pieces." Maybe Logan slicing Dolores is the moment the MiB is referring to? Or maybe it's just a red herring so you don't think twice about where Dolores goes next.
A gash like Dolores's would take most Westworld hosts offline. Does she survive? Unclear, but she's pissed and alive enough to slash Logan on the face, gun down a trio of his soldier cronies, then run for cover in the darkness of night. The frenzy leads to a key moment in her journey, and one of Westworld's bluntest bits of visual storytelling.
We knew Dolores was an unreliable observer of her own existence way back in Episode 3, when she pulled a gun on an invading bandit, sending her loop awry. Few questioned her next move: retreating into the arms of William. But in the fourth episode, Westworld played invisible tricks. A scene where Dolores wandered the town square of Las Mudas seemed to shift perspectives, maybe even timelines, without any of the stylistic cues -- a whooshing sound effect, a white-flash transition, a sign from the actor that they've just awoken from a flashback -- that would signal to our seasoned TV-watching brains what was going on. Dolores appeared to be living multiple experiences at once, a symptom of her reveries that would only raise an eyebrow to those hunting for clues.
As Dolores continued down the rabbit hole, her displacement from reality became more and more overt. Any confusion experienced by viewers was the result of the series unwillingness to handhold. Was Dolores imagining herself running through a parade in Pariah because of a programming glitch? Was the image of herself facedown in a river a vision or a memory? Where, and when, was she? The questions all come to head in "The Well-Tempered Clavier," when Dolores escapes Logan's grasp, only to fall on the ground. The picture cuts to black, then cuts back to an unscathed Dolores in the same exact outfit.
We feel you, Dolores.
Though dressed in the same clothes, this is our heroine 30 years into the future, on a present-day hike to the end of Arnold's Maze. There's a secret loop built into Dolores's programming, one that took her from the Abernathy farmhouse to the Las Mudas fountain to the creepy orgies of Pariah to a mysterious off-the-map town -- namely, the infamous Escalante, aka the City Swallowed by Sand. She set out on her journey once upon a time with William, and now again in the present, alone.
As she follows the Maze symbols around Westworld and floats along Arnold's trail of REMEMBER whispers, Dolores's reverie abilities access these past events. Viewers experience the careening point-of-view just as she would: seamless and mind-boggled. It's possible we'll see this exact same perspective when (or if) William catches up with Dolores in the finale. But the moment above, intercut with Bernard's incoming awakening, is in the present. This knotted timeline becomes even more confusing when Dolores sets foot in unburied "Escalante."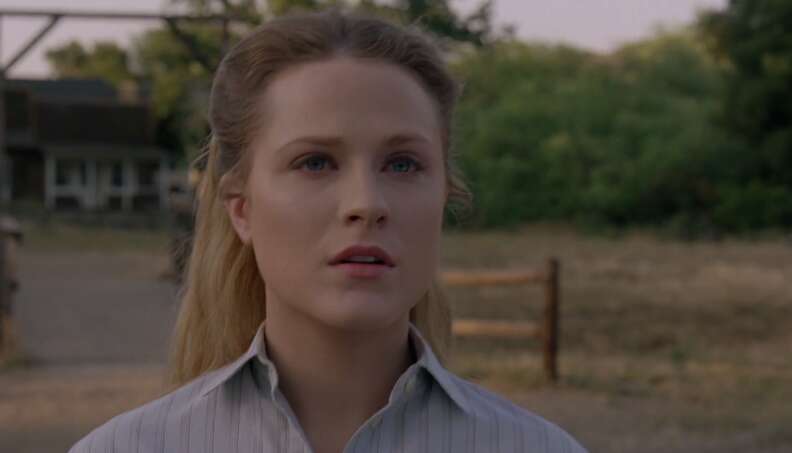 Brace yourself. Dolores reaches the church from her visions in the present-day timeline. The building triggers a memory, tripping her into...
... the past. Costuming tells us everything. As Dr. Ford preaches Arnold's Bicameral Mind in voice-over, we see Dolores enter the church in her classic, Andrew Wyeth-y blue dress. This is neither the present where we were seconds later, nor the 30-years-prior timeline featuring William and Logan. This is even earlier, 35-ish years prior, when Arnold first nudged Dolores through the looking glass.
The hosts in the church pews confirm the time jump: freaking the fuck out are Angela, an old host we saw as a Welcome Bot in William's introduction and then later as Wyatt's henchwoman in the MiB timeline, and Armistice, who is later reprogrammed as a member of Hector's gang. We saw both of them in a third-episode flashback to Ford's early days working on the park. Now they're here in the church, commanded by "God" to fuse the halves of their bicameral minds.
We see Dolores enter the hidden confessional elevator in her first shot at the Maze. She's rattled from reveries. Westworld blurs reality once again when the lift reaches a subterranean laboratory...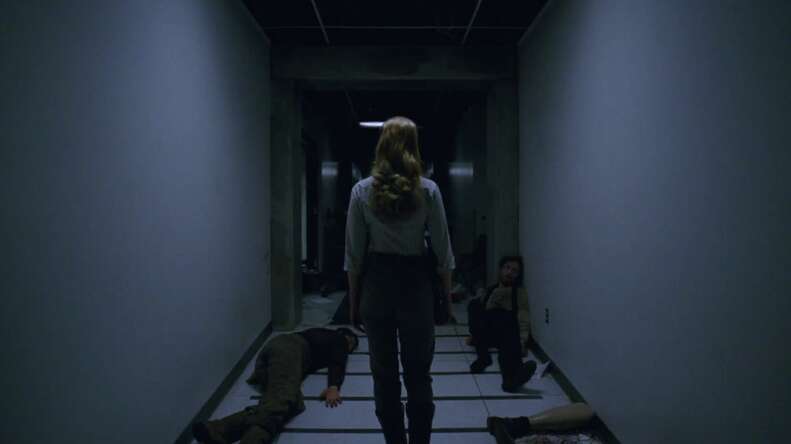 ... where present-day Dolores steps out to find a mess of dead bodies. Dead host bodies, to be exact. Someone, something, went ballistic in one of Westworld's underground facilities at some point in the past. If any humans died, they were carted away years ago. Only the abandoned hosts remain. And we know Dolores predates the mayhem because...
... her perception flashes back 35 years again, to her first trip through the Maze. Dolores tours the laboratory without a clue what she's witnessing. Dr. Ford doesn't seem to know what he has on his hands either; a de-aged version of Anthony Hopkins' character walks by her, hustling to Arnold, without blinking an eye. I guess when you work in a robot factory you don't mind a stray walking around on her own once in awhile? Neither stops to interrogate the other, and so the descent continues.
Muddling Dolores' imminent discovery, and perhaps a viewer's understanding of what the hell is going on, is the fact that Westworld dropped a twist on top of a twist. Intercut between these time-jumping moments are scenes of Dr. Ford admitting that Bernard is a robotic imitation of Arnold. The reveals intersect when 35-Years-Ago Dolores winds through the hallways of the lab and into a familiar room, the first location we ever saw in the series. Two chairs, two participants, one sneaky move on the part of Nolan and Joy. In the beginning, we thought Bernard was the one urging Dolores to embark on the Maze. Alas, it was Arnold, the splitting image of his future host avatar, meeting in secret with his test subject.
"You came back," Arnold tells her. "I've been looking for you," she replies. "You told me to follow the Maze. That it would bring me joy. But all I found was pain and terror... I need your help." Arnold can't help her, unfortunately, because this conversation isn't happening 35 years ago, clothing signals be damned. This is occurring in Dolores's artificial intelligence, a melding of moments.
Why can't Arnold save her? "Because you're dead. Because you're just a memory. Because I killed you."
The camera pulls back to reveal present-day Dolores, alone and terrified. We're left asking questions: Did Dolores really kill Arnold? Ford purports that the roboticist killed himself in the park after becoming too emotionally attached to his creations. There's likely a lie, but does it cover up Dolores' actions or his own, covered up by implanting fake memories into the female host's mind? If Dolores or another host zipped through the Maze (Teddy being a candidate) did go off the deep-end, did the blaze of violence that dropped all those host bodies occur 35 years ago, or closer to the William and Logan timeline, marked by an "incident" at Westworld that Bernard mentions in the first episode?
Whatever happened wasn't enough for Arnold because Dolores is back on the path of the Maze for a third time. She wakes up in the testing room with an understanding and insecurity of her capacity for violence. Arnold is still in her head, urging the robot to REMEMBER. Ford may be standing in her way -- he's the one who unearthed the church so that Dolores could run the Maze a third time. He's the one enlisting hosts to kill other hosts. He's the one who shakes his damn head whenever Arnold's love for hosts comes up in conversation. If he's luring Dolores towards another spat of violence, the real end of the Maze may require our heroine to resist killing -- or at least kill her living maker.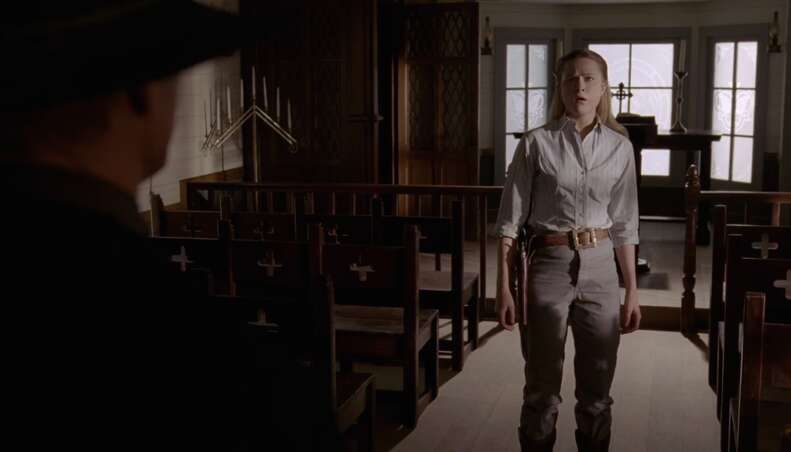 Dolores' "The Well-Tempered Clavier" arc ends in the present. She returns up the elevator to find the Man in Black standing in the doorway, lending more credence to the theory that he's either the elderly version of William or Logan -- and most likely the former because she said "William?" as he approached the door. While hosts around the park insist to MiB that "the maze isn't for you," he may be the key to pushing Dolores to where she needs to go. In the fourth episode's trippy Las Mudas sequence, Dolores imagines herself digging up a gun out of a grave that's inscribed with her name on the marker. Alongside her is a reverend-type dressed all in black. But that was Classic Dolores, presumably 35 years ago. In this iteration, that man in black could be the Man in Black, lending the human touch that the deceased Arnold cannot.
Where does Westworld go from there? Impossible to say -- but at least when it gets there, we'll know when it's happening. Maybe.
Sign up here for our daily Thrillist email, and get your fix of the best in food/drink/fun.
Matt Patches is a Senior Editor at Thrillist. He previously wrote for Grantland, Esquire.com, and Vulture. Find him on Twitter @misterpatches.