Here's What You Need to Know About 'Westworld,' Fall TV's Must-See Show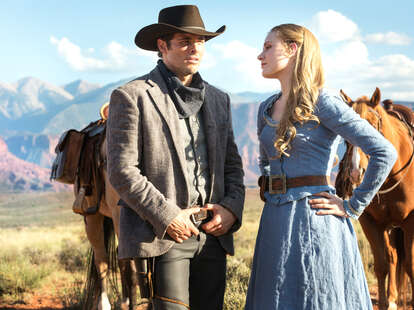 James Marsden and Evan Rachel Wood

| John P. Johnson/HBO
James Marsden and Evan Rachel Wood

| John P. Johnson/HBO
HBO doesn't just want to fill its sizable Game of Thrones void this fall; it also wants to make playing Cowboys & Indians cool again. When Westworld hits the small screen next month, the network will try to accomplish that by introducing a stacked cast, thought-provoking ethical dilemmas, a dense mystery, and a world of eerily lifelike robots.
The Western/sci-fi saga comes from power writing couple Lisa Joy and Jonathan Nolan, who have likened the series to a 10-hour movie. (Think Deadwood meets 2001: A Space Odyssey on loop -- more twists, less space.) Below, a guide to everything else you need to know about it (except for the mind-boggling questions you'll ask after you watch the premiere).
How do I watch?
The hourlong episodes air Sundays at 9pm ET/PT.
Tune in via HBO's cable channel, HBO NOW, HBO GO, or HBO On Demand.
What's it about?
A luxury amusement park dubbed Westworld exists for future yuppies to try their best John Wayne and Jesse James impressions. It's a large-scale Wild West re-creation that comes with bandits, prostitutes, shoot-outs, saloons, and all the other fitting clichés Tinseltown has conjured. Androids, called "hosts," populate the world to offer a seemingly endless amount of narratives and to interact with human visitors à la characters from a Grand Theft Auto-style open-world video game. Some tout quests and bounties. Others make themselves available for killing, f*cking, and partying.
No deadly repercussions result -- at least that's what the park tells customers -- because Westworld is the kind of place where you make your most heroic and perverse dreams come true.
It's rebooting a Michael Crichton original
In 1972, Crichton wrote a screenplay for the very first Westworld. The late scribe's story revolved around a more complex park, known as Delos, that actually comprised three destinations: Western World, Roman World, and Medieval World. All were as self-explanatory as they sound, with bots that served the same purposes as those mentioned above.
In Crichton's version, which he directed, two Delos patrons (Richard Benjamin and James Brolin) visit Westworld just as a mysterious technological "virus" makes its high-tech inhabitants (namely Yul Brynner's black-hatted gunslinger) go rogue. The resulting monsters-run-amok movie, in which humans pay for dominating their mech counterparts, plays as equal parts gripping action thriller, behavioral evaluation, and old Hollywood homage.
MGM was the only major studio that wanted Westworld, greenlighting a $1.25 million budget and six-week shoot. With VFX sleight of hand, original stunts, camera-cutting, and luck, Crichton and his team delivered a tight flick that ran under 90 minutes and earned an unexpected 95% approval rating after previews.
Who's in it?
One of the main differences between the '70s version and the update will be the points of view. Instead of focusing solely on human visitors, HBO's series will also give in-depth story lines to the resort's technicians and androids. Specifically, you'll want to pay attention to Dr. Robert Ford (Anthony Hopkins), Westworld's O.G. architect; Dolores Abernathy (Evan Rachel Wood), a robotic rancher's daughter; and the Man in Black (Ed Harris), a longtime Westworld player who looks like someone doing Brynner cosplay.
Viewers will see how the relationships between the humans and the hosts evolve via said trio. The added perspectives raise the reboot's stakes and make for a variety of engaging stories -- not just one. All around, the acting is top-notch.
Others involved:
James Marsden
Thandie Newton
Jeffrey Wright
Jimmi Simpson
Rodrigo Santoro
Ingrid Bolsø Berdal
Tessa Thompson
Sidse Babett Knudsen
Shannon Woodward
Ben Barnes
Simon Quarterman
Luke Hemsworth
Clifton Collins Jr.
The show will push the envelope
The premiere contains a scene in which a man violently drags one of the female hosts into a barn. When the media discovered this detail during the summer, sexual violence against women became a talking point at the Television Critics Association.
"Westworld is an examination of human nature, the best parts of human nature -- paternal love, romantic love, finding oneself -- but also the basest parts of human nature -- violence and sexual violence," Joy told reporters in July. "Sexual violence is an issue we take seriously; it's extraordinarily disturbing and horrifying. And in its portrayal, we endeavored for it to not be about the fetishization of those acts. It's about exploring the crime, establishing the crime and the torment of the characters within this story and exploring their stories hopefully with dignity and depth."
In an unrelated interview earlier this month, Nolan underlined that Westworld is not supposed to be feel-good fare. "I'll put it to you this way: Interstellar was, for me, a love song of a human spirit," he toldRolling Stone. "The first season of the show that Lisa and I put together -- it's pretty much the exact opposite of that."
It might also be a bit of a mindf*ck
... as a show that wants to discuss A.I.-related quandaries should be. "It's the most interesting part I've had in a long time because [my character] had to say so many grand themes about the bicameral mind and consciousness," Hopkins told the LA Times this month. The former idea to which Hopkins refers is detailed in Julian Jaynes' The Origin of Consciousness in the Breakdown of the Bicameral Mind. Part of the psychologist's thesis posits that human consciousness did not begin with animal evolution, but that it was a "learned process that emerged, through cataclysm and catastrophe." Wood toldRolling Stone that Westworld was an intellectual nightmare. "There were days where I had existential-crisis moments and started to wonder, Wait, am I a robot?'" she said. "Then, after I watched the pilot, I was genuinely creeped out by myself. It f*cked with all of our heads, I think."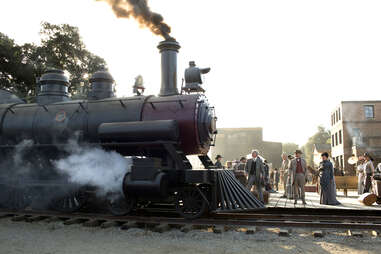 The creators grabbed influences from odd places
Nolan toldEsquire last summer that experiential modes of entertainment helped him and his team build out the reboot's world. He specifically name-dropped the video games Red Dead Redemption and BioShock, and the immersive theatre performance Sleep No More.
This reboot has been a long time coming
Around 2002, the trades cried that Arnold Schwarzenegger had signed a deal with WB to help revive Conan the Barbarian and Westworld -- in the latter as a killer bot. At the end of 2003, however, Arnie replaced Gray Davis as the governor of California. (The only killer bot he played in that time frame was the Terminator.) In 2011, THRreported the project was still active. And a couple years later, J.J. Abrams's Bad Robot production company nabbed a pilot commitment deal with HBO and Warner Bros. TV to finally do something with the idea.
A couple snags still surfaced, despite the go-ahead: namely, a delay to "get ahead of the writing," and a scandalous on-set sex waiver. HBO has since billed the long-awaited Westworld, appropriately, as "a dark odyssey about the dawn of artificial consciousness and the future of sin."
Need a Westworld fix right now?
If you haven't watched Crichton's feature directorial debut, that should do the trick, but if you want more, Westworld was successful enough to spawn a sequel, Futureworld (1976). This time Crichton was not involved. Instead, Richard T. Heffron helmed, with Peter Fonda and Blythe Danner co-starring as investigative reporters sent to tour the titular Delos addition and research the corporation post-Westworld.
Futureworld takes a silly turn when, oops, it's revealed Delos is making killer clones out of its guests. Also, Brynner briefly cameos in a dream sequence that would've made Barnabas Collins and his friends laugh. Though Heffron's follow-up plays like a cheesy TV movie, it managed to receive mixed reviews upon its release. It should at least partially sate original Westworld fans.
There was also a TV series
Beyond Westworld, a spin-off of the early pics, arrived in 1980. It was another misstep. The CBS property introduced a corrupt programmer who graduated from the Pinky & the Brain School of World Domination and wanted to use the defunct park's killer androids to, well, you know. In case that idea doesn't immediately sound like a no-no: BW essentially voided the original's most interesting thematic elements -- and those of the forthcoming HBO project. ("Wow, are these automata sentient beings? They look and act like us? Should we not abuse them?" "Haha, never mind, it's cool: a scientist is just f*cking around!") The show can boast Emmy noms for art direction and make-up, but only three installments aired before its speedy cancellation.
How can you prep?
Watching the old Westworld stuff will give you an idea of what to expect -- and might help you spot any Easter eggs Nolan and Joy plant. You can also get in the right sci-fi mindset by watching more material that has A.I. and mental manipulation playing a front-seat role:
Person of Interest (Nolan's other TV series)
Max Headroom
Humans
Dollhouse
Black Mirror, specifically "Be Right Back" and "White Christmas"
THX 1138 (1971)
Blade Runner (1982)
A.I. Artificial Intelligence (2001)
Teknolust (2002)
The Stepford Wives (1975, 2004)
Surrogates (2009)
Turbo Kid (2015)
Wall-E (2008)
2001: A Space Odyssey (1968)
Ex Machina (2015)
Is it really HBO's Game of Thrones replacement?
Comparisons to Game of Thrones have nearly drowned out the other marketable aspects of Westworld -- which is understandable but weird, seeing as it doesn't share much in common with GoT. On the surface, the two inhabit totally different worlds and grapple with totally different issues. You could say the overlap of their Venn diagram should only include: "HBO" and "period drama."
That doesn't mean they can't function in similar ways, though. "For those of us who just like story -- lots and lots of story! -- Westworld will hit the spot as hard as GoT ever did," wrote The Guardian's Lucy Mangan. Collider's Allison Keene also gave a brief shout-out to the semblance of sprawling narratives.
And maybe more interesting, there are recognizable behind-the-scenes names coming over from GoT: helmers Neil Marshall and Michelle MacLaren directed some episodes, Ramin Djawadi composed some of the music, and Robert McLachlan and David Franco lent a hand in the cinematography department. For this viewer, Westworld has the well-rounded on- and off-camera talent, perfect timing, heady moral conflicts, and addictive sense of intrigue needed to complement its prestigious cousin. You hardly notice there aren't any robot dragons.
Sign up here for our daily Thrillist email, and get your fix of the best in food/drink/fun.