This post contains spoilers through the fourth episode of Westworld, "Dissonance Theory." Head to our Westworld show hub for more reviews, theories, and deep dives.
Teddy's not the only one gunning for Wyatt. As tonight's Westworld episode, "Dissonance Theory," revealed, Armistice wants to find the new villain, too. When it comes to filling in the paint of her incomplete snake tattoo, only Wyatt's blood will do.
More intriguing than the rifle-toting blonde is the woman playing her: Ingrid Bolsø Berdal, a rising talent Stateside moviegoers and HBO subscribers can expect to see more of. The 36-year-old actress first graced Westworld in the pilot, wreaking havoc in Sweetwater alongside Hector Escaton (Rodrigo Santoro), and then briefly in flashbacks to the park's early days. If her blood-soaked badassery has since made you say, "Whoa, who's that?" -- here's a cheat sheet:
Recommended Video
This New Gadget Charges Your Devices Using Your Bare Hands
She broke out in Cold Prey
Bolsø Berdal hails from Norway, where she began her screen career with turns in Hans Petter Moland's Comrade Pedersen and Erik Richter Strand's Sons. She broke out in Roar Uthaug's slasher Cold Prey, starring as Jannicke, a crafty brunette with a knack for pickaxe-swinging. The movie was a hit in Bolsø Berdal's homeland, and her performance nabbed her the Amanda Award (excellence in Norwegian film) for best actress in 2007.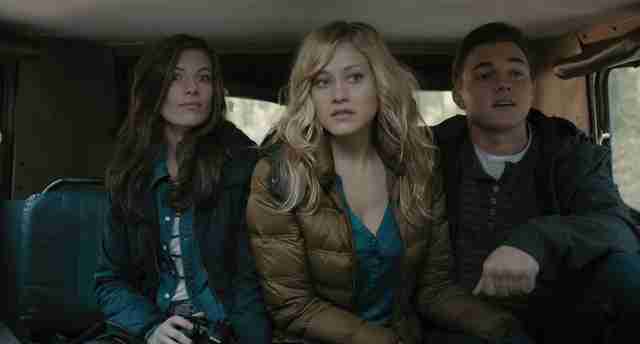 She hit the U.S. with Oren Peli's Chernobyl Diaries
Bolsø Berdal worked on more than a dozen other projects abroad -- namely Cold Prey 2, which earned her another Amanda acting nom, and Codename Hunter -- before making her big-screen debut in America. As the Chernobyl Diaries's Zoe, she played a free-spirited Norwegian backpacker (fitting!) who makes a bad decision by joining a group of ill-fated tourists on a trip to Pripyat, the Ukrainian ghost town that housed workers of the titular nuclear power plant. A lot of the movie's scares and dialogue were improvised, so as to elicit naturalistic reactions from the cast. Understandably, Bolsø Berdal called the experience "stressful."
She (kinda) kicked butt as a witch
Bolsø Berdal's next U.S. gig came in the form of Hansel & Gretel: Witch Hunters, a revised version of the fairy tale helmed by her fellow countryman Tommy Wirkola. Under layers of makeup, the actress menaced the movie's heroes as the Horned Witch, a Hexadecimal-looking baddie who excels at hand-to-hand combat but sucks at flying brooms. Bolsø Berdal's bruising brawl with Jeremy Renner's Hansel and Gemma Arterton's Gretel, which you can watch above, is one of the flick's more satisfying highlights.
Movieclips Coming Soon/YouTube
She kicked more butt with Dwayne Johnson in Hercules
Bolsø Berdal's biggest Hollywood movie to date cast her alongside one of Hollywood's biggest stars. Atalanta "requires a certain type of actress," Johnson has said of Bolsø Berdal, adding that her physical prep -- which included five weeks of archery and fight training -- was "extraordinary." As Hercules' protector, Bolsø Berdal stood out as a war-ready arrow-slinger who was still in touch with herself. "It was important to me that we created her as feminine as we could, to say that we don't have to act like guys," she explained in an interview earlier this year with MovieWeb. "We can be strong and feel good about ourselves and still do it in a feminine way."
Ingrid Bolsø Berdal/YouTube
And she's multi-talented
For one, she's a Hedda Award-winning stage actress. But she's also a musician! Bolsø Berdal studied jazz singing at the University of Trondheim, before switching to acting at the Oslo National Academy of Dramatic Arts, and she has a couple performances on her website to show for it. If you're one of those people who thinks there aren't enough jams about cacti in the world, good news: Bolsø Berdal wrote a funny one (above) about succulents -- and risks.
Sign up here for our daily Thrillist email, and get your fix of the best in food/drink/fun.