Has there ever been a series as bafflingly beautiful, yet maddeningly nonsensical, as Westworld? HBO's sprawling sci-fi epic, the brainchild of married creatives Jonathan Nolan and Lisa Joy, is as big and as bold as television gets. Set in the future, it tells the story of a technologically advanced theme park populated with humanoid "hosts," aka freakishly realistic androids. The show is based on the 1973 film of the same name, which was written by Michael Crichton -- a name that conjures other images of theme parks gone awry.
Recommended Video
8 Marvel Movies to Binge Watch Before 'Avengers: Endgame'
But Westworld is no Jurassic Park. Instead of leaning into spectacle, it plunges inward, questioning the nature of humanity, sentience, and the fabric of reality. The hosts aren't just lifelike robots, but apperceptive beings programmed by a godlike creator: Anthony Hopkins' Robert Ford, who died at the end of Season 1 after lighting the fuse for a host revolution.
That revolution was the main plot of Season 2, which saw his favorite creation -- the demure farm girl host Dolores (Evan Rachel Wood) -- awakened to her intended purpose: Leading the hosts against their conventions and infiltrating the real world. Her quest was a success, and Season 2 ends with a brave new world of storytelling possibility.
But where will it go? Nolan and Joy are famously tight-lipped about the plot, but they have given us some delicious teases, and there are things we can piece together based on where Season 2 left off. Let's take a look at what we know about Season 3 and where things could be headed based on all of the clues at hand.
When will Westworld Season 3 air?
We don't know when, exactly, the third season of Westworld will debut on HBO, but if we're placing bets, we'd say early 2020. Remember that Westworld is fond of long breaks; season one premiered in October 2016, but the show didn't return for Season 2 until April 2018. High production costs are probably to blame for the long interstitials, but this time around there's an even likelier reason for a delayed return: The final season of Game of Thrones will air in spring of 2019. We're guessing HBO will want to put some distance between its two sprawling, prestige genre series.
Also, according to Ed Harris, filming for Season 3 doesn't start until June of 2019. So yeah, early 2020 is looking the most likely.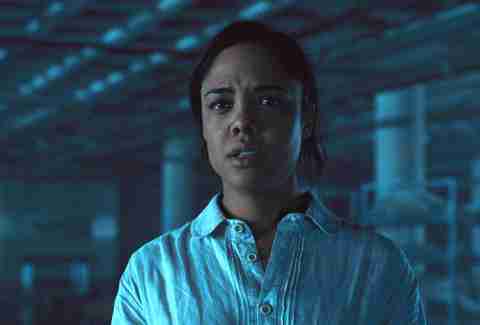 Which characters will come back to Westworld in Season 3?
Here's where things get tricky. Given the jumps in time, the swapping of bodies, and the general mindfuckery that is Westworld, it's hard to ascertain who, exactly, is in or out for Season 3. We know Evan Rachel Wood and Thandie Newton will return -- both recently discussed getting equal pay for Season 3 -- and Harris's note about filming in June 2019 hints that he'll be back as well. Because Season 2 saw Dolores escaping the park in the host body of Charlotte Hale, we know Tessa Thompson will be around, too. Chances are also good that Jeffrey Wright will return as Arnold/Bernard.
But what about the characters killed off last season? Human characters like Shannon Woodward's Elsie and Katja Herbers's Emily are definitely dead, although a host version of Herbers appeared in the finale's post-credits scene, meaning the actress could stick around in some capacity. Then there's the matter of hosts, like James Marsden's Teddy, who opted for digital death last season. Will we be seeing his likes again? As Nolan told Entertainment Weekly, "It's a large ensemble cast and sadly we're saying goodbye to some people at the end of this season." It's still anybody's guess who he's talking about here, but Teddy seems to be a likely candidate for the host chopping block, especially since his story never felt as vital as characters like Dolores and Maeve.
Where will Season 3 take place?
Dolores's escape from the park at the end of Season 2 opens up a world of possibility when it comes to settings going forward. According to Nolan and Joy, we're about to see what our hosts look like outside of the boundaries of their faux-Western home. "It's been a long build-up to get outside the park," Nolan told Entertainment Weekly. "And we're incredibly excited about what that looks like and sounds like and what exactly our hosts discover out there."
In addition to the outside world, we'll also get a look at the different parks in the Delos Destinations system. We've already seen Westworld, the Raj, and Shogun World, but we know there are at least three other parks we haven't visited. When asked by The Hollywood Reporter if we'll visit them soon, Joy responded, "Absolutely."
What will Season 3 be about?
According to Nolan, Season 3 is a "radical shift" in storytelling for Westworld. "What's compelling and appealing about these characters is that they're not human," he told The Hollywood Reporter. "As we said in the show, humans are bound by the same loops the hosts are, in some ways even smaller. You couldn't expect human characters to withstand and survive the kind of story that we're telling. The hosts have a different version of mortality, a different outlook. I think clearly with Dolores, as she's laid out, there is a longer view here, a larger set of goals. They're existential. They span eons. And that's a fascinating level of story to engage in."
Joy added to Nolan's comments that Season 3 is like "repiloting," meaning the show will almost start from scratch. With that in mind, we can expect the look and feel of Westworld to be very different going forward.
OK, but what will the plot actually be about?
We know that Dolores has entered the real world in the host body of Charlotte, but also re-created a copy of her original, Evan Rachel Wood form. Does this mean Dolores now exists in two bodies? "Ehhh, not really," Nolan told EW. "The question of who's who and what we're looking at is something we're excited to play with." We do know that whatever form she's in, she's at odds with Bernard, who's also out of the park at season's end. Where we find them and what their story looks like going forward is still a mystery, and one the showrunners aren't spilling just yet. But Joy did tease that Dolores has "come to understand that true freedom isn't something that arises from a lack of dissent, from a dictatorial or totalitarian rule of one set of ideologies. It's something that has to happen with a plurality of ideas, sometimes coming into conflict. Because she's learned her lesson, she's bringing Bernard back into this world to be a check on her own power, in some ways."
As for Charlotte, we can expect a big Season 3 for Tessa Thompson. "Tessa is such a fun, amazing and versatile actress," Joy told THR. "When you have someone like her, it just opens up limitless possibilities. So we always knew that we were going to do this reveal and let her expand into this new role. We have a very diabolical arc for her planned out. Part of the fun for the character will be self-realization. She will be realizing the things we know about who she is."
We also know that at some point in the future, the Man in Black is a host, or rather a human copy, like his father-in-law, James Delos. The purpose of that post-credits scene, where host-William is given a fidelity test by his daughter Emily -- also, presumably, in host form -- remains unclear, though Joy commented that is has to do with the cyclical nature of William's story. "He realizes that he's been living this loop again and again and again," she told THR. "The primal loop that we've seen this season, they've been repeating, testing every time for what they call 'fidelity,' or perhaps a deviation. You get the sense that the testing will continue."
What exactly that looks like and how it fits into Westworld's new conceit remains to be seen, but the show's attempt at new heights was a part of its genesis from day one. And, according to Nolan and Joy, they know where this story is headed, which should inspire some confidence in the audience. We can't wait to see what they have in store for us, and what layered observations about the human condition they might procure once Season 3 hits HBO. It's sure to be worth the extra-long wait.
Sign up here for our daily Thrillist email and subscribe here for our YouTube channel to get your fix of the best in food/drink/fun.