A Complete List of Songs Covered in 'Westworld'
We're long gone from Sweetwater, but 'Westworld' is still cranking out the rock and pop covers.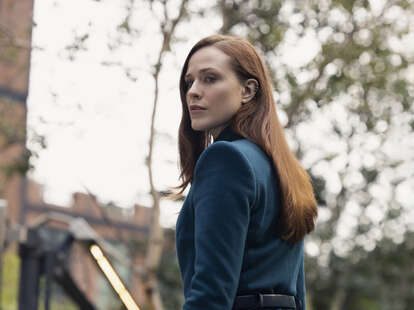 HBO
HBO
Westworld has sort of lost the thread in Season 4. With every episode packing in timeline jumps and thin metaphors adding fuel to the show's theories fire, the HBO series has moved a long way away from its initial draw as a sentient robot drama. But one thing has remained consistent after all these years: Some of its best nuggets come from its heavy use of incongruous song covers. Composed for orchestra, string quartet, and a very real player piano by Ramin Djawadi, who also scores Game of Thrones (if you couldn't tell by comparing the theme songs), most every song has deliberate purpose hiding in the original lyrics that are applicable to a character's development and motivations. But besides all the Radiohead (Hey! They got a real one in the finale: "Codex" from 2011's King of Limbs), it's kind of hard to keep track of every modern song that ever had its day in Sweetwater and beyond. Thus, behold: this compendium of all the pop cover songs Westworld has used, where it appeared, and (likely) why.
"Video Games" by Lana Del Rey
Season 4, Ep. 1, "The Auguries"
Evan Rachel Wood is no longer Dolores or Wyatt. In Season 4's eight-year time jump, this time she's a seemingly human video game writer Christina working for a company called Olympiad Entertainment (which we can only assume is somehow connected to Delos). The cover of Lana Del Rey's moody ballad plays when we're introduced to Christina for the first time, and, well, the meaning seems pretty on-the-nose here.
"Sweet Child O' Mine" by Guns N' Roses
Season 3 promo
To build hype for Westworld Season 3, HBO released a trailer featuring an orchestral version of Guns N' Roses most well-known song. In hindsight, the song probably nods to Dolores's journey over the course of the season trying to take down Delos, the new big bad Incite, and practically all of humanity that culminates in a tender final moment between her and Maeve in her final memory, still choosing to see beauty in the world.
"Wicked Games" by The Weeknd
Season 3, Ep. 4, "Mother of Exiles"
One of the most recent songs Westworld has used on the show, 2011's "Wicked Games," like most of The Weeknd's club-ready jams, is about being horny, getting fucked up, and feeling bad, but there are a couple subtextual reasons producers might have chosen it. Playing during a fancy charity event where Bernard and Stubbs are trying to find and kidnap Liam, the public face of Incite that Dolores tried and failed to woo and who Bernard and Stubbs suspect might now be a host (he is not), the song most obviously refers to Dolores's web of manipulation, but a few of its lyrics point to the emotional insecurities any one of the characters have internalized on top of that. ("I got my heart right here / I got my scars right here"; "Listen, ma, I'll give you all I got / Get me off of this, I need confidence in myself / Listen, ma, I'll give you all of me / Give me all of it, I need all of it to myself"; Take you down another level / And get you dancing with the Devil / Take a shot of this / But I'm warning you / I'm on that shit that you can't smell, baby / So, put down your perfume.")
"Space Oddity" by David Bowie
Season 3, Ep. 5, "Genre"
We have to go on record and say that "Genre" was one of the dumbest episodes of TV we've collectively ever seen, but Caleb's (Aaron Paul) transition through "genres" on the "genre drug" made for some decent music cues, the best of which was Bowie's "Space Oddity," recorded by the Classic Rock String Quartet, as Caleb and Dolores encounter the start of the riots in LA. It's brief, and most likely just a dramatic transition for the drugged-out Caleb who's a step back from reality and without much agency, before the horror genre kicks in and plays the "Dies irae" hymn used in the soundtrack for The Shining.
"Brain Damage" by Pink Floyd
Season 3, Ep. 8, "Crisis Theory"
In the season finale's big final setpiece, Maeve chops up a bunch of Serac's guys with her katana in the dark, dramatically lit only by stray gunshots, after seeing Dolores's final memory of beauty, all while a piano cover of Pink Floyd's opus with lyrics about lunatics being on the grass and in my head plays overhead. The song's inclusion actually speaks to many of themes Westworld has dabbled in since the very beginning, with lyrics like "And if your head explodes with dark forebodings too / I'll see you on the dark side of the moon" and You raise the blade, you make the change / You re-arrange me 'til I'm sane / You lock the door and throw away the key / There's someone in my head but it's not me." Ramin Djawadi also managed to cleverly sneak in some of Westworld's own theme into the arrangement—listen closely to the second verse.
"Paint It, Black" by The Rolling Stones
Season 1, Ep. 1, "The Original" & Season 2, Ep. 5, "Akane No Mai"
The orchestral, flamenco-esque version of "Paint It, Black," one of The Rolling Stones' most popular songs, comes in Season 1, Episode 1 during one of our first tastes of the looped arcs of the Wild West(world): Hector rolls through Sweetwater on horseback with his gang, starts a shootout with the locals, and steals the safe in Maeve's room in the Mariposa Saloon. And yes, it shows up again during our first brush at Shogun World... with exactly the same setup for a town center heist, just in Edo period Japan.
"C.R.E.A.M." by Wu-Tang Clan
Season 2, Ep. 5, "Akane No Mai"
"Cash Rules Everything Around Me," as it is in longhand, is the song Akane is forced dance to for the mad Shogun after he has Sakura brutally killed right before they were supposed to share a routine. In her choreography, Akane strategically makes her way to the Shogun and stabs him with her hairpin, which triggers the sequence that leads to Maeve's subliminal mandate for the other hosts to massacre each other. Notably relevant to the song choice, Wu-Tang member RZA has history working on kung-fu films, both scoring and directing.
"Seven Nation Army" by The White Stripes
Season 2, Ep. 3, "Virtù e Fortuna"
Rewritten for sitar, Jack White's first big single with his not-sister, definitely-wife Meg White, in The White Stripes opens the third episode of Season 2 as we're dropped into Raj World, another of Delos' themed parks set in Colonial India. Is it foreshadowing that all of the park's hosts are about to join rebellion forces? Or is it hinting at the determination of our newly introduced character? ... What year is it? Where are we?
"Runaway" by Kanye West
Season 2, Ep. 2, "Reunion"
We first had this Kanye song teased in a Season 2 trailer that ran during the Super Bowl. While Dolores monologued about "this world," the familiar main riff of Kanye's "Runaway" plunks in the background. (Get it..... because….. they're…... running away???) The song's real-episode debut after Dolores and her crew dramatically bust into the Westworld cleanup facilities to take a few more casualties and hostages. She corners an investor who tells her that she has "no idea what is out there," to which she retorts, "I know exactly what is in your world. I've been there before." Then, we flash back to Logan Delos receiving an ultra-persuasive pitch via "private demonstration" about the Argos Initiative, developing the technology that makes the hosts run.
"Heart-Shaped Box" by Nirvana
Season 2, Ep. 8, "Kiksuya"
This single off of 1993's In Utero first came during a Westworld Season 2 trailer, logging the show's unwavering commitment to soundtracking the death and destruction of the robot revolt with instrumental pop songs. We finally saw exactly how it would be put to task in-season during a seminal back-half episode where the real protagonist was revealed: Akecheta, aka The First of Us, aka the Ghost Nation host that "awoke" way before Maeve ever did. After he chooses to die for the first time in nine years to find his wife, Akecheta explores the Delos facility and finds her in the warehouse of decommissioned hosts while this piano cover haunts his new reality.
"Exit Music (For a Film)" by Radiohead
Season 1, Ep. 10, "The Bicameral Mind"
Radiohead popped up several times throughout Season 1, and an orchestral version of "Exit Music (For a Film)," off of 1997's OK Computer, closed out the finale during Ford's new storyline/retirement/suicide speech, triggering the "violent ends" cliffhanger. (The band's version of the song ends with the line "I hope you choke" repeated -- not particularly subtle!) It's also the moment that Dolores is confirmed to be the villain Wyatt, and Maeve makes the autonomous decision to stay in Westworld and find her daughter.
"Black Hole Sun" by Soundgarden
Season 1, Ep.1, "The Original"
"Black Hole Sun" introduces viewers to Sweetwater's Mariposa Saloon, the tavern haunt where hosts and visitors come to slam booze and pick up brothel madams to take to the private rooms upstairs. It's the first time we see the player piano in anachronistic action, turning this 1994 grunge hit into appropriate old-timey drinkin' music.
"No Surprises" by Radiohead
Season 1, Ep. 2, "Chestnut"
Radiohead: a favorite of show co-runner Jonathan Nolan because of the band's penchant for writing songs about robots. This single from OK Computer speaks to the hosts' lives-on-loop ("A job that slowly kills you/Bruises that won't heal"), courtesy of the player piano in Mariposa Saloon. "Chestnut," idiomatically refers to something tiresomely repeated, has Maeve first experiencing flashbacks to her past lives.
"Fake Plastic Trees" by Radiohead
Season 1, Ep.6, "The Adversary"
Ah yes, more Radiohead from the player piano, this time as Maeve starts her day waking up in bed and walks to the saloon to chat up Clementine about last night. This one's a little obvious, metaphorically speaking ("She looks like the real thing/She tastes like the real thing/My fake plastic love"), but it's a solid single from their 1995 release, The Bends!
"Motion Picture Soundtrack" by Radiohead
Season 1, Ep.6, "The Adversary"
Can't get enough Radiohead in Westworld! This strings cover performed by the Vitamin String Quartet of the second-to-last song on 2000s electronic-driven record Kid A makes its appearance in Episode 6 as Maeve, gaining control of her own consciousness, walks through the upstairs floor of Delos where the host cleanup happens. As she faces the nonchalance with which brutalized host bodies are tossed around, it's effectively tragic, and the lyrical content ("It's not like the movies/They fed us on little white lies/I think you're crazy, maybe/I will see you in the next life") adds another layer of depth.
"A Forest" by The Cure
Season 1, Ep. 4, "Dissonance Theory"
This track off of The Cure's 1980 album Seventeen Seconds is one of the more obscure songs Westworld slid into the player piano's repertoire that's preoccupied with loops ("It's always the same/I'm running towards nothing/Again and again and again and again") for another lead-in to Maeve's unraveling. Here, her hearing goes fuzzy while talking to Clementine and sees blood pooling into the corners of her eyes; losing her tether to reality, she later digs out a bullet stuck in her abdomen.
"House of the Rising Sun" by The Animals
Season 1, Ep. 8, "Trace Decay"
The song that's been redone 1,000 times gets covered one more time by Westworld's player piano, the rolling triplets in the opening lead feeling appropriately Western. Maeve is back in the Mariposa Saloon ("To where, I do belong/I'm wandering back/To earn my pays") after pulling the curtains back on the washing machine cleanup of hosts and coercing staff to kick up her cognizance, and recognizes that the woman who's supposed to be Clementine isn't the same person that she's known.
"Something I Can Never Have" by Nine Inch Nails
Season 1, Ep.5, "Contrapasso"
Rewritten for the Vitamin String Quartet, this Nine Inch Nails song blends right into the original score. Off of 1989's Pretty Hate Machine, it's a slower atmospheric moment in an album of early lewd industrial bangers. In this aptly titled Westworld episode referring to a key rule of Dante's hell foreshadowing the host revolt, it's played as William, Dolores, and Logan (Remember him?) waltz into the town of Pariah and find themselves an orgy. Thematically, the song aligns with oft-used imagery ("My favorite dreams of you still wash ashore/Scraping through my head 'till I don't want to sleep anymore").
"Back to Black" by Amy Winehouse
Season 1, Ep. 8, "Trace Decay"
"I died a hundred times," Amy Winehouse croons in her 2006 song transposed for the player piano as Maeve walks into the Mariposa Saloon for another day, this time with full suggestive powers over hosts after threatening her way to a full tune-up of cognitive abilities. She wipes her bar tab clean.
Leanne Butkovic is a senior entertainment editor at Thrillist, on Twitter @leanbutk.