How Does the Train on 'Westworld' Even Work?
Logan and William

| John P. Johnson/HBO
Logan and William

| John P. Johnson/HBO
This post contains spoilers through Westworld's second episode, "Chestnut." Head to our show hub for more reviews, theories, and deep dives.
Westworld has already presented us with several big mysteries to solve, but a minor logistical puzzle, introduced in the second episode, is keeping us up at night: How do people actually get to this place?
Directed by Richard J. Lewis, "Chestnut" begins with Logan (Ben Barnes), a douchey Westworld veteran, returning with his first-timer pal William (Jimmi Simpson) -- a respectful homage to Michael Crichton's original flick, which had James Brolin and Richard Benjamin playing similar roles. HBO's pair even arrives at the futuristic park's headquarters in a similar manner, via nifty levitation.
They don't, however, enter Westworld by stagecoach, as the characters did in the original; they get there aboard a vintage steam train called the Black Ridge Limited. How this transfer between the posh arrival hub and the Old West occurs is worth a closer look because, like everything in the show, it's a head-scratcher.
Seen above, William effectively transitions from his fitting room to the 19th century through a door. Then a lift or gate activates outside, and he's on the train. (The same thing happens once Logan wraps up his kinky sexbot business.)
Creative viewers have speculated that the dark swipe behind the door could be a room that moves up and down like an elevator, while the carriage stays stationary (or vice versa) -- a means to move patrons from the costume-fitting area to transportation. (Like this.)
The switch is surreal and slick, giving the impression that William has stepped through a gateway into the past. But how does Delos accomplish this illusion? Is it really with an elevator?
Other fans have provided alternative theories: could it be a sideways railway turntable? Or is that door literally a portal that teleports you to an already-moving train? Could William and Logan be entering, or already have entered, some elaborate form of virtual reality? Or are guests minimized and sent into the tiny world we see on security's big, round table -- frickin' Honey, I Shrunk the Kids-style?
Questions and theories abound because it's unclear where in the real world, or the universe, the park and its base are located. But a few important details support the elevator and turntable hypotheses. Notably, the windows are black before Logan boards (hinting that the carriage might be inside a loading tunnel of sorts), and the ceiling lamps shake when William asks how they get to Sweetwater (meaning the entire train was previously at rest, waiting for Logan to finish, because he's a selfish little fink). Daylight also floods the car after William poses his question:
It would seem that part of Westworld's "individualized" experience includes boarding the train privately. Then, once all the passengers are accounted for, the locomotive emerges from an underground, or enclosed, station.
Another find, from later in "Chestnut": Before Dr. Ford (Anthony Hopkins) interacts with Robot Kid in the desert, he walks around what looks like an employee utility corridor, like the ones that connect everything at Disney World, before taking a lift of sorts directly to a remote, unprogrammed or de-commissioned area above ground: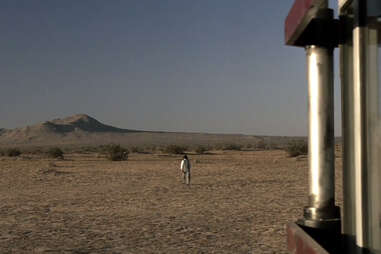 If what we're seeing onscreen is supposed to be taken at face value, HBO's Westworld might function a lot like Crichton's, which made use of utilidors and underground chutes to connect Delos HQ and its trio of worlds. The big implication being that the park and its base would exist in the same physical realm.
But how faithful is this reboot trying to be? We've so far seen no firm indication that this Westworld can't be a "game" in the virtual or augmented reality sense. And even more confusing than the patrons' trek is how the show's operations teams reach the robots so quickly. Arnold, if you're listening, we'd like some more hints.
Sign up here for our daily Thrillist email, and get your fix of the best in food/drink/fun.