This post contains spoilers through the third episode of Westworld. Head to our show hub for more reviews, theories, and deep dives.
Westworld is toying with time -- and viewers. Not that we mind. Trying to sleuth the mysteries fueling the HBO series is more diverting than a game of cards with Kissy (RIP). In this week's "The Stray," we see the past lives of at least two characters bleed into their present narratives, in ways that are both obvious and less so.
It's understandable if the HBO show, unmoored from a fixed time and place, is already starting to remind you of Lost's middle seasons, with all their temporal flashes backward, sideways, and forward. As the paths of Dolores (Evan Rachel Wood), Dr. Ford (Anthony Hopkins), William (Jimmi Simpson), and the Man in Black (Ed Harris) continue to tangle, it feels like we're entering similar mind-warping territory.
Recommended Video
'Are You Afraid of the Dark' Is Coming Back as a Movie
To figure out how and when things happen in Lisa Joy and Jonathan Nolan's tortuous sci-fi universe, we've begun tracking significant events, listed below in chronological order, based on bits of dialogue and visual clues from flashbacks.
33+ years ago: Dr. Ford and Arnold begin their work
Ford, Arnold, and a team of engineers begin AI experiments three years before opening the park. We know the park has been open for more than three decades based on quotes from both The Man in Black and Dr. Ford. This puts Ford's flashback scene in "The Stray" at no fewer than 33 years prior to his bicameral mind speech.
Dolores, Old Bill, the original version of Peter Abernathy's character (Louis Herthum), and other hosts are likely built during this "glorious" time.
30+ years ago: Westworld opens for business
Three years after Ford and Arnold begin building robots, the park opens. It operates for an undetermined amount of time before a major incident, which has been alluded to a few times.
30 years ago: Arnold dies in the park
The cause of death is unclear. The park dubs it an "accident," but Ford notes that Arnold was "very, very careful." Around this time:
the Man in Black also likely visits the park for the first time
and the park experiences its "critical failure," which may or may not be related to Arnold's death
10+ years ago: Bernard Lowe begins working at Westworld
Based on a conversation with Ford, while examining a glitchy Peter Abernathy (and also a fragment during the Old Bill scene), Bernard reveals he signed on somewhere between 10 to 20 years ahead of the show's present timeframe.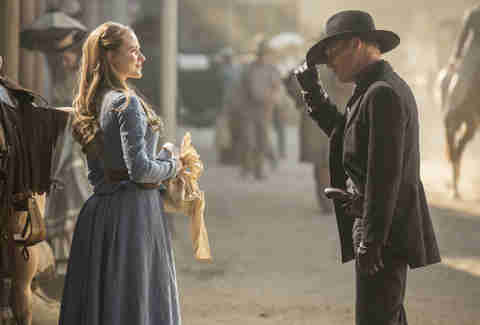 Present: the Man in Black returns
Roughly 30 years and change since his first visit, Harris' answers-oriented gunslinger returns to menace Dolores, Teddy, and countless other hosts.
Present: the hosts start to freak out
Concurrently with the re-appearance of The Man in Black, Ford activates an update that gives hosts reveries, causing a number of automata, starting with the sheriff, to malfunction. Shortly thereafter, Peter Abernathy digs up a photo of a mysterious woman standing on a modern city street, begins accessing memories from previous narratives that were supposed to have been wiped, and whispers a voice command into his daughter Dolores' ear.
Present: Ford begins work on the Wyatt narrative
It's his most ambitious project to date.
Present: the Man in Black finds Kissy
He scalps his captive and begins his quest to find a "maze."
Present: Maeve starts recalling past narratives
After Dolores whispers a "violent" voice command to Maeve in front of the Mariposa Saloon, Thandie Newton's character adopts a new sense of self-awareness.
Present: the Man in Black "rescues" Lawrence
He enlists Lawrence as his hostage-guide to the maze; they travel to Las Mudas and get a clue from Lawrence's daughter.
Present: Ford repurposes Teddy for the Wyatt storyline
James Marsden's character finally gets a backstory. Whether intentionally or not, Ford's update prevents him from protecting Dolores at the ranch.
Present: Elsie and Stubbs find a buggy bot
A woodsman attacks the latter and then tries to commit suicide. Elsie stumbles upon a potential secret that might involve Orion or other constellations.
Present: Dolores goes off script and kills a bandit
Secret talks with Bernard cause her to experience flashbacks, deviate from her narrative loop, and try to escape the ranch.
Logan & William timeline
So far, it's unclear when exactly William (Jimmi Simpson), Logan (Ben Barnes), and Dolores cross paths. Below are a few key moments in their personal narrative arc whose timing can't be adequately determined in relation to the present-day storyline above. A popular theory contends that their arc takes place 30+ years ago, before or around the time of the oft-mentioned incident that occurred during Westworld's early days.
William and Logan arrive at Westworld via high-speed monorail.
Logan and William arrive in Sweetwater; that night, Logan stabs the eye-patched old prospector in the hand and engages in a foursome
In the morning, William meets Dolores the first time.
William saves Clementine and shoots his first robot.
William convinces Logan to accompany him on a bounty hunt.
William and Logan cross paths with Dolores a second time, seemingly directly following the scene in which she flees the ranch on horseback.
Sign up here for our daily Thrillist email, and get your fix of the best in food/drink/fun.