Everything You Wanted to Know About the EGOT
It's not just Tracy Jordan's dream on '30 Rock.'
Jennifer Hudson, EGOT winner.

| Photo by Jemal Countess/Getty Images for Tony Awards Production
Jennifer Hudson, EGOT winner.

| Photo by Jemal Countess/Getty Images for Tony Awards Production
What kind of person wins the pinnacle honor of the entertainment industry, the coveted EGOT? Let's defer to Tracy Jordan, the fictional character who brought the term into the popular lexicon when he decided to pursue one on 30 Rock. After learning what an EGOT is, Tracy says: "That's a good goal for a talented crazy person."
In reality, Tracy is only half right. EGOTs are typically won by very talented people, not necessarily crazy ones. In fact, for most who win the four awards that comprise the EGOT, getting there seems almost effortless. Let's look at the cultural history of this phenomenon.
What's an EGOT?
An EGOT is easily defined: It's an acronym for Emmy, Grammy, Oscar, and Tony, the top prizes in the worlds of television, recording, film, and theater, respectively. That's it! Easy enough!
How did the EGOT begin?
The man credited with creating an EGOT does not have an EGOT, or even any of the individual awards that make up an EGOT. That man would be Philip Michael Thomas, best known for playing Tubbs on Miami Vice the TV show. Thomas supposedly used to wear a necklace with EGOT emblazoned on it, though in his case it's unclear whether the letters represented the awards in question or the mantra "energy, growth, opportunity, and talent." What's also unclear is what Thomas himself thinks of the EGOT concept, at least based on Thrillist contributor Jenna Marotta's wild interview with him a few years back.
Long an obscure reference whipped out at parties by pop-culture-obsessed Gen-Xers, EGOT re-entered the lexicon with 30 Rock, and essentially turned EGOT watching into a sport. The concept's explosion since that episode aired in 2009 came as a surprise to the team behind the NBC comedy, who just thought they were reimagining a bit of pop-culture ephemera when they had Tracy Morgan's comedian decide to try for the grand slam after seeing Thomas' old necklace in a jewelry store. "Now the EGOT has become suddenly a goal that people want to pursue," director and producer Don Scardino told The Ringer. "If wanting to be an EGOT inspires people to try and do their best work, then I suppose it's a good thing."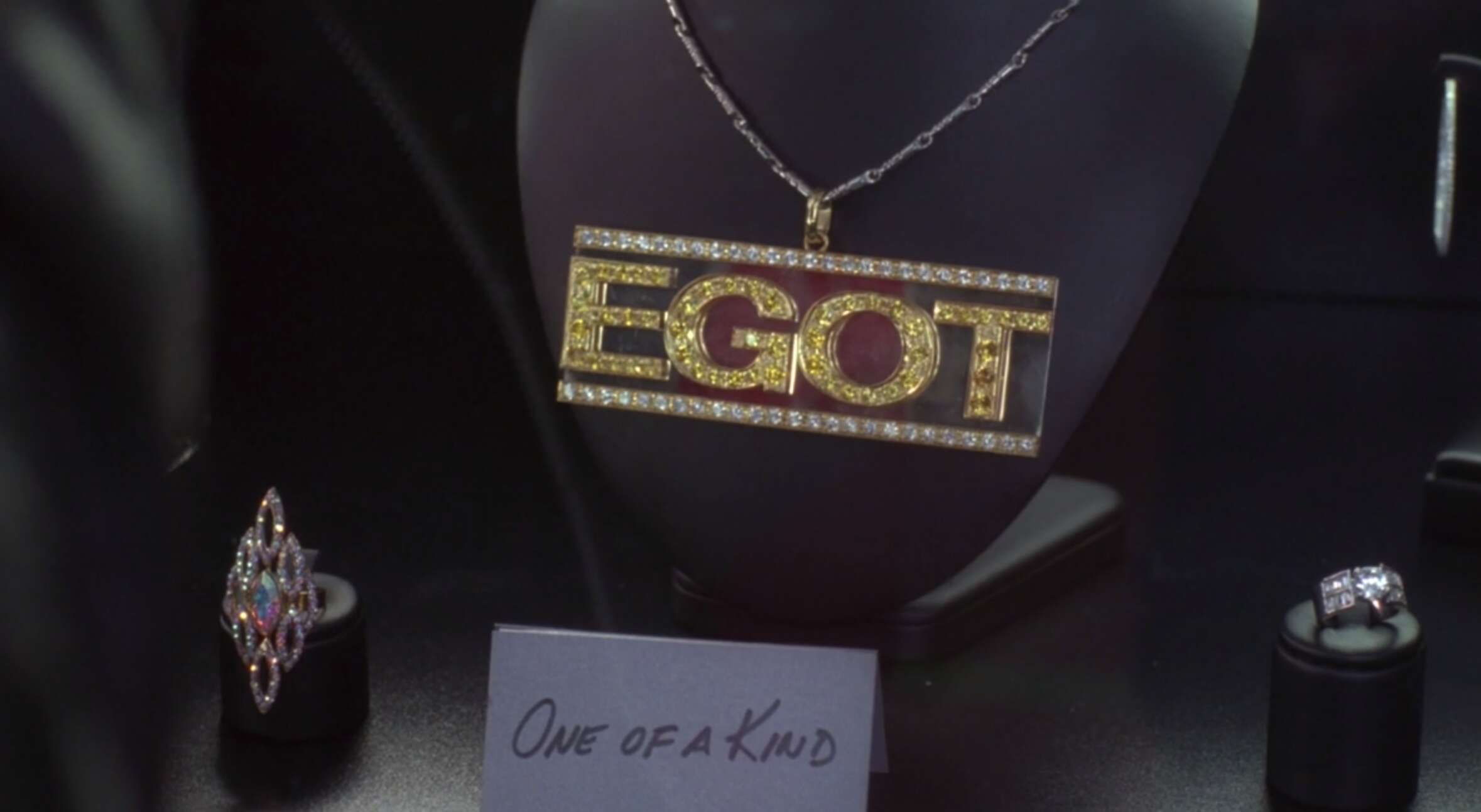 Do Daytime Emmys count toward an EGOT?
In the 30 Rock episode, Tracy visits Whoopi Goldberg, cameoing as herself, to learn about how one goes about getting an EGOT. He notices her Emmy, and realizes it's actually a Daytime Emmy, part of the subsection of trophies given out to the content that doesn't air in primetime. Goldberg scoffs, "It still counts. Girl's gotta eat!"
Thomas, for his part, sort of cleared things up when Thrillist spoke to him. Or he didn't; it's hard to tell. When first asked if a Daytime Emmy counted he said no, but then when asked again if it had to be a primetime award he replied, "No, no, whatever. You can win all four of those awards—however you get it." Interpret that as you like. The upshot: They do count, at least if you go by the many internet lists of EGOT winners, which Whoopi is generally included on without an asterisk. Our feeling is that a Daytime Emmy is an entirely different award than a Primetime Emmy, and that the Whoopi Goldberg (and Robert Lopez) variation should be referred to as a DEGOT.
Who has an EGOT?
As with any rarified honor, it's actually a relatively short list of 16 people total. Seven of them have been musicians, which makes sense given that writing songs is arguably the easiest way to get recognition by all four organizations. (Tracy Jordan also learns this and tries to record a very bad track.) The composer EGOT-ers are musical theater legend Richard Rogers; A Chorus Line's Marvin Hamlisch; Cats impresario Andrew Lloyd Webber; orchestrator Jonathan Tunick; lyricist Tim Rice; Frozen's Robert Lopez (who, like Whoopi, completed his via a Daytime Emmy); and last but not least, John Legend. Legend actually won his Emmy and Tony for producing, respectively, Jesus Christ Superstar Live in Concert and the revival of August Wilson's play Jitney. Whoopi Goldberg also completed her EGOT with a theater producing credit, as did Jennifer Hudson, who got her EGOT in 2022 after producing the Tony winning Best Musical A Strange Loop.
Actors who have obtained the honor include Helen Hayes, Rita Moreno, John Gielgud, and Audrey Hepburn. (Hepburn won her posthumous Emmy for a garden tour series.) Multi-hyphenates Mel Brooks and Mike Nichols won for a variety of endeavors over their careers in comedy and in behind-the-scenes pursuits. Finally, disgraced producer Scott Rudin has crossed the finish line in puppet-master fashion, pulling the strings behind a variety of productions.
There's also a whole group of entertainers who've won what's viewed as an honorary EGOT, meaning that one or more of the awards came via a lifetime achievement-type award. There are some heavy-hitters who fall into this category, including Barbra Streisand, James Earl Jones, and Alan Menken. In July 2020, Menken made his EGOT status official with a Daytime Emmy.
Who is close to getting an EGOT?
A ton of people! See this list from The Hollywood Reporter for the legions of nearly-theres, Kate Winslet, Helen Mirren, and Martin Scorsese among the three-out-of-fours. Let's face it: The safest bet to achieve an EGOT is probably Lin-Manuel Miranda, who came so close when his Moana song "How Far I'll Go" was nominated for an Oscar. Alas, it was beaten by La La Land's "City of Stars" by Justin Paul and Benj Pasek, a songwriting team who are an Emmy away from an EGOT. When Cher's Broadway show didn't get a Best Musical nomination this year, she lost her chance for EGOT-ing this time around.