Everything You Need to Know About Quibi, the New Short-Form Streaming Service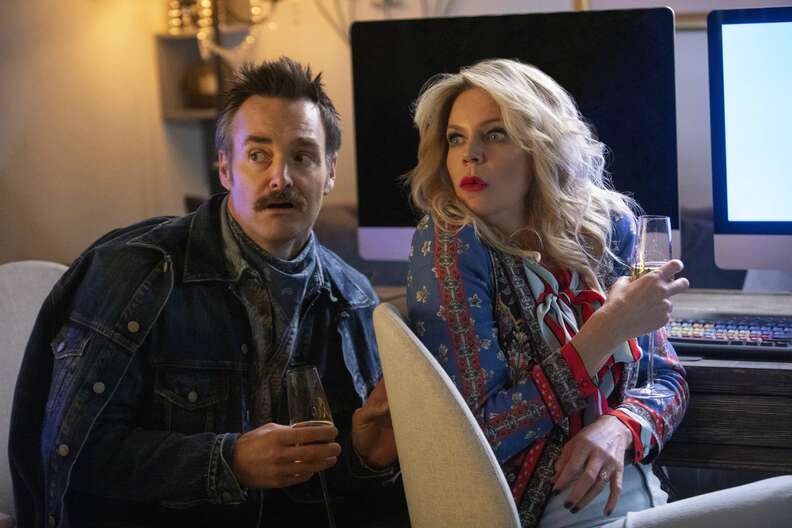 Will Forte and Kaitlin Olson from 'Flipped.'

| Quibi
Will Forte and Kaitlin Olson from 'Flipped.'

| Quibi
Quibi, the hot new streaming app for phones only -- and we mean only -- is finally here, aiming to be the first app to actually make short-form TV and movies into a lasting medium on your mobile device. Whether that's actually gonna happen remains to be seen, but with a bunch of big names attached, including Steven Spielberg, Guillermo del Toro, and Chrissy Teigen, it's probably worth giving Quibi a shot if you're curious. But what IS this exciting new app that's courted $1 billion in funding, and how exactly do we use it?
What is Quibi?
Quibi is a streaming service for short-form entertainment, founded by Jeffrey Katzenberg, who was the chairman of Disney during its animation renaissance in the 1990s, and Meg Whitman, also a former Disney exec, who has also been in charge of DreamWorks, Procter & Gamble, Hasbro, eBay, and Hewlett Packard. It markets itself as a new form of content consumption, creating "snackable" series and films each told via multiple short chapters. Thoughout the last year it's made a steady churn of headlines for attracting big names in Hollywood, from Jason Blum, Steven Soderbergh, Chrissy Teigen, and a bunch more people, to produce and star in these quick hits.
"Quibi" stands for "quick bites" -- that is, very, very short-form content that is easily consumable in one sitting -- made to "fit perfectly into any moment of your day," as the website tells us. It's the future the digital age promised! Whole shows designed just for us millennials and our notoriously short attention spans. It used to be called "New TV," so at least it's a step up from that.
How much does it cost?
The app has two payment tiers: $4.99 with short ads, and $7.99 without them. This makes Quibi a big competitor of Apple TV+, also priced at $4.99 per month, and the likes of Netflix or Disney+, whose cheapest tiers are still not as cheap as $5.
And keep an eye out for deals! You can get a 90-day free trial if you sign up by April 30, and if you're a T-Mobile user on a T-Mobile family plan, you can get Quibi free for a year -- and if you sign up via T-Mobile Tuesdays you get early access to episodes of Jennifer Lopez's reality show Thanks a Million.
What devices does Quibi work on?
It's designed to be mobile only -- that is, on your phones and tablets and that's it -- for the foreseeable future. At first Katzenberg and Whitman said they'd try a "mobile-first" approach with a TV component later on, but it looks like they're sticking to an app format. To do this, they hired people from Instagram and Snapchat -- two apps that have pioneered short-form story content across their platforms through IGTV and Snap Originals. Quibi's chief product officer is Tom Conrad, formerly Snap's VP of product. (One of its series in production is a Social Network-style show about the creation of Snapchat.)
How do you watch Quibi?
The mobile-only format allows Quibi to experiment with form: It supports both horizontal and vertical video and allows its users to switch between the two in the same video with its "Turnstyle" technology, just by turning your phone to either side. Producers have also considered vertical video formats, which would make some shots look like the video and FaceTime you get on a smartphone screen.
That means that production teams will have to get creative about how they shoot their quibis. As Gizmodo's Alex Cranz reported out of CES, some filmmakers are cutting entirely separate versions of a title depending on the screen orientation. "Director Zach Wechter said he was eager to experiment with the platform, and in his short Nest, the landscape version of the film is a traditional horror film about a woman being stalked in her own home and watching the intruder through her Nest cameras," Cranz writes. "But turn the phone to portrait mode and instead you have a view of her phone. So you see the grainy Nest cam footage or watch as she jumps out of the app and opens Facetime to call her dad in terror."
At the time of its launch, it appears most of its shows have been shot horizontally, like any normal movie at TV show, and the Turnstyle tech simply moves the focus to what in the scene is important: characters' faces, or a thing someone is looking at. Occasionally, you'll get shots that are static in horizontal mode, but in vertical mode they'll artificially pan from either side to follow a conversation.
Will there be ads?
Yes, if you subscribe to the cheapest tier. The ads will appear before each video, and will also appear even if you download a video to watch later. Katzenberg has explained that some commercials will be broken up into smaller "chapters" that'll follow the viewer around as they watch Quibi's content. He also mentioned that they're looking at developing commercials as long as five minutes that the user can save to a watchlist for later viewing. (See: BMW's shorts series "The Hire," which was directed by everyone from Wong Kar-wai to Neill Blomkamp. Quibi's ad structure sounds like it could look something like that.)
Quibi's "strategic launch partners include emormous companies like Google, PepsiCo, and T-Mobile, who will be getting a piece of your user data, so keep that in mind. The app shares information like the age and gender ranges of their subscribers, as well as where they live, with advertisers, but claims to keep everyone's personal information, like names and device IDs, private.
What kinds of stuff will be on it?
In its first year, the app plans to have around 7,000 videos, everything from scripted series and movies-in-chapters to reality TV and competition shows.
The new format has attracted a lot of Hollywood big shots: Stephen Spielberg is producing and writing a spooky show you can only watch after dark; Guillermo del Toro and Sam Raimi have also signed on to produce a couple horror shows; and there'll also be remakes of Punk'd and Singled Out, as well as a court show starring Chrissy Teigen as the hander of verdicts. Now more than ever, we're all looking for distractions, and if your attention span can only handle less than 10 minutes of one thing at a time, you may want to sample a few quick bites.
Emma Stefansky is a staff entertainment writer at Thrillist. Follow her on Twitter @stefabsky.