The Grand Tour
Sponsored by

What It's Like To Be A Top DJ in Las Vegas
Sponsored by

Al Powers/Courtesy of MGM Resorts International
It feels like every woman and child in America either knows a DJ or will become one in their lifetime. But there's a big difference between the guy who works your local bar on Friday nights and the top level of the game -- a residency at a Las Vegas super club. To find out what it takes, we talked to Steve Aoki, Grammy-nominated producer, founder of Dim Mak records, and regular EDM messiah at MGM Grand's Hakkasan nightclub.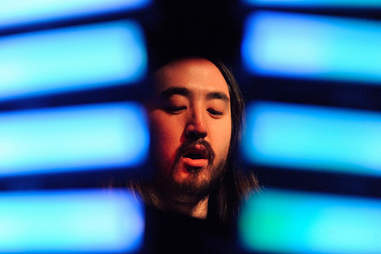 n8nphoto/Alamy
You've reached the DJ Ivy League
Aoki took up DJ sets some thirteen years back, and landed his first club residence in Vegas in 2010. These days, he averages 250 shows a year, to millions across the world, and equates spinning at his level to landing an acceptance to Harvard. "Once you're in it," he says, "and you're taking your classes, all you care about is acing them. But the hard part was getting in, and you forget about that part of it."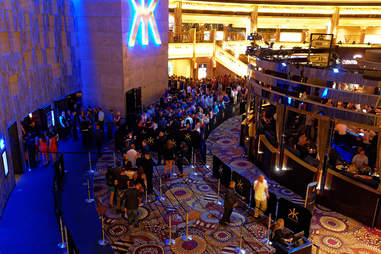 <a href="http://www.flickr.com/photos/danramarch/14826206579" target="_blank">Daniel Ramirez/Flickr</a>
You're in a global super club hub
Casinos have the sort of income it takes to build out high-end experiences that are a stretch of the imagination anywhere else in the world. It's difficult to do what Vegas manages without the huge, institutional culture that generates the city's income. The city is nightlife. By definition, nowhere competes, so competition for DJ residencies is fierce.
 
You're more than a DJ
Like his Hakkasan peers Calvin Harris, Tiesto, and Hardwell, Aoki is a fully functioning brand -- in his case, a nascent fashion line, a charitable fund, and a record label (with Vegas and LA studios) that's celebrating its 20th anniversary. All of this is to say that Steve's is a name that puts bodies on the dancefloor and bottles in the VIP room, and has a resume that's hard to find outside of Las Vegas. That doesn't happen by osmosis; it takes work outside the DJ booth.
Courtesy of Angel Management Group
You have "people"
The booth may be built for one, but being a Vegas DJ is no solo gig. Big productions require big production teams. Aoki has a crack team of pros working all the angles, so he can focus on the big picture, and the dancefloor. Even this interview involved a handler ballet that trimmed the handshake fat and left Aoki to focus on the particulars of the interview. Think West Wing walk-n-talk with a beat.
Erik Kabik/Courtesy of MGM Resorts International
You have the best sound equipment in the world
When the sound is janky or even slightly off it becomes hard to send love to the guy at the helm, no matter where it went awry along the signal path. It's one of the reasons Aoki calls Hakkasan his lab. No expense was spared in providing the tools he needs to do his best work -- from the monitor down to the room's precise tuning. The whole thing is set up for optimal volume without cranking up to a piercing shrill. "I mean -- it's loud," he says. "But that's a big part of the nightclub experience."
 
You want ninjas? You get ninjas.
A big perk of being the resident talent is input and control. Aoki is able to infuse his brand of electronic pop, AKA "solarpunk positivity," into every aspect of his Neon Future set at Hakkasan, complete with robots and warrior women in neon ninja get-ups -- a level of personalization that's difficult to replicate on the road.
Courtesy of Angel Management Group
It's not all about you
There's a balancing act to being an artist in a place like Hakkasan for the simple fact that the people signing the checks are taking a chance on you. "It's like I have a voice, and I'm representing a Steve Aoki sound, a Steve Aoki show...but I also have to adapt." That's where the second part of Aoki's lab analogy comes to play. He's got the best equipment to perform his experiments, but he's also performing for an international cross section of cultures and walks of life. It's the sort of environment that makes Vegas Vegas -- a world of people descending on one patch of earth with the simple goal of having a good time. Heavy hangs the head of the king looking to make sure each of them finds what they're looking for.
Al Powers/Courtesy of MGM Resorts International
But… it mostly is
There was a time in not-too-distant Vegas past when the DJ wasn't a priority. They were hidden away somewhere and it was the nightclub experience alone that served as the draw. The DJs of that era were paid accordingly. Now that formula has flipped entirely and the DJ is the gateway to the nightclub experience, which has become inextricably linked to the casino. That's why Hakkasan put so much into the club environment on one side of the formula and just as much into seeking out their favorite DJs in the marketplace.
 
You can have your cake and... throw it?
As any Aoki fan knows, he regularly throws cakes into the crowd, and at impressive range. "It's messy. It's fun. It adds to the spontaneity of the experience." Best believe it's a bad idea to try this at your next wedding DJ set. Maybe one day, though, if you train hard enough.