In 1937, film icon Lana Turner was "discovered" at a soda fountain on Sunset Boulevard in Los Angeles when she was noticed by William R. Wilkerson, founder of The Hollywood Reporter. Having served as a district manager at Universal Pictures and as the manager of a movie theater back in New Jersey, Wilkerson had seen talent and what it took to make it. He gave Turner his business card, asked if she wanted to be in the pictures, and aspiring actresses everywhere have been holding onto the misconception that you can be discovered anywhere, at a moment's notice, ever since.
However, Turner is the exception to the rule. You need to work your (super-talented or not) butt off to make it in Hollywood. And it's helpful to know what's fact and what's fiction about the industry you're getting yourself into.
We enlisted actress Danielle Panabaker, 29, who is gearing up for her third season starring on The CW's The Flash and whose career has spanned decades and mediums, to debunk some of the popular myths about becoming an actress.
The Myth: Being a young and successful actress is all glamorous red carpets, photo shoots, free stuff, and fun 24/7
The Truth: It's a lot of hard work. Panabaker didn't make it to where she is today by chasing velvet ropes and getting busted by TMZ outside of clubs. "When I started acting 12 or 15 years ago, my younger sister [actress Kay Panabaker] and I took every acting class we could," she says. And she continues to do just that, adding, "I believe it's really important to continue to work on your craft even as a professional." And sure, she's been in numerous films (like Mr. Brooks and Friday the 13th) and on TV shows including Necessary Roughness and the ever-popular Mad Men, but that hasn't stopped her from honing her skills.
To prepare for her episodes of The Flash, Panabaker Skypes with her acting coach of 20 years to get into character and work on the material. The day we talked to her, she Skyped with him for nearly an hour and a half to make sure she was ready for the episode they were about to film.
And that's on top of her demanding schedule. "This week, I think I work five days a week. Next week, I have one day off. It just varies week to week," she explains. And those aren't your standard 9-5ers either. "The average filming day is built to be a 12 to 14-hour camera day -- which doesn't include the lunch break," she says. "And, as a woman, it takes me an hour to go through hair and makeup, so I generally have an hour pre-call before everyone else."
The Myth: Doing a Lifetime movie means you must be hard up for work
The Truth: Given the amount of aspiring actors out there, if you're working at all, bravo. Not everything Panabaker's worked on has had a huge budget and millions of adoring fans -- but she doesn't care. Thinking about how many struggling actors are out there just trying to make names for themselves, she says, "I think I am lucky just to be able to make a living as an actor and to be working as an actor."
When she got the chance to work with Jane Krakowski (30 Rock, Unbreakable Kimmy Schmidt) and Mercedes Ruehl (The Fisher King, Big) on the Lifetime movie Mom at Sixteen, she didn't think twice about the bad rap Lifetime movies get for being corny or overly dramatic. Instead, she was focused on performing the material to the best of her ability and learning from it.
"Mom at Sixteen I remember being particularly emotional. That was a 16-year-old struggling with having a child, which is something I haven't experienced," she says. "Getting behind that emotionally was certainly challenging." You'll want work that can push you to grow as an actor, and often that can come from the most unlikely places.
The Myth: Sexism is a major hurdle for actresses in Hollywood
The Truth: We've all heard of the infamous "casting couch"... but Panabaker's never encountered that kind of sofa during an audition. Still, that's not to say that sexism doesn't exist in other forms. Panabaker recalls a conversation she recently had with her makeup artist. ''[She told me] how often people comment on her appearance, whether it's the shoes she's wearing or if she did her hair differently. And I think that that's something that women have to deal with that men don't deal with in the same way." Sure, our society has made major strides when it comes to sexism and how we treat women, but it's still got a ways to go, whether in Hollywood or elsewhere. "I don't believe sexism is specific to one industry or another," she points out.
The Myth: You have to fit a certain mold to make it as an actress
The Truth: Lauren Bacall, Marilyn Monroe, Audrey Hepburn -- there used to be a standard of beauty that (fortunately) doesn't necessarily exist anymore. Tall, short, overweight, transgender, deaf  -- Hollywood is embracing every type of actor and Panabaker says it couldn't be a more exciting time to break into the industry: "I think individuality is being embraced, minorities are being embraced."
The Flash cast black actors to play Iris West, Joe West, and Wally West, though they were originally white in the comics. And Pied Piper is one of DC Comics' first openly gay characters. "I'm proud to be on a show that's embracing minorities," Panabaker says. "It's crazy that that should seem like such a leap but it's an incredible thing."
Not everyone on TV is tall, thin, and strikingly beautiful, and not every script calls for a model.
"I think someone's uniqueness and what they have to offer is what's special about every person in this world," Panabaker  says. "And I think, I hope, we're at a time where that's really being acknowledged and celebrated."
The Myth: Actors are narcissists who only look out for themselves and their careers
The Truth: With so much competition and so few parts out there, actors only look out for themselves, right? Well, there are certainly actors who are only out for numero uno, but according to Panabaker, there is a definite sense of community and comradery in Hollywood. In her experience, actors have been very supportive of one another. "I think that's also reflective of who I choose to surround myself with," she adds. "I don't think being competitive or negative serves everyone, so I haven't experienced competition in that sense." Plus, Justin Timberlake taught us that what goes around, comes back around, so…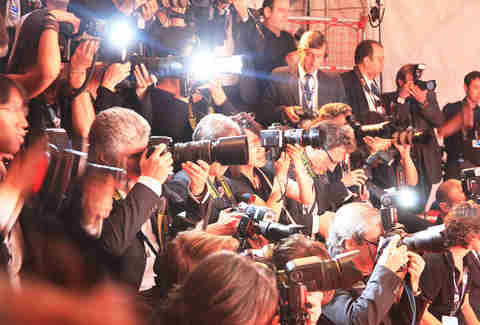 The Myth: Success is defined by big-budget films and millions of fans
The Truth: Success is a difficult term to define, as it varies from person to person. Panabaker says it's a "totally personal question. I think it's a matter of what satisfies you as an actor and as a person." Success is defined differently for everyone (even Meryl Streep may not consider herself "successful" because she hasn't won a Tony... yet). "Even when I wasn't working on a television show or a feature [film], I've found other ways to fulfill myself as an artist," Panabaker says. "And with the internet there could be so many things: television shows, web series -- so many different outlets and opportunities [for aspiring actors]."
The Myth: Your skills will go away if you're not constantly "working"
The Truth: Nope. Panabaker doesn't stress when she's not working on a project because it lets her flex her creative muscles in other ways. "One of my favorite [things to do] is actually working with a nonprofit called The Art of Elysium which goes to hospitals and uses art to help children cope," she says. The experience is a meaningful opportunity for her to give back and volunteer and "play dress up and make believe, be wild and crazy, and sort of push boundaries as an actor."
The Myth: Once the industry decides your type, your career path is set in stone
The Truth: Panabaker says there's plenty you can do to change the industry's perception of you. First, she says, "You have to be confident enough in your own ability to not take it too personally," but then one technique she's found incredibly helpful is photo shoots. "[They're] an opportunity to be a different character and put on a different persona, even if it is just for a day or an hour."
Another technique is trying roles that are the complete opposite of everything you've done thus far. Take comedian Sarah Silverman for example, whose dramatic performance as a drug and alcohol-addicted mother in 2015's I Smile Back earned her critical acclaim. Or, Will Smith, whose Oscar-nominated performance in The Pursuit of Happyness left hearts shattered in a million little pieces.
Countless actors refuse to be pigeon-holed, and Panabaker is one of them. "There's been material I've read and responded to, and the casting director doesn't think I am 'X' enough," she says. "Doesn't think I'm funny enough, doesn't think I'm blonde enough, doesn't think I'm brunette enough -- the things that you cannot be enough run the gamut." But you have the power to choose how the industry sees you -- you can move audiences to tears in a drama or in a comedy the very same year, you just need to be confident and persistent.