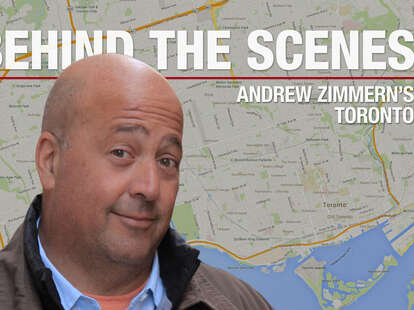 Andrew Zimmern
Andrew Zimmern
With his hit series Bizarre Foods, omnivoracious world traveler Andrew Zimmern (Twitter, Facebook, Instagram) has spent the past half-dozen years blowing viewers' minds eating stuff that would make them blow chunks. He's also made a habit of unearthing the best damn food wherever he goes. Now, he's tipping Thrillist off to the places he goes and things he does when the cameras aren't rolling, though be warned: spend a day in his shoes, and you might end up rolling home yourself.
Your new favorite spot for horse tartare...
AZ: "You know that whole trendy gastropub craftsman meat thing? How about the Canadian Haute Lumberjack aesthetic? Labels suck, but you should know that in the GTA, that food started at Black Hoof, and we have Jen Agg (and her Haitian hubster Roland) to thank. Agg and her hubs have the unique ability to create the hippest food concepts and environments, keeping everything extremely fun and lighthearted, but take their food very seriously. Food freaks must try the horse tartare, house charcuterie, buffalo-style sweetbreads, and the foie with strawberry shortcake is about as decadent as guilty-pleasure dishes get. What's more, Agg keeps a team of super-talented hipsters who actually know a thing or two about cooking, wine, service, and being all-around good people, which makes the experience at Black Hoof unparalleled. Here's the play: put your name on the list at Black Hoof, hit up their Rhum Corner (next door) for a snack and a gander at the rum list of your dreams, and after dinner, grab a nightcap at Hoof Cocktail Bar across the street."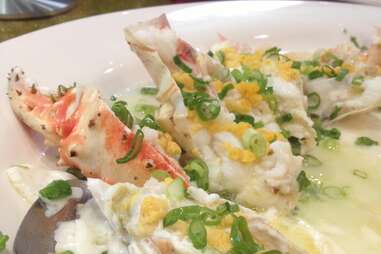 Just your average everyday 13-pound lobster tower...
AZ: "Scarborough isn't exactly centrally located, but it's only 15 minutes from downtown. My last meal there, at Fisherman Lobster Clubhouse, was so unbelievable that I can't leave it off my list. The 13-pound lobster tower, made from a single crustacean, made my jaw drop. This is the best Hong Kong-style seafood restaurant in North America. Whole king crabs, fish, eels, and massive lobsters are all cooked family-style with such finesse and in so many styles that I think about this place every day. It's a must. Get there. Bring friends because it's a place where you need six people to make a dent in a dish. I ordered king crab one day. The first course were knuckles steamed in duck egg white with salted yolk as garnish, then the leg top joints crisped with shallots & chiles, then the body meat, served in a fried rice course in the massive top shell. You can't make this up. Go!"
Tacos & bourbon: together at last...
AZ: "Grand Electric's cool take on a taco joint is packed to the gills day into night. Veg-heads will love their crispy cauliflower tacos, while meat-lovers will find the head-scratching scrapple version hard to pass up. Add an order of fresh tuna ceviche, tuna belly, or grilled spicy octopus, and save room for their famous key lime pie, served in a Mason jar 'cause everything is more hipster in a Mason jar. Bourbon drinkers, take note: their selection is great and drinking booze at lunch is never discouraged."
T-Dot's finest deli is filled with smoked meat...
AZ: "As a born-and-bred New York Jew with some serious food cred, I consider myself a connoisseur of the delicatessen. Canada's are famous for smoked meat, their no-frills Canuck nick-name for pastrami. In Toronto, you can't beat Caplansky's. Excellent breakfasts (bagel, lox, and smoked meat hash), plus the kinds of lunches I live for: chopped liver, pickles, borscht, and smoked-meat sandwiches. Served on legendary Silverstein Bakery's rye bread, I order mine "fresser", aka stacked with loads of smoked meat (mixed, of course)."
If you've never seen sexy clogs, you just haven't been here...
AZ: "With all the bushy beards, striped boatneck shirts on dudes, high-waisted jeans on the ladies, and floral prints on both sexes, a few days in Toronto might have you feeling fashionably lame. No worries, a shopping trip at Woodlawn can turn even the most sartorially clueless dad into a bonafide baller. Handcrafted canvas and leather bags from Winter Session (who also does an ass-kicker of a denim apron), well-made basics from Imogene & Willie, and down-right dapper Uniform Wares watches, plus lovely dresses and sexy clogs (yes, those two words are not mutually exclusive) for your lady friend."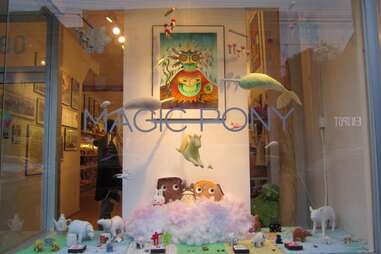 Japanese weirdness, Canada-style...
AZ: "Magic Pony blurs the line between art and toy store, which makes it for kids of all ages. I'm one of the biggest kids I know, and I could get lost in their funky collection of Japanese figurines, cool backpacks, and prints (a special shout-out to the pug-themed cards and posters… I'm a sucker for anything featuring our family dog). Head over to their sister art gallery, Narwhal Projects, known for its ever-changing modern art (and often wacky) exhibits."
This graffiti kicks other graffiti's ass...
AZ: "When done right, I think graffiti can be absolutely stunning, and I love cities that appropriately embrace it. Check out Rush Alley for an array of street art. This alley (just south of Queens Street West and stretching about a half mile) is covered from street to rooftop with insane murals. The entire thing is repainted annually (usually late summer), so what you see on this trip won't be there a year from now."
A hotel so freaking good you need never leave it...
AZ: "Open since January, the Shangri-La is Toronto's best hotel, hands down. The rooms are luxurious and serene (with stellar city views), but my real pull is the dining. New York-based chef David Chang opened five Momofuku concepts onsite, including his beloved Noodle Bar and Milk Bar (do not skip the compost cookies… trust me). Also notable: the Miraj Hammam Spa. Located on the fifth floor, their steam rooms, exfoliation treatments, and massages are the things my wife lives for. When we stay here, I'm well-fed and she's well-rested. Everyone wins."