Movies
Creed (November 25th, in theaters)
Sylvester Stallone spins off the Rocky franchise spins off with Fruitvale and Friday Night Lights actor Michael B. Jordan as the fighting-for-redemption son of Apollo Creed. The man-tears will flow.
The Good Dinosaur (November 25th, in theaters)
It's a "boy and his dog" tale with a dinosaur in the boy role and a feral Cro-Magnon in place of the dog. It's from Pixar, so it should provoke a roller coaster of child-like emotions.
Top Five (November 28th, Amazon Prime)
In this underrated 2014 comedy now streaming, Chris Rock fictionalizes the steep climb to creative freedom in Hollywood. There are long walks with Rosario Dawson and "making it rain" strip club scenes with Jerry Seinfeld. Sometimes adults get comedies, too.
Television
A Charlie Brown Thanksgiving (November 24th, at 8pm on ABC)
No, not the Christmas special with the tree-side dancing and the classic Vince Guaraldi Trio tracks. This is the one where Snoopy serves jelly beans at Friendsgiving and Peppermint Patty has a meltdown. Put that red wine down, Charlie Brown.
Planes, Trains and Automobiles (November 25th, 8pm on The CW)
If you don't have Netflix and/or are partial to commercial-prompted bathroom breaks, it's time to finally watch John Hughes' chaotic Thanksgiving road movie with the fam. Or better, the complete stranger sleeping in your shared motel room.
The Godfather Trilogy (November 26th, starting at 9am, AMC)
Make this Thanksgiving an Italian Thanksgiving. Spend it with the Corleone family. Learn to make offers people can't refuse.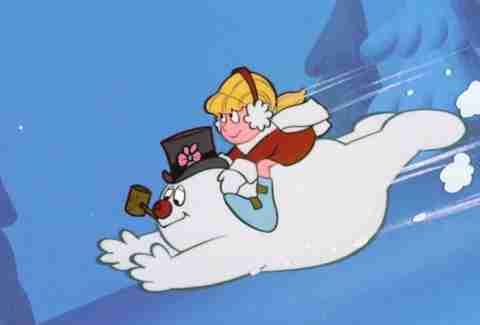 The Macy's Thanksgiving Day Parade (November 26th, starting at 9am, CBS)
The Pilgrims struck it out in Plymouth Rock so one day we could watch morning show hosts analyze Angry Bird balloons. A great pairing for your sugar cereal coma.
The James Bond movie marathon (November 26th-28th, starting at 6:30am on SyFy)
Whether you want to keep the Spectre times going, or need a license to kill some time, 007's breezy spycraft makes covert watching easy. Spare five minutes? Here's Roger Moore as a clown in Octopussy. A solid two hours? The Living Daylights is better than you remember. Die Another Day is on? It's nice outside. Go out. Live your life.
Frosty the Snowman (November 28th, 8pm on CBS)
Let's all admit to ourselves Frosty is vastly superior to Rudolph. Can we get there this year? Frosty has the sparkle and toe-tapping tunes, but it also teaches us an important lesson: life is short. Each day is worth celebrating -- especially if your life source is a magic hat.
The Walking Dead midseason finale (November 29th, 9pm on AMC)
Enough with the holidays -- bring on the real feast: brains! Cable TV's most popular show takes its annual halftime pause as Rick and the gang continue their fight against zombie hordes and the Internet prays for answers surrounding Glenn's "death."
Sign up here for our daily Thrillist email, and get your fix of the best in food/drink/fun.
Matt Patches is Thrillist's Entertainment Editor. He previously wrote for Grantland, Esquire.com, Vulture, The Hollywood Reporter, and The Guardian. He enjoys a good turkey. Find him on Twitter @misterpatches.