How Taika Waititi Adapted the Vampire Comedy 'What We Do in The Shadows' for American TV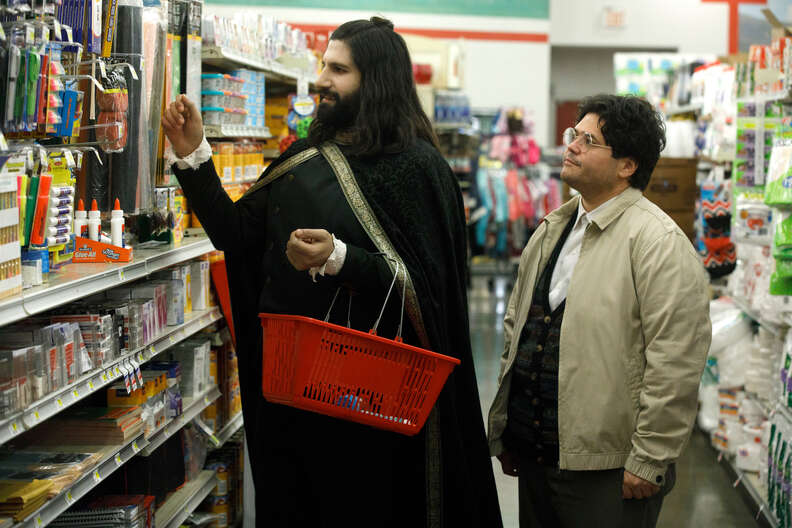 Taika Waititi has been a part of multiple cinematic universes throughout his career. There's Marvel, of course, as the director of the widely acclaimed Thor: Ragnarok. Perhaps the more surprising world that's expanded under his purview is that of What We Do in the Shadows, the beloved mockumentary he co-directed and stars in with Flight of the Conchords' Jemaine Clement that was released in the United States in 2015.
The film finds a documentary crew following a group of vampire flatmates in New Zealand, who are concerned with blood-sucking, yes, but also household chores and their social standing among the undead. Waititi plays the neatnik Viago; Clement is the lascivious Vladislav. Since its debut, there's already been a New Zealand-set spinoff about clueless police officers called Wellington Paranormal, and now there's an FX show that starts its season on March 27 which checks in with another group of night-dwellers who live on New York's Staten Island.
The all-new What We Do in The Shadows -- executive produced and directed in part by Waititi -- centers on roommates Nandor (Kayvan Novak), Laszlo (Matt Berry), and Nadja (Natasia Demetriou). They've all lived (very) long lives -- Nandor was an Ottoman soldier, known as Nandor the Relentless -- but now exist in a sort of collegiate cohabitation situation. Others occupy the house as well: Nandor's human familiar Guillermo (Harvey Guillén), desperate to get his fangs, and "energy vampire" Colin Robinson (Mark Proksch), who feeds by boring the hell out of people through dull conversation. The half-hour episodes follow the vamps' misbegotten quest to take over the "new world," starting at the municipal level.
Fresh off his stop at SXSW, Waititi got on the phone with Thrillist to discuss the ever-expanding purview of Shadows.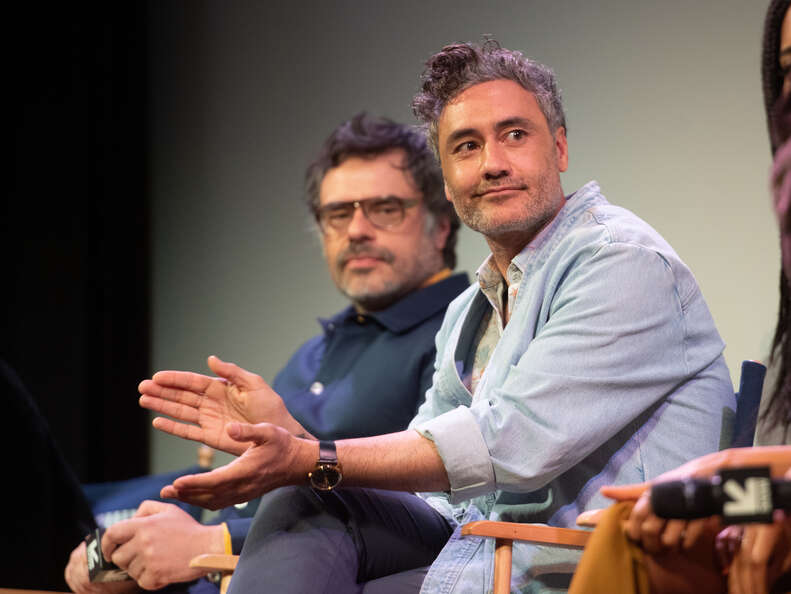 Thrillist: I read in an interview that you did with Jemaine Clement back in 2015 when the movie was coming out that you shot 125 hours of footage. Is that correct?
Taika Waititi: I think it's like 150. It went up and down. Officially, we couldn't really tell exactly how many hours. I think even then we were unsure because we did a lot of reshoots as well and we maybe didn't add them. So let's just give it a round 150 and leave it at that. The reason being because we basically improvised the whole thing. Every single take was different and a lot of the stuff we did on the set had so many variations and would often veer off into these 10-15 minute takes. By the time we finished a scene, we would already have like an hour or so of footage just for one scene. It just kept getting bigger and bigger and bigger and we always would run two cameras and sometimes three and basically just leave the cameras on and just keep talking and just stay in character the entire day.
I ask this because the What We Do in the Shadows world has expanded so much since then. In addition to the FX show, there's Wellington Paranormal and talk the werewolf movie, We're Wolves. Did you amass so much that you just thought it was inevitable that there'd be more stories set in this universe, or did that come later?
Waititi: That came later. When we finished the film we knew we wanted to do another film. And we'd never really talked about the TV idea because it felt like a surefire way of being stuck in one town. And so we started about ideas for films and we started thinking about a werewolf film with those characters. But we just needed a break. We spent so long doing that film that we needed to take a rest from it. I made Hunt for the Wilderpeople, and went to live in Hawaii for a while to relax and have a kid. By that time -- a year after we finished the film -- we really started talking about our possibilities. That was around the time when [producer] Scott Rudin got in touch with us and was keen on making it into a TV show. Then it just seemed like the easiest way to do it because he's so good at what he does, it seemed like he'd be able to get it done and we wouldn't have to go around pitching it or anything. He basically made it happen and we just agreed. I was like, "Yeah, Jemaine we should do this." And he was like, "I don't know, another vampire thing?" I was like, "Of course, we've got to do this." And at that point I got Thor and I basically pulled out my involvement in the Shadows TV spinoff and left Jemaine to do it by himself. What I mean is, I couldn't write it.
Jemaine was more hesitant to do it?
Waititi: I think we were both unsure as to what a US version might look like. We hadn't really completely decided on what that might be at the time that I got Thor. We were sort of halfway through figuring it out. Then we decided, we always knew we didn't really want to be in it. We got a lot of encouragement from producers and stuff here, that people would prefer to see us and see our characters again. But we just couldn't figure out a way to justify our characters leaving New Zealand and being here and what that might look like. And also, we played those characters for so long. We just couldn't think of anything worse than -- also I don't like shaving, clean shaving, my face. I had to that every day for that character. I don't like putting makeup on. I don't like the feeling of it on my skin. I know that sounds insane, but that was one of the reasons I was like, I don't want to be in the show. I hate shaving. We decided we would keep it in the same universe where our characters still existed, but then put it in a different city, put it in America, and with different characters.
You directed the pilot of What We Do in the Shadows. Were you just not involved in the writing of that first episode? How involved were you in the brainstorming? Did you leave it entirely to Jemaine?
Waititi: I left it to Jemaine and I'd just read drafts and if I had any notes, I'd give suggestions, like character things or location things. When I got to doing the pilot, then I came in. I finished Thor, Thor had come out, then I think I just had a couple of months and then got onto the pilot. The job of making that film was so intense and so involved. I wouldn't have been able to do it. I wasn't able to do anything. The idea was I would secretly write other films while I was doing it, but I just couldn't.
It sounds like making a Marvel movie is an all-consuming enterprise. You mentioned the trepidation of leaving New Zealand. There's a very specific rhythm to the humor of the country. Were you trying to recreate the exact rhythms of the movie in the TV show, and was that hard?
Waititi: We were trying to create those exact rhythms. We spent quite a while figuring out the style of the film. Going from things like staying with the characters for a little exposition and then we go back to the scene. And how does the story work, and with these characters you've always got to explain everything, especially on a TV show, you've got to get all the backstory for everything up front. There's a lot of talking. We were pretty satisfied with what we did on the film so we decided we'll pretty much replicate that style and that rhythm, just with different people and because we really liked those actors, Matt, Kayvon, Natasha, Harvey, and Mark. They were great improvisers and they understood what we were doing because they all watched the film. They all got it, especially the British comics. They just understand the need for subtlety and to try and keep it real. Even with the film, bringing it to the States, sometimes people weren't quite ready for -- there's a different style of humor. The jokes are the same, but maybe it's a different type of delivery. The film has got very sad undercurrents throughout. In the film, the deepest themes are actually pretty depressing. That's where we find the comedy comes from. The British get that. I think if we had done the whole film in America -- if we were Americans -- I think the sensibility and the tone and the rhythm would be completely different.
I read that you and Jemaine had said that the bit in the movie with the vampire character Deacon and his Nazi past did not go over well with Americans audiences. You have a movie coming out in which you play Hitler.
Waititi: It was so weird back then. The joke was that he had been alive so long and see so many wars that WWII was just, I don't know, a war to him. The joke was, "I don't know if you guys know this, but the Nazis lost that war." In America, people were like, "We know that because we were really involved in that war and we helped end that. We helped beat the Nazis, so you don't have to tell us that." It was just so weird. It felt like Americans were like we were the only people in WWII fighting Nazis. Some people were like, "You should just take it out because Americans don't like Nazis. We don't like characters who used to be Nazis." We eventually just refused. We have to help people here to evolve their senses of humor.
Doug Jones pops up as the Baron at the end of the first episode. Beanie Feldstein's character Jenna has an arc. How did you think about plotting the show and approaching those side characters?
Waititi: We wanted to make the relationships satisfying and give them season-long arcs. You can watch any episode out of order really and still get something good from it, but it would reward an audience from watching from the beginning through to the end. It's about Nandor and Guillermo's relationship, that thing where it's him wanting him to become a vampire and Nandor kind of being oblivious to it. That goes all the way throughout. The themes of family and love and how humans would deal with immortality considering were quite sort of sad and boring and useless animals. Immortality is kind of wasted on humans who become vampires. All those things stretch throughout and it's all developing. It was important that it wasn't each episode is its own contained thing where nothing carries on, because that, to me, just feels kind of lazy. TV shows nowadays, you've got to do that otherwise I imagine it would just be some crappy sitcom.
One final question: Energy vampires?
Waititi: We always talked about energy vampires, like you would be at a party like, "Oh, man, stay away from that guy, he's a real energy vampire." It was just a term. That was something Jemaine thought would be funny, just to have a character that is essentially human and talks to people. But you see him walk around in the daytime. It's a great way of having things set in the day, because it's one of the things that drove us nuts during the film is it was night shoots and never seeing the daylight. You end up feeling like a vampire.
Sign up here for our daily Thrillist email and subscribe here for our YouTube channel to get your fix of the best in food/drink/fun.