A Day in the Life of 9 Famous People
For some of us, daily responsibilities are limited to "showing up to work for eight hours" and "breathing." Others, have a little more weight on their backs -- like entire TV shows, record labels, and countries. Because we've woken up many nights wondering what Maya Angelou was doing that very second, we combed articles and books for some insight into what she and eight other famous, successful people do and did on an average day. If it's taught us anything, it's that we need to be getting out of bed much, much earlier.
Mindy Kaling
(From her book Why Not Me?)
Wake up at 5am
Shower, drive to Universal Studios
Report to hair and makeup by 6am
Start shooting for The Mindy Project at 7:45am
Break for lunch around noon
Drive to writers' room in production office to go over their work
Table read for next episode at 1pm
Makeup again at 2pm, back to shooting at 2:30pm
Voice-over recording at 5:30pm
Quick nap wherever at 6pm
More shooting at 6:15pm
Wrap by 8:15pm, go to writers' dinner at 8:30pm
Editing starting at 9:30pm
Collapse in bed (possibly without putting on actual pajamas) at 12:30am
Stephen King
(From his books On Writingand Haunted Heart: The Life and Times of Stephen King)
Sit down with cup of water or glass of tea around 8am or 8:30am
Take vitamin pill, start writing
Write for at least four-six hours in same seat, with papers arranged the same way
Take afternoon nap, catch up on letters
Read, watch Red Sox games, spend time with family
Make any necessary revisions
Go to sleep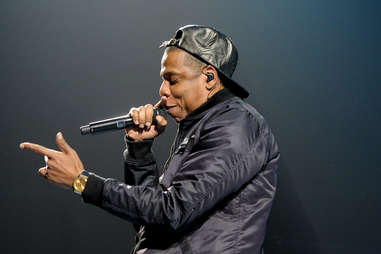 Jay Z
(FromThe Big Idea with Donny Deutsch)
Get up around 8am
Eat breakfast, run a mile
Get into office, catch up on e-mails
Meetings
Listen to new music (legally)
Check in at studio
Grab dinner
Head to Barclays Center, watch Nets game
Sleep
Gordon Ramsay
(From Business Insider and Reddit AMA)
Wake up at 5am
Go to the gym
Have a bowl of oatmeal for breakfast
Tape Master Chef until 9pm or 10pm
Eat something quick
Call the UK around midnight to say good morning to kids
Catch up with London business
Go to sleep at 2am
Barack Obama
(From Vanity Fair and public schedules)
Get up at dawn, immediately head to gym
Put in 45 minutes of weight and cardio
Scan papers over breakfast, see daughters off to school
Quick rundown of day with chief of staff
Daily intelligence briefing with vice president and national security team at 9:30am
Economic briefing
Discussion with congressional leadership over legislation
Meeting with senior advisers or international dignitary
Deliver remarks for labor summit
Meeting with vice president and secretary of state
Wrap meeting with chief of staff around 6:30pm
Dinner with wife and daughters
Catch up on calls and e-mails beginning around 8:30pm
Get to bed sometime around midnight
Erin Andrews
(FromElle and The New Potato)
Wake up, drink hot lemon water
Leave hotel by 8:30am
Arrive at arena, prep for interviews
Report on NFL Sunday for Fox
Wrap coverage, head to airport
Board plane back to LA
Land around midnight, head home and crash before Dancing with the Stars the next morning
Maya Angelou
(From The Paris Reviewand The Daily Beast)
Left the house at 6am
Arrived at hotel room she kept at 6:30am
Wrote on made-up bed (she didn't let the staff change the sheets) with dictionary, Roget's Thesaurus, yellow pads, and Bible
Left room by about 2pm to return home
Showered, went food shopping
Cooked dinner for herself and possible guests
Cleaned dishes
Read over everything she wrote that morning, edited
Turned in for the night
Carrie Brownstein
(From The Wall Street Journal)
Grab an everything pretzel bagel and cappuccino around 7am
Begin shooting scenes for Portlandia at 8am
Break for makeup touch-ups between takes
Wrap at night, head to dinner with Fred Armisen and writer(s) at 9:45pm
Go home, relieve dog nanny, head to bed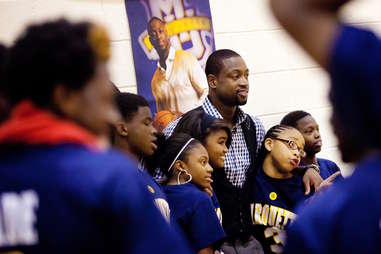 Dwyane Wade
(From Haute Living)
Get up at 7am, join sons for breakfast
Meet team trainers at 9am for treatment
Start two-hour practice at 10am
Answer questions at media session after practice
Meet with business manager at 12:30pm
Head home around 3pm to catch up with sons after school, take quick nap
Get 5pm massage or acupuncture
Meet with stylist to discuss wardrobe for upcoming events
Dinner at 7pm
Catch up on favorite show, Scandal, before going to bed

Sign up here for our daily Thrillist email, and get your fix of the best in food/drink/fun.
Kristin Hunt is a staff writer for Thrillist, and would gladly watch Scandal with Dwyane Wade. Follow her to presidential affairs: @kristin_hunt.