Recommended Video
This Pizza Dip Lets You Throw a New Kind of Pizza Party
Highlights
Boogie Nights (leaving 10/1)
This ensemble drama about the porn business from director Paul Thomas Anderson is one of the most rewatchable movies ever made. Any stray moment can draw you in: Mark Wahlberg's Dirk Diggler picking his name in a hot tub, John C. Reilly singing that Transformers song, Julianne Moore snorting an afternoon away, the late Burt Reynolds framing up a shot, or Heather Graham strolling across the screen in nothing but her roller blades. Splitting the difference between the laid-back melancholia of Robert Altman and the coked-out frenzy of Martin Scorsese, Boogie Nights remains PTA's most purely pleasurable film, a loving tribute to an era of big stars, big egos, and big… well… you've seen the ending.
Freaks and Geeks (leaving 10/1)
Like its awkwardly dressed and perpetually yearning protagonists, Paul Feig and Judd Apatow's ode to the pain of adolescence was destined to be an outcast from the start. Its presciently selected cast -- including Seth Rogen, Jason Segel, Busy Philipps, James Franco, Linda Cardellini, John Francis Daley, and Martin Starr -- anchored a show that was perhaps too prickly and personal to catch on with NBC's mainstream audience. Sadly, it will depart Netflix in October. So, like Starr's achingly joyful Bill Haverchuck watching Garry Shandling after school, make yourself a grilled cheese, grab a glass of milk, and get ready to find some pockets of transcendence amid the misery.
Full Metal Jacket (leaving 10/1)
Stanley Kubrick's vicious critique of the American military and masculinity is almost two movies in one; the first part, about a group of ragtag marines trying to survive the relentless discipline of their sergeant, is best remembered for brutality and R. Lee Ermey's screaming. The second half, which follows Matthew Modine's "Joker" Davis into war, isn't as poignant, but in Kubrick's hands, is absolutely potent.
The Babadook (leaving 10/14)
It's the ultimate parental nightmare: What if your child were a total dickbag? Australian filmmaker Jennifer Kent's moody horror debut works as a jump-scare-filled fright fest, but it's most effective in quiet, lingering moments that explore the paralyzing nature of motherhood. Thanks to an emotionally raw performance from Essie Davis, the film brings you into the psyche of a woman pushed to the edge by the very thing she thinks she's supposed to love the most. In this brilliantly twisted story, the monster isn't under the bed -- it's tucked in it.
Donnie Darko (leaving 10/17)
Some people will tell you they understand Richard Kelly's sci-fi coming-of-age tale, but trying to "explain" what Donnie Darko is all about misses the point. A young Jake Gyllenhaal shines as a moody teenager striving to find the meaning behind apocalyptic terrors hitting his suburban hometown, some of which include: a plane crash, a creepy rabbit named Frank, and a lot of pseudo-philosophical mumbo-jumbo about the nature of reality. Putting Donnie Darko on a pedestal is a mistake, but when you take it as a depiction of a young mind struggling to articulate a worldview, this early aughts cult classic is an indie sci-fi masterpiece in its own right.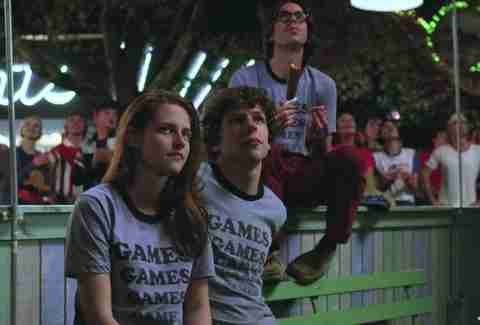 Everything else
Leaving 10/1/18
21
Adventureland
Akira
Bad Boys
Boogie Nights
Cinderella Man
Curse of Chucky
Eyes Wide Shut
Freaks and Geeks: Season 1
Full Metal Jacket
Guess Who
Inside Man
Let Me In
Life Is Beautiful
Menace II Society
Red Dragon
Scream 2
Sin City
Stealth
The Adventures of Tintin
The Clan
The Family Man
The Human Centipede 2: Full Sequence
The Lost Boys
The Rugrats Movie
Trading Places 
White Collar: Seasons 1-6
Leaving 10/2/18
The Human Centipede: First Sequence 
Leaving 10/6/18
The BFG 
Leaving 10/8/18
90210: Seasons 1-5
Kubo and the Two Strings
Leaving 10/10/18
Leap Year 
Leaving 10/13/18
The Nut Job 
Leaving 10/14/18
About a Boy: Seasons 1-2
The Babadook
Leaving 10/17/18
Donnie Darko 
Leaving 10/22/18
The Secret Life of Pets 
Leaving 10/24/18
V/H/S/2 
Leaving 10/25/18
Big Eyes
Queen of Katwe
Leaving 10/26/18
Southside with You 
Leaving 10/28/18
Bridget Jones's Baby 
Sign up here for our daily Thrillist email and subscribe here for our YouTube channel to get your fix of the best in food/drink/fun.