Every Movie and TV Show Leaving Netflix in May
Watch these now before they're gone.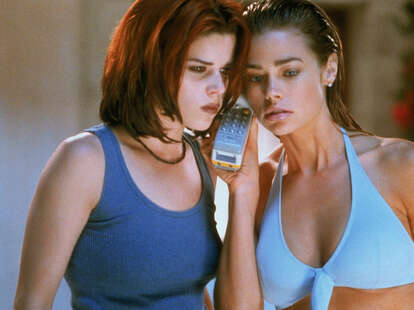 Every month, Netflix giveth and Netflix taketh away. While the service's original programming isn't going anywhere, the many other movies and shows in its library arrive and depart regularly, and sometimes without much notice. We'll update this article montly with Netflix announcements about what's leaving, and help you prioritize what to watch now before it's too late.
You can also check out our guides to all the movies and shows new to Netflix this month, as well the Netflix Originals Series and Movies scheduled to premiere the rest of this year.
What good movies are leaving Netflix in May 2022?
You should have a pretty busy May, if you plan on trying to get through all of the must-watch movies and shows leaving streaming this month. If you've been meaning to get into Downton Abbey, now's the time, because the series departs Netflix at the end of May. The sitcom gem Happy Endings s also leaving (and it's arguably less of a time commitment if you're looking for a new show). On the movies front, a handful of sexy movies including the love triangle drama Closer, which stars Julia Roberts and Natalie Portman, and erotic thrillers like Chloe and Wild Things leave streaming. You'll also probably want to get in another watch of Top Gun before the long-awaited sequel Top Gun: Maverick hits theaters in late May. Find out what else to stream before it's too late below.

Full List of What's Leaving Netflix—May 2022
Leaving May 31
Battleship
Bill Burr: You People Are All the Same
The Blind Side
Chloe
Closer
Coach Carter
Dennis the Menace
The Devil's Advocate
The Disaster Artist
Downton Abbey, Seasons 1-6
The Final Destination
Final Destination 3
Final Destination 5
Free Willy
Hairspray
Happy Endings, Seasons 1-3
Happy Feet
I Know What You Did Last Summer
I Still Know What You Did Last Summer
New Year's Eve
Sniper: Legacy
Stardust
Sucker Punch
Teenage Mutant Ninja Turtles
Teenage Mutant Ninja Turtles II: The Secret of the Ooze
Teenage Mutant Ninja Turtles III
Teenage Mutant Ninja Turtles: The Movie
Top Gun
Wild Things
Zoolander
Full List of What's Leaving Netflix—June 2022
Leaving June 2
Documentary Now!, Seasons 1-3
Lady Bird

Leaving June 6
The Night Shift, Seasons 1-4
Vampire Academy

Leaving June 13
Girlfriends' Guide to Divorce, Seasons 1-5

Leaving June 17
Silver Linings Playbook

Leaving June 23
Reign, Seasons 1-3

Leaving June 29
Criminal Minds, Seasons 1-12

Leaving June 30
Corpse Bride
Desperado
Eagle Eye
Escaping the NXIVM Cult: A Mother's Fight to Save Her Daughter
The Exorcist
Forgetting Sarah Marshall
Godzilla
Happy Gilmore
Her
How to Train Your Dragon
Into the Wild
Joan Rivers: Don't Start with Me
Just Go With It
Looper
Memoirs of a Geisha
Midnight in Paris
My Fair Lady
The Originals, Seasons 1-4
Shrek Forever After
Stand by Me