Recommended Video
'American Horror Story's New Season Makes Terrifying Connections to Current Events
Highlights
Men in Black (leaving 6/1)
There go the Men in Black, leaving Netflix for an indefinite period of time, which in this streaming climate is the equivalent of turning the neuralyzer on a movie. If an old movie isn't on Netflix, does it really exist? Philosophical questions will have to wait until later, because you don't have much time to squeeze in MiB.
My Left Foot (leaving 6/1)
Daniel Day-Lewis (Lincoln) won his first Oscar for portraying Christy Brown, an Irish man with cerebral palsy who learned to paint with the only appendage he could control (see the title). Tenderly pieced together by director Jim Sheridan (In America), My Left Foot is an earnest tale of resilience that's complicated by a troubled end of Brown's life.
Anthony Bourdain: Parts Unknown: Seasons 1-8 (leaving 6/16)
Get your fill of Bourdain and his travels while you can, because come mid-June, you won't be able to access the first eight seasons of the globetrotting chef's show whenever the mood strikes. Parts Unknown offers a refinement on the jaded-but-engaged worldview Bourdain honed over the course of several shows and networks, which is reflected in the mature, nuanced depiction of what it's like to experience a culture that's not your own.
Captain America: Civil War (leaving 6/25)
Fans of the clown car of Marvel movies have precious little time to indulge, as the Russo brothers' star-studded comic-book flick departs Netflix toward the end of June. Just be sure to brush up on your MCU mythology before enjoying the punch party -- this entry was a bit of an investment, remember?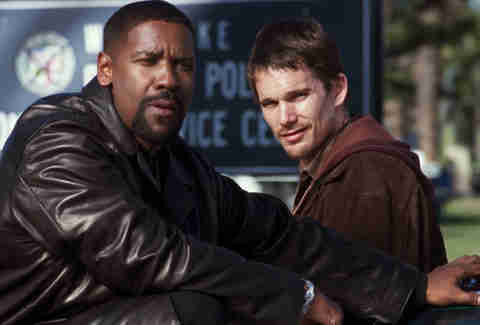 Everything else
Leaving 6/1
50 First Dates
8 Mile
Gridiron Gang
J. Edgar
Men in Black
My Left Foot
Neerja
Out of the Dark
Princess Kaiulani
The Angry Birds Movie
The Brothers Grimm
The Spy Next Door
The Young Victoria
Training Day
Untraceable
Vice
What Our Fathers Did: A Nazi Legacy
While You Were Sleeping
Leaving 6/2
Shark Men: Season 3
Leaving 6/8
Grace of Monaco
Leaving 6/9
The Trials of Muhammad Ali
Leaving 6/10
Bonnie & Clyde
Leaving 6/15
Drillbit Taylor
Naz & Maalik
The Giver
The Great Gatsby
Underdogs
Leaving 6/16
Anthony Bourdain: Parts Unknown: Seasons 1-8
Backstreet Boys: Show 'Em What You're Made Of
Curious George
Super
Leaving 6/18
Cedar Cove: Seasons 1-3
Leaving 6/20
Cake
Leaving 6/21
Baby Daddy: Seasons 1-6
Leaving 6/22
Sin City: A Dame to Kill For
Leaving 6/23
Curious George 3: Back to the Jungle
Leaving 6/25
Marvel Studios' Captain America: Civil War
Leaving 6/26
Alpha and Omega
Leaving 6/29
Bad Grandpa .5
Leaving 6/30
On Golden Pond
Sign up here for our daily Thrillist email and subscribe here for our YouTube channel to get your fix of the best in food/drink/fun.