Highlights
10 Things I Hate About You (leaving 8/1)
A hell of a lot of movies have tried to revive dusty old Shakespeare plays, but few modernize as effectively as this remake of The Taming of the Shrew. At the peak of his heartthrob powers, a pre-Joker Heath Ledger got paid by some horny teens (including a dweeby 3rd Rock-era Joseph Gordon-Levitt) to seduce Julia Stiles' feisty Kat, an undateable feminist keeping her popular sister home from prom. It's a testament to the teen actors' charm, raucous party scenes, and philosophizing about Prada and Skechers that the Bard would hardly recognize it.
Zack and Miri Make a Porno (8/1)
It's possible you've never seen this Seth Rogen movie, his sole collaboration with director Kevin Smith. In Zack and Miri, a pair of down-on-their-luck roommates (Rogen and Elizabeth Banks) aim to squash their pile of utility bills by making a Star Wars porn parody. While the movie didn't find much of an audience in 2008, Smith told us that he and Rogen were suuuuuper high while editing the finished product, which should indicate if this silly comedy is for you.
Superbad (leaving 8/4)
The uproarious comedy that kicked off Rogen and Evan Goldberg's writing partnership crams more crude sex jokes than anyone ever thought possible into the heartwarming story of inseparable best friends (Michael Cera and Jonah Hill) on the verge of leaving each other to ship off to college. Factor in some killer party scenes, a then-unknown Emma Stone, and high-school horndogs riffing to their hearts' content, and we all want to be McLovin.
Dope (leaving 8/10)
Dope, about a trio of high school geeks who find themselves swept up in a drug caper, arrived at a moment in the culture when early hip-hop nostalgia is at an all-time high. Boasting a soundtrack that balances classic tracks from A Tribe Called Quest, Public Enemy, and Nas, with modern performers A$AP Rocky, Tyga, and others in the cast, the 2015 Sundance breakout film overcomes a story that drags a bit down the stretch via engaging performances, notably from Shameik Moore, who plays old-soul teen lead Malcolm, and impeccable music direction (thanks, Pharrell). Like in high school, good taste counts a lot in teen movies -- and Dope has wild style to spare.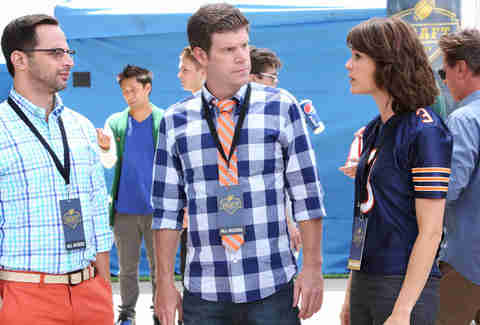 Everything else
Leaving 8/1
Justice League Unlimited: Season 1
Justice League Unlimited: Season 2
Justice League: Season 1
Justice League: Season 2
Babe
Babe Winkelman's Outdoor Secrets: 2014: Quarter 4
Babe: Pig in the City
Beneath the Helmet
Black Widow
Dirty Mary, Crazy Larry
Electric Slide
Elizabethtown
From the Terrace
From Time to Time
Goodbye World
Horsemen
Hunter X Hunter: Season 1
Hunter X Hunter: Season 2
Hunter X Hunter: Season 3
Hunter X Hunter: Season 4
Hunter X Hunter: Season 5
Josef Fritzl: Story of a Monster
Malibu's Most Wanted
Prefontaine
Russell Brand: End the Drugs War
Russell Brand: From Addiction to Recovery
Teacher's Pet
The Delivery Man: Season 1
The Diabolical
The Heavy Water War: Season 1
The Hunt: Season 1
The Little Engine That Could
The Lizzie McGuire Movie
The Verdict
Young Justice: Season 1
Young Justice: Season 2
Young@Heart
Zack and Miri Make a Porno
Leaving 8/5
Pelican Dreams
Personal Gold: An Underdog Story
Leaving 8/6
Human Capital
The Spoils of Babylon: Season 1
Leaving 8/9
The Five Venoms
Leaving 8/11
Four Blood Moons
Jesus People: The Movie
Patch Town
Two Days, One Night
Leaving 8/14
Drones
Food Matters
Leaving 8/15
American Dad!: Season 1
American Dad!: Season 2
American Dad!: Season 3
American Dad!: Season 4
To Kill a Mockingbird
Changing Seas: Season 3
Changing Seas: Season 4
Changing Seas: Season 5
Changing Seas: Season 6
Close Quarter Battle: Season 1
The New Frontier: Season 1
Top 10 Secrets and Mysteries: Season 1
Leaving 8/23
The Summer of Sangaile
Leaving 8/24
Gun Woman
Leaving 8/25
October Gale
Paratodos
The Kidnapping of Michel Houellebecq
Leaving 8/28
Revenge: Season 1
Revenge: Season 2
Revenge: Season 3
Revenge: Season 4
Leaving 8/30
The League: Season 1
The League: Season 2
The League: Season 3
The League: Season 4
The League: Season 5
The League: Season 6
The League: Season 7
Leaving 8/31
Space Warriors
Sign up here for our daily Thrillist email and subscribe here for our YouTube channel to get your fix of the best in food/drink/fun.