Every Movie and TV Show Leaving Netflix in November
Binge these titles before they're gone.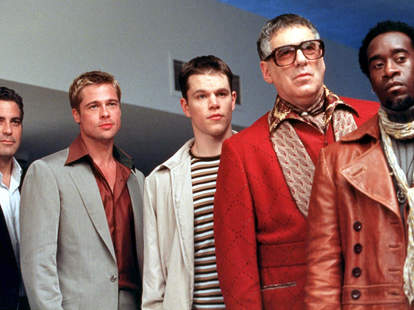 Netflix giveth and Netflix taketh away. The end of every month is a good reminder that titles on Netflix don't last forever (outside of the service's original programming , of course). Even with all of the TV shows and movies coming to the streaming service in the month ahead, it's time to take note of the ones on their way out. 
This November, Netflix says farewell to some modern classics. David Fincher 's excellent crime period piece Zodiac is heading out at the end of the month—just before his latest film, Mank , premieres on Netflix in early December—and so is Alfonso Cuarón's early movie Y Tu Mamá También . Plus, if you've been meaning to have a movie marathon of Steven Soderbergh's Ocean's franchise, when you're staying in for Thanksgiving might be the perfect time because Ocean's Eleven , Twelve , and Thirteen are also among the titles leaving the streaming service. See what else you need to get one last viewing in of below.
Everything leaving Netflix in November
Leaving 11/4
Death House
Leaving 11/6
Into the Forest
Krisha
Leaving 11/7
Hit & Run
Hope Springs Eternal
The Sea of Trees
Sleepless
Leaving 11/8
Bathtubs Over Broadway
Leaving 11/11
Green Room 
Leaving 11/14
Oliver Stone's Untold History of the United States, Season 1
Leaving 11/15
Abominable Christmas
The Addams Family
Drive
9
Leaving 11/16
Santa Claws
Soul Surfer
Leaving 11/17
Sour Grapes
Leaving 11/22
End of Watch
Leaving 11/23
Bushwick
Shot Caller
Leaving 11/26
The Lincoln Lawyer
Leaving 11/27
Jeopardy!: Champion Run I: Gilbert Collins
Jeopardy!: Champion Run II: Rachel Lindgren
Jeopardy!: Champion Run III: Ryan Fenster
Jeopardy!: Champion Run IV: Josh Hill
Jeopardy!: College Championship III
Jeopardy!: Producer's Pick
The Nutcracker and the Four Realms
Leaving 11/30
Anaconda
The Adventures of Sharkboy and Lavagirl
The Bachelor , Season 13
Bad News Bears
Diana: In Her Own Words
Gridiron Gang
Hostage
National Security
Lakeview Terrace
Moneyball
Ocean's Eleven
Ocean's Twelve
Ocean's Thirteen
Priest
Stand and Deliver
The Tribes of Palos Verdes
West Side Story
Y Tu Mamá También
You Don't Mess with the Zohan
Zodiac
Need help finding something to watch? Sign up here for our weekly Streamail newsletter to get streaming recommendations delivered straight to your inbox.
Follow the Thrillist Entertainment staff on Twitter @ThrillistEnt.