Recommended Video
Top 5 Best Netflix Original Movies to Watch in 2019
Highlights
Beauty and the Beast (2017)
If you missed this live-action remake of the 1991 animated musical classic, standing tall as the highest-grossing movie of 2017, you have until mid-March to catch it on Netflix. The enchanted objects are a little creepier this time, but other than that, it's basically the same movie you know and love. Ingenue Emma Watson brings the bookish, caring Belle to life as wonderfully and strong-willed as you could have imagined her, and the rest of the cast (Dan Stevens as the Beast, Luke Evans as Gaston, and Josh Gad as LeFou) is equally as magical. Of Disney's live-action remakes, Beauty and the Beast is perhaps the grandest released thus far. 
The Breakfast Club (1985)
Of all the seminal John Hughes teen comedies, The Breakfast Club is the one that cemented him as America's unofficial chronicler of the special combination of angst, passion, hope, and hormones that comprise the teenage experience. Centered around a group of teens thrown together in weekend detention, the film birthed the Brat Pack, and gave us the infamous, oft-quoted, oft-parodied scene of escalating punishment. Most of all, though, it connected with audiences across generations, making it just as enjoyable and recognizable today, more than 30 years after it appeared in theaters. 
Baby Mama (2008)
In SNL alum/besties Tina Fey and Amy Poehler's first joint feature film, Baby Mama, the two play total opposites who couldn't hate each other more. But because Tina Fey's career woman character Kate's doctor just doesn't like her uterus, she enlists Poehler's party girl Angie as a surrogate to help her become a mother. Their personalities brought together for that life-changing event may seem like a recipe for disaster, but based on the duo's comedic chemistry, an unlikely, touching friendship lies at the helm of this oddball comedy. It's always a joy seeing these two share the screen, especially when it seems like they're having a whole lot of fun with each other (see: the clubbing and karaoke scenes), which is what the entirety of Baby Mama feels like.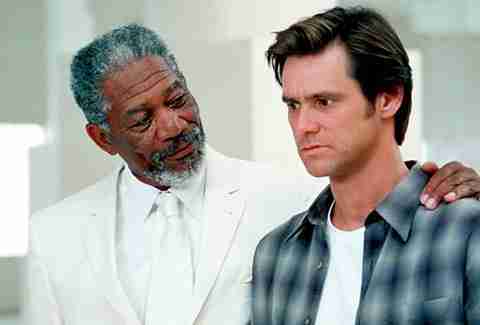 Everything Else
Leaving 3/1/19
The Breakfast Club
Bruce Almighty
The Cider House Rules
Fair Game - Director's Cut
Ghostbusters
Ghostbusters 2
The Gift
Hostage
The Little Rascals
Pearl Harbor
United 93
Leaving 3/2
Law & Order: Special Victims Unit: The Eighteenth Year
Leaving 3/3/19
Drop Dead Diva, Seasons 1-6
Leaving 3/4
Pirates of the Caribbean: At World's End
Leaving 3/5
Newsies: The Broadway Musical
Leaving 3/8
Click
Leaving 3/16
Baby Mama
Charlie St. Cloud
Role Models
Leaving 3/18
Disney's Beauty and the Beast
Leaving 3/31
Party of Five, Seasons 1-6
The Real Ghostbusters, Seasons 1-5