Every Movie and TV Show Leaving Netflix in July
Watch these now before they're gone.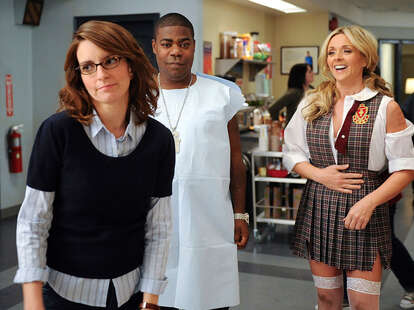 '30 Rock'

| NBCUniversal Television Distribution
'30 Rock'

| NBCUniversal Television Distribution
Every month, Netflix giveth and Netflix taketh away. While the service's original programming isn't going anywhere, the many other movies and shows in its library arrive and depart regularly, and sometimes without much notice. We'll update this article montly with Netflix announcements about what's leaving, and help you prioritize what to watch now before it's too late.
You can also check out our guides to all the movies and shows new to Netflix this month, as well the Netflix Originals Series and Movies scheduled to premiere the rest of this year.
What good movies are leaving Netflix in July 2022?
It's always a bummer when a reliable sitcom that you're down to throw on whenever leaves Netflix. In July, it's 30 Rock that's on the way out. You'll have just one more month to hang with Liz Lemon, Tracy Jordan, Kenneth, Jenna, and the rest of the TGS crew. (Although, you can definitely find the show streaming elsewhere if you have other subscriptions.) Other than that, the classic rom-com You've Got Mail, a handful of horror movies, and great coming-of-age movies like The Edge of Seventeen, Little Women, and My Girl are leaving. Find out what else to stream before it's too late below.
Full List of What's Leaving Netflix—July 2022
Leaving July 23
Django Unchained

Leaving July 25
Banana Split

Leaving July 31
The Edge of Seventeen
Forrest Gump
Friday the 13th
The Haunting in Connecticut 2: Ghosts of Georgia
Lean on Me
Little Women
Love Actually
My Girl
Poms
Texas Chainsaw 3D
30 Rock, Seasons 1-7
21
You've Got Mail
Full List of What's Leaving Netflix—August 2022
Leaving August 4
They've Gotta Have Us, Season 1

Leaving August 5
Screwball

Leaving August 7
We Summon the Darkness

Leaving August 9
Demonic
The Saint

Leaving August 10
Mr. Peabody & Sherman

Leaving August 15
Endless Love
Selfless
Leaving August 20
The Conjuring

Leaving August 23
Young & Hungry, Seasons 1-5

Leaving August 24
The November Man
Wheel of Fortune, Seasons 35-37

Leaving August 25
Taxi Driver
The Visit

Leaving August 27
Wind River

Leaving August 30
In the Line of Fire

Leaving August 31
Agatha Christie's Crooked House
Anchorman: The Legend of Ron Burgundy
Cliffhanger
The Dark Knight Rises
The Departed
GoodFellas
Grown Ups
Halloween
Just Like Heaven
Kung Fu Panda 2
Major Dad, Seasons 1-4
Mission: Impossible
Mission: Impossible II
Mission: Impossible - Ghost Protocol
A Nightmare on Elm Street
A Nightmare on Elm Street
Premonition
Public Enemies
Rise of the Guardians
Soul Surfer
Starship Troopers
Titanic
A Very Harold & Kumar Christmas
We Are Marshall
Wyatt Earp