Recommended Video
You Can Get Paid to Binge Marvel Movies
Highlights
I Love You, Man (2009) (leaving 4/1)
Paul Rudd's Peter realizes he's in a predicament once he gets engaged: He has no friends, and therefore, no best man. While unfortunate for Peter, the simple premise is a hilarious set-up for this comedy from John Hamburg (Meet the Parents, Along Came Polly). Once Peter sets his eyes on the free spirited Sydney (Jason Segel) as a potential bestie, a beautiful bromance is born -- one of sweet, sweet bass slappin', scooter riding, and day drinking. Rudd is endearing, Segel's ridiculous, Venice Beach bum Sydney is hilarious, and together, they have indisputable chemistry. You'll be dying to be a third wheel in their burgeoning friendship.
Raw (2017) (leaving 4/4)
In Julia Ducournau's debut, carnal desires turn carnivorous. Raw finds sheltered vegetarian Justine (Garance Marillier) embarking on her first year of French veterinarian school. Between graphic dissections, nightly raves, and hazing that makes American fraternity life look like a day at the massage parlor, the student struggles to fit in. Justine's frosh year takes a morbid turn when her upperclassman sister forces her to consume meat for the first time, unleashing an insatiable hunger. The metaphors are obvious, but Ducournau's clinical eye for horror tableaux -- the "gross" parts range from skin peeling to gnawing on human fingers to dredging dung from a cow's anus (for science!) -- keep Raw perpetually and satisfyingly unnerving.
Silver Linings Playbook (2012) (leaving 4/18)
Jennifer Lawrence, Bradley Cooper, and David O. Russell's first collaboration -- and the film that turned J-Law into a bona fide golden girl -- is a romantic comedy/dramedy/dance-flick that bounces across its tonal shifts. A love story between Pat (Cooper), a man struggling with bipolar disease and a history of violent outbursts, and Tiffany (Lawrence), a widow grappling with depression, who come together while rehearsing for an amateur dance competition, Silver Linings balances an emotionally realistic depiction of mental illness with some of the best twirls and dips this side of Step Up. Even if you're allergic to rom-coms, Lawrence and Cooper's chemistry will win you over, as will this film: a feel-good, affecting love story that doesn't feel contrived or treacly.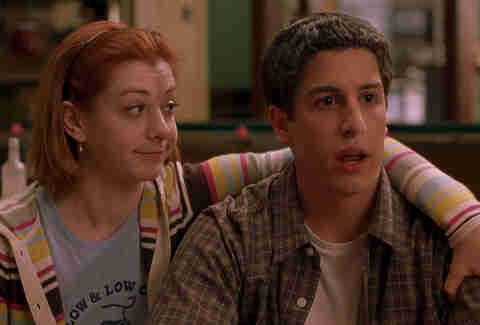 Everything Else
Leaving 4/1
American Pie
Billy Madison
Blue Mountain State, Seasons 1-3
Casino Royale
Diamonds Are Forever
Die Another Day
Don't Be a Menace to South Central While Drinking Your Juice in the Hood
Goldfinger
Happy Feet
Happy Gilmore
Heat
I Love You, Man
L.A. Confidential
Live and Let Die
Luther, Season 1-4
Octopussy
Pokémon: XY, Seasons 1-2
Seven
Sex and the City: The Movie
The Living Daylights
The Man with the Golden Gun
The Spy Who Loved Me
The World Is Not Enough
Wallander, Seasons 1-4
You Only Live Twice
Leaving 4/4
Raw
Leaving 4/7
Star Wars: The Clone Wars
Star Wars: The Clone Wars, Seasons 1-5
Star Wars: The Clone Wars: The Lost Missions
Leaving 4/13
Video Game High School, Seasons 1-3
Leaving 4/18
Silver Linings Playbook