Whitney Is Holding Onto a 'SPARK' of Optimism
The Chicago-based indie duo talked to us about their third studio album 'SPARK' over martinis in Brooklyn.
Julien Ehrlich and Max Kakacek of Whitney at Achilles Heel

| Photo by Cole Saladino for Thrillist
Julien Ehrlich and Max Kakacek of Whitney

| Photo by Cole Saladino for Thrillist
Julien Ehrlich and Max Kakacek of the Chicago-based indie duo Whitney have been going golfing a lot. At first they got into it "ironically," and because it was one of the few activities during the pandemic that forced them out of the house for hours at a time. The two musicians are certain they stand out on the golf course—their tight jeans and Ehrlich's bleach-blonde hair looking quite the opposite of the insurance salesmen types they're often paired with for 18 holes—but it's something they've picked up and kept doing, despite being pretty bad at it.
They've also been making a lot of meals together in their shared Chicago walkup. Unlike golfing, they admit to being good at cooking, with guitarist Kakacek on grilling duty and drummer/vocalist Ehrlich on his "soup and sauce game," or "going crazy" with salads. After living together for nearly 10 years (save for a two-year break when they lived with their respective partners), Kakacek says the Whitney boys now have a "proper domestic life." They've leveled up from the apartment they shared in their early 20s that didn't have a working doorknob, and now try to make time to do the things that bring them joy, whether that's an afternoon golf outing or preparing a lamb ragu before hitting up their favorite bars.
Whitney is synonymous with Chicago. The two first played in the Pitchfork-core garage rock group Smith Westerns in the early 2010s before the group disbanded and they began working on music as a duo, coming up in the Chicago scene before the release of their instant classic 2016 alt-country debut Light Upon the Lake. They also seem right at home in New York City, though. Seated in the intimate tavern Achilles Heel in Greenpoint, Brooklyn on an August visit for a recording session and to promote their new album SPARK (out September 16 via Secretly Canadian), they can't help but indulge in memories of their past trips and tours through the city. At Achilles Heel, for instance, an old friend is among the bartenders. The intimate gastropub may look like a cozy haunt with its rustic interior and tin ceiling, but it's often where Whitney ends up after a night out to keep the good times going. It's also where they've ushered many friends-of-friends through and even members of their record label Secretly Canadian, which used to have an office down the street, connecting them with their friend behind the bar. They also have a long history with the Williamsburg venue Baby's All Right. There, they've hosted listening parties, played a handful of shows (including one of the venue's first-ever with Smith Westerns), and danced their asses off at Drake Night. Really, it seems like the two are at home whenever they're together.
"We know each other probably better than we know anyone else at this point in our life," says Ehrlich. "Our friendship is the core of Whitney, and I think our creative bond and creative life and language has grown so much with this record, and that adds to our friendship, too."
They may be 10 years removed from the dilapidated apartment they once lived in, but creating their third studio album SPARK was in many ways like returning to those earliest days in Ehrlich and Kakacek's friendship and creative partnership. At the time, Whitney was born out of the two coming together when their other group disbanded and both feeling like for the first time they had the freedom to consider what kind of music they were actually interested in making. They found themselves drawn to Kakacek's easy-going, folk-rock guitars and Ehrlich's wistful falsetto, and thanks to their closeness and willingness to collaborate, they created their soulful alt-country sound. It was like a spark was lit between them. Their collaboration has always kept that flame alive, but as they worked on their latest release, they allowed it to burn brighter than ever.
"The songs sound a bit different, but, creatively, the way that we were executing and growing and impressing ourselves felt really similar to making the first record," says Ehrlich, as Whitney began working on the album just the two of them in 2020 out of a rental in Portland, Oregon. "There were so many similarities to the way that we felt—being able to be at home and give 100% of our focus to the body of work that we were creating."
Between wanting to make an album that "sounded bigger," challenging themselves to write songs that could "appeal to more people," and constantly hyping up each other's experimental choices in their home studio, the result is the greatest divergence from their stripped-back sound that fans are familiar with yet. With the addition of electronic elements, SPARK is essentially Whitney gone pop. Discussing the direction of the record over martinis (a drink order they explain was a conscious decision in an effort to rebrand themselves as a "martini band" instead of a "beer band"), they realize the band is in their playful era.
"We've always let things—from the start of the band until right now—happen really organically," Kakacek says, explaining how the use of keys and drum loops came about. It was partially because they couldn't work with live musicians like they were used to and had to turn to the keyboards at their disposal during the writing process. As Ehrlich describes, "the songs felt like they were calling for a more diverse array of sound."
While they weren't direct inspirations, Ehrlich and Kakacek cite '00s pop music like Outkast and Gwen Stefani as being very formative. It was especially thrilling when they noticed that influence coming through while recording. "When we were writing [the song "Lost Control"], we were like, 'Oh my God, this sounds like the Backstreet Boys or *NSYNC or something!' and that was really exciting because all those songs are written by geniuses," Ehrlich says. Even the self-referential quality and scale of the music video for DJ Khaled's song "POPSTAR" featuring Drake—which they watched on mute while playing their own track "BLUE" under the influence of mushrooms—inspired them to an extent. As Kakacek says of their sound and more polished visuals, "It's this playful kind of engagement with mainstream music in our heads."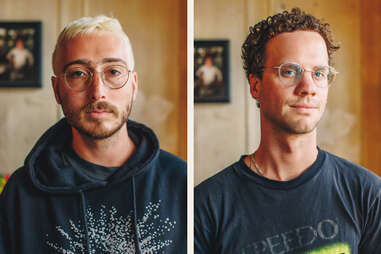 While longtime fans of Whitney might notice how much songs like "REAL LOVE" and "SELF" differ from their slower, folky breakout hits like "No Woman," they should also notice how much of the band's sensibilities and warm lyricism remains. SPARK is a balance of dark and light; relationships coming to their inevitable end, but knowing you can love again ("BACK THEN," "REAL LOVE"), or searching for your own version of bliss when it seems as if the world is on fire ("TWIRL").
"I feel like the ratio of dark to light or sad to happy is just an accurate reflection of who we are," Ehrlich says. "Obviously, we have our struggles and we see life for what it is in the world—for what it is right now, which is really dark—but I think at the core of both of our hearts, we hold a lot of optimism."
Holding onto a glimmer of hope really is as integral to SPARK as it is to Whitney. Beyond serving as the thing that united them in the first place, it's what they're committed to maintaining in both their work and personal lives. "I think that there's parts of our personality that we can't necessarily explain that reach for happiness," says Ehrlich. "For us, it might come from wanting to give people happiness, too, and showing that—our music trying to be an example of that. If it can somehow also replace the dialogue in your head for a moment, and make you feel a bit of optimism, that's great."
The group acknowledges though how difficult it can be nowadays, given the state of the world, to try to stay positive. Their advice? To "look to art," which Ehrlich feels can be found anywhere. (More specifically, he's been digging Cass McCombs' new release Heartmind and Chicago's latest indie rap ingenue Semiratruth.)
Kakacek also notes how important it is to embrace everything as it comes, or "accept what's happening to you and know that it's going to eventually change and be all right." He says, "That's what we do: embrace the times that seem like there is no end in sight, and also embrace the blissfulness of coming out of something, like what we all went through in the pandemic. It could be a loss of a relationship—embracing the loss of that—but also being excited for the future."
That's again why Ehrlich and Kakacek have been making time to hit the golf course or tinker in the kitchen; they're holding onto that spark of optimism that originally lit up Whitney from day one. Laughing over their cheeky martinis that inevitably turn into a round of lagers—like their music—the friendship at the core of Whitney is bound to bring you some lightness, too.