Billie Eilish Is the Best and Strangest Pop Act in Ages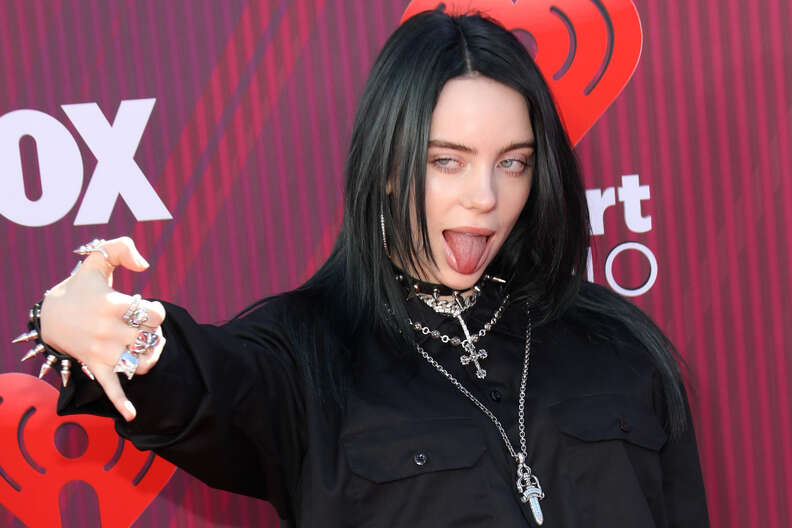 If you're a member of Gen-Z, you're likely already familiar with Billie Eilish. If you're anyone else, and aren't into keeping up with what the teens deem as cool, "Billie Eilish" might just sound like some form of Celtic slang.
But Billie Eilish is, in fact, a pop star -- and an incredibly strange one at that. Within just two years of her young career, the 17-year-old solo artist born and raised in LA has subversively and rapidly become one of the biggest, most interesting names in pop music.
In many ways, her story is one that mirrors most acts who've burst onto music scenes in the digital age: a track goes viral via Soundcloud and catches the attention of industry heads. Then, basically overnight, they've garnered a record deal and millions of Spotify plays. Eilish followed this same path, beginning with the release of her emotional single "Ocean Eyes," which she wrote in collaboration (like she does all of her songs) with her now 21-year-old brother Finneas O'Connell, while they were homeschooled together. Listeners and blogs took notice, and she ended up signing with hot record label Interscope's roster, among heavy-hitting names like Lana Del Rey and Lady Gaga. Three years later, "Ocean Eyes" is certified platinum, a handful of Eilish's tracks have reached nearly half a billion streams, and she's gone on to be the subject of an expansive New York Times profile.
But there's something about Eilish that comes off as an anomaly for successful mainstream pop artists. Her music and videos are incredibly depressing, if not outright disturbing, and she dresses like a hypebeast who'd be first in line for the latest Supreme drop. Trendy teenagers literally lose their minds over anything she does -- just check any footage from any of her sold-out concerts or 2018 Lollapalooza set. This all very thrilling, though, because her vulnerability, seductive goth-ness, and innovations in alt-pop production is what the mainstream landscape could use -- especially if young people see the heartbreaking anthems she's preaching as their remedy to teen angst.
On March 29, 2019, Eilish finally released WHEN WE ALL FALL ASLEEP, WHERE DO WE GO?, her debut full-length following a series of popular one-off singles and 2016's dont smile at me EP. It's a body of work bound to no single sound, balancing trap production and hip-hop influence with show-tune-like somber numbers, all carried by her whispered, angelic voice. Her latest record proves she's the one in pop to watch. The kids seem to be onto something.
Like her singles, WHEN WE ALL FALL ASLEEP is dark. From addictions and personal horrors to accepting that most romances are destined to fail, Eilish represents and validates even the bleakest teenage hurt. While the songs range from pastiche ballads to deep bass-driven recipes for underground hits, it also sounds dark, as if her music is a creature from hell crawling out from under your bed, stoked to torture its prey before it tears your heart to shreds. In the same way that Eilish's music eats you up, her young fanbase does the same; not only in the way that it's produced eclectically for the streaming era for a generation raised on listening to everything, but because it's the sort of relatable escape they seek in age where addressing and destigmatizing mental illness is increasingly a priority. The stand-out, unpredictable track "Xanny" has her pleading to herself to not let her peers' drug use ruin her, and "When the Party's Over" is painfully angry, knowing -- rather maturely -- she must end a relationship before it brings her even more pain. She vocalizes the thoughts that occupy your headspace, but are too ashamed or scared to say.
All of this may come as a surprise if you're experiencing Eilish for the first time, especially if that introduction is a scroll through her creepy Instagram feed (at the handle @wherearetheavocados, of course). Her wardrobe, featuring almost exclusively oversized T-shirts and wide-legged pants, refuses to fall into the industry formula of female pop star standards. When she speaks, it's in LA verbiage that requires a scroll through Urban Dictionary to fully comprehend. Even her songs are cartoonish at times: On "My Strange Addiction," the ninth song on her 14-track record samples Michael Scott from The Office.
To outsiders, it's all really strange, and enough for Twitter to have memed her into an inauthentic "industry plant." For those that might not understand Eilish's rising success and curated vision, the only reasonable explanation for her accolades is thorough calculation from a major label. She couldn't possibly be responsible for her own narrative! But in reality, she's just a weirdo 17-year-old that other teens are extremely into. Sure, at times her art seems like some sort of inside joke that you're not a part of, but if that's the case, she's not meant for you. She's making anthems for Gen-Z, as if she's their nightmarish poster child for tragedy, snark, and innovation.
It's exciting that this is where pop music is going: a genre fusion that truly sounds alternative and new with lyrics that especially sting, and is even more of an immersive experience than ever before. (She conceptualizes all of her striking, choreographed music videos, and launched her record with an event in collaboration with Spotify where she designed a museum-like experience for fans to walk through while listening to the album for the first time.) You could joke she's an industry plant all you want, but based on her obvious influence, execs from major record labels are probably sitting in a room right now trying to figure her out just as much as everybody else over the age of 25 is so that they can release their own thing that's ripping off what she's doing. It's unlikely they'll succeed, though, because Eilish is the exception to the rule.
Like I said, Billie Eilish is an anomaly. She starts out WHEN WE FALL ASLEEP with a joke track declaring, "I have taken out my Invisalign and this is the album," but soon enough the confident, bass-rich track "You Should See Me in a Crown" plays. If you started out laughing at her, in a moment you'll be convinced she's coming for your throat. And frankly (or, as she might say, "deadass"), she doesn't give a fuck if you "get" her or not.