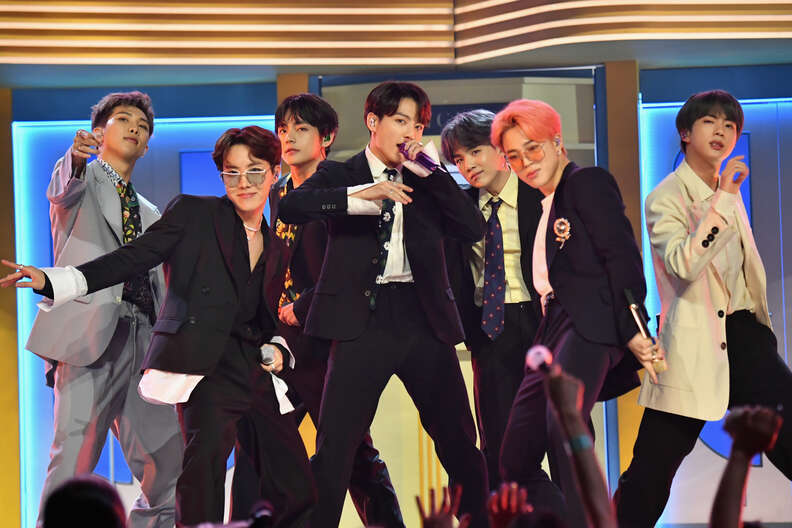 Jeff Kravitz/FilmMagic for dcp
Jeff Kravitz/FilmMagic for dcp
How Korean Sensation BTS Became the Most Popular Boy Band in the World
It's 2020, and K-pop sensation BTS is suddenly everywhere.
Okay, that's not quite true -- the group's transition from underdog hip-hop group to international superstars has been years in the making, tracing back to before BTS' debut in 2013. For American and Western audiences, though, the Korean boy band's ascent into global stardom might feel a bit sudden. No other K-pop artist has broken into the zeitgeist in quite the same way as BTS: They were the top-grossing touring group of 2019, recently broke Billboard's Social 50 chart record, and in recent years have snagged a number of high positions on both the Billboard 200 albums chart and the Hot 100 singles chart.
In reality, however, BTS has slowly been climbing towards their current superstar status since they debuted seven years ago under a small label and entered the American consciousness in 2017, when they took the Billboard Music Award for Top Social Artist of the year. Now, from countless media appearances to record-breaking Billboard runs to custom Line Friends characters, BTS is here to stay.
Despite that, BTS still remains a bit of an enigma for those who haven't been swept up in their magic. With the group's newest album, Map of the Soul: 7, out February 21, there's no better time to get into BTS. Given their impressive, genre-spanning discography, potent messaging, and charm in spades, it's only a matter of time before BTS becomes your ride-or-die too.
So… what is BTS?
BTS is a seven-member Korean pop group who debuted in 2013 under Big Hit Entertainment, which was at the time a small, underdog label that has since become a Korean entertainment powerhouse. The group's Korean name, 방탄소년단, Bangtan Sonyeondan, translates into English as "Bulletproof Boy Scouts," and was borne out of CEO Bang Si-Hyuk's desire to create a group that could withstand social pressures and serve as a voice for the younger generation. The group's first single, "No More Dream," is an aggressive, hip-hop track that calls out young people without dreams of their own, challenging societal academic expectations for Korean youth in the process.
Since their debut, BTS has found success both in Korea and eventually worldwide, cementing their current status as the world's biggest boy band. After cinching a Korean music show win (a crucial marker of success for K-pop artists) in 2015 with breakout single "I Need U," the group went on to win Album of the Year (a daesang, one of the top awards) at the 2016 Melon Music Awards for The Most Beautiful Moment In Life: Young Forever. Since then, the group has picked up subsequent awards like Top Duo/Group at the BBMAs in 2019; its members were the youngest recipients of South Korea's Order of Cultural Merit in 2018.
BTS broke into the American market in earnest in 2017, winning Top Social Artist at that year's Billboard Music Awards and performing at the American Music Awards later that year. In April 2019, they killed it on Saturday Night Live to a raucous crowd full of their fans. So far in 2020, they played during New Years' Rockin' Eve in Times Square and they finally had their Grammys moment when they came out on stage to perform "Old Town Road" with Lil Nas X.
BTS is also known for their focus on storytelling: a solid chunk of its music videos and supplemental material from 2015 onwards has played into a central plotline that began with The Most Beautiful Moment in Life series, casting the BTS members as young people caught up in heady, emotional struggles.
Who's in BTS?
Now, BTS is without a doubt the biggest boy band in the world, and its seven members -- RM, Jin, Suga, J-Hope, Jimin, V, and Jungkook -- are now celebrities on an international scale. But who are all these handsome boys???
RM: Leader, Rapper, Producer
Born Kim Nam-joon in 1994, RM was the initial centerpiece of BTS and now serves as its leader. Scouted by Big Hit out of the underground rap scene (where he performed under the name Runch Randa), he debuted with the stage name Rap Monster, which he shortened to RM in 2017 because he felt that it better expressed his style and the music he made. A producer and songwriter who works on most BTS tracks in addition to other projects, he released his most recent solo EP, mono, in October 2018.
Jin: Vocalist, Visual
Born Kim Seok-Jin in 1992, Jin is the oldest member of BTS. Initially an aspiring actor, Big Hit scouted him off of the street while he was a student at Konkuk University in Seoul. One of the group's four primary vocalists (plus being in charge of dad jokes), Jin is also known for being extremely handsome, frequently going viral for his good looks, and being "Worldwide Handsome."
Suga: Rapper, Producer
Born Min Yoon-gi in 1993, Suga is the second oldest of the group. He cut his teeth in Daegu's underground rap scene under the name Gloss, and was initially signed as a producer at Big Hit after his audition before joining the BTS' line-up as a rapper. A frequent producer and songwriter for BTS, he's also collaborated with artists like Suran and Halsey, in addition to releasing music under the name Agust D.
J-Hope: Dancer, Rapper
J-Hope, born Jung Ho-seok in 1994, is best known for being the top dancer in BTS as well as its moodmaker. After coming up in Gwangju-based dance crew Neuron, he auditioned for K-pop powerhouse JYP Entertainment before later auditioning for Big Hit where he was trained as a rapper and dancer. Now a full-fledged producer and rapper, J-Hope released a solo EP, Hope World, in 2018 in addition to the recent single "Chicken Noodle Soup (feat. Becky G)."
Jimin: Vocalist, Dancer
Jimin, born Park Ji-min in 1995, is one of BTS' main vocalists and top dancers. His contemporary dance background shines in solo tracks like "Lie" or "Serendipity," and if you hear someone absolutely wailing on a BTS track, there's a good chance that it's him. Aside from his performance acumen, Jimin has historically been the most active on the group's Twitter account and is arguably the best-known member by people who aren't familiar with BTS.
Jungkook: The "Golden Maknae"
Born in 1997 as Jeon Jung-kook, Jungkook is BTS' maknae, a Korean term that signifies the youngest in a group of people. Despite being the youngest, Jungkook is multi-talented: in addition to being one of the group's main vocalists, he's also part of the dance line alongside Jimin and J-Hope and frequently occupies the center spot of dance formations. His ability to sing, dance, and rap earned him the title of "golden maknae." In addition to performance skill, Jungkook also directs and edits short films under the moniker Golden Closet Film.
OK, so what's the deal with BTS' music?
While their sound skewed strongly toward hip-hop in earlier releases like debut album 2 Cool 4 Skool or sophomore EP O!RUL8,2?, the group's current sound is a mélange of pop, hip-hop, R&B, and EDM influences that lead to melancholic tracks like the recent "Black Swan" or pop triumphs like 2019's "Boy With Luv," which features American artist Halsey.
However, BTS' music has always been defined by its socially conscious lyrics that tie back to the group's conceptual roots, frequently engaging with issues that, while specific to South Korean society, also appeal to a broad audience. "Paldogangsan" (also called the "Satoori Rap") breaks down tensions and stereotypes between various Korean satoori, or regional dialects; tracks like "Silver Spoon" (also known as "Baepsae") leverage Korean idioms like that of the disadvantaged baepsae (crow-tit bird) to talk about the economic pressure that young people face. Things have changed a bit in the process -- back in 2018, Suga told Billboard that "we're very careful about calling ourself baepsaes now" -- but BTS' messaging and authenticity in their lyrics remain consistent even though they're the ones on top of the industry now.
The group's most recent Map of the Soul series has also harkened back to earlier releases, with tracks like "Interlude: Shadow" and "Outro: Ego" sampling tracks like "Intro: O!RUL8,2?" and "Intro: 2 Cool 4 Skool," respectively. "Boy With Luv," the group's 2019 breakout hit, calls back to 2014 single "Boy in Luv"; the upcoming Map of the Soul: 7 title track "ON" is a reflection of 2013's "N.O." It feels like a way to pay homage to the group's roots while also spinning their own discography on its head.
I've heard they have an ARMY?
If you know of BTS, you've indubitably heard of ARMY, the group's fans, as well. It's customary for K-pop groups to give their fans names that bear meaning: ARMY ties back to BTS' original concept as a voice and shield for young people, and actually stands for Adorable Representative MC for Youth. That specific acronym doesn't come up much these days though, and ARMY has come to represent "army" more literally as a group of supporters who stand beside BTS.
Like any other fandom, ARMY has its ups and downs. However, The Atlantic's Lenika Cruz described it as "an unusually welcoming community that works to address bad behavior within its ranks," which for the most part rings true. ARMY are quick to jump into the mentions of anyone who mentions BTS, either to educate or call out perceived inaccuracies. Overall though, ARMY's goal is always to support BTS, whether it's by organizing streaming campaigns or trending hashtags to celebrate members' birthdays.
Why is BTS so popular?
That's a difficult question to answer, but rest assured, they are extremely popular. Pre-sales for Map of the Soul: 7 amassed more than 3.4 million over the span of one week. (For context, Justin Beiber's last album, Purpose, sold 1.9 million records total.) Ultimately, it comes down to the fact that the group's music and messaging have managed to resonate with a global audience comprised of people of all ages, genders, and ethnicities. Part of that is due to an impeccable marketing strategy and CEO Bang's realization of the power of Western K-pop fans, but the fact remains that BTS wouldn't have fans in the first place if not for attracting them with authenticity and songs that go. Even after falling in love with the group's vast discography, learning that Jungkook decided to join Big Hit because he wanted to work with RM, and watching music video after live stage after funny clip compilation, there's still a certain element of getting into something that's bigger than yourself when you decide to hop on the BTS train.
The group's message of self love has been the centerpiece of the recent Love Yourself album trilogy, with introspection and reflection the focus of the current Map of the Soul series. BTS' ability to strike deep on a number of intensely relatable concepts makes them universally appealing. It's easy to see yourself in the struggles that BTS describe, whether its on hard-hitting tracks like the recent "Black Swan" or in leader RM's 2018 speech at the United Nations.
Ultimately, BTS is one of the best pop acts currently promoting, set apart by their captivating performance style, lyricism, and dedication to digging into existential concepts like identity and self-love. Even in global stardom, the group sticks to its guns: "We don't want to change our identity or our genuineness to get the number one," RM told Entertainment Weekly last spring. "Like if we sing suddenly in full English, and change all these other things, then that's not BTS." Ultimately, that genuineness is what makes BTS such an appealing act: even stripping away the production and the shiny veneer of celebrity, the group stays true to their core themes.
Need help finding something to watch? Sign up here for our weekly Streamail newsletter to get streaming recommendations delivered straight to your inbox.