We were all taught in history class that Lee Harvey Oswald killed President Kennedy in Dallas on November 22, 1963. But as anyone who's spent five minutes on the Internet knows, there are more conspiracy theories surrounding Kennedy's death than there are horrific sex tips in Cosmo. And don't go thinking it's all chemically addled "experts" -- to this day, the majority of Americans believe there's something more to the story.
In an attempt to save you the agony of poring over pages of all-caps rants, we put together a primer on some of the weirdest, most well-known theories. If you want the official word on the matter, here's the Warren Commission report. But if you want the many unofficial words on the subject, proceed:
The CIA Theory
The super-spies were sick and tired of JFK getting in the way of their international coups and espionage, and heard what he said about wanting to splinter the group into "a thousand pieces and scatter it to the winds." So they colluded to take the pretty boy out.
The strongest case for: The CIA gets name-dropped in so, so many JFK theories. Even if they weren't explicitly implicated, they were covering stuff up! One especially famous thread ties the organization to three mysterious bystanders of the Dallas shooting: the three tramps. Police picked up a trio of hobos near Dealey Plaza and people commented on how weird it was that they were clean-shaven (their clothes weren't that shabby, either). But then people started commenting on the resemblance one of the men bore to E. Howard Hunt, a CIA officer who was later implicated in Watergate. And, actually, another one looked like his other CIA Watergate bud, Frank Sturgis. The men denied any involvement for years and years, but an explosive deathbed confession from Hunt to St. John, his son, (to be fair, the confession ultimately pointed the finger at another person on this list) reopened the whole thing.
The strongest case against: None of the official inquiries into JFK's death seemed to buy the three tramps theory. And deathbed confessions are always a little iffy -- Hunt's widow believes St. John and his brother took advantage of their father's waning lucidity for financial gain. The Los Angeles Times deemed the evidence the sons presented as "inconclusive."
The Fidel Castro Theory
The US government was no big fan of Castro, particularly in the '60s. The CIA conspired to kill or topple him several times, so he wasn't too keen on them either. Ergo, he made a power play and went after America's head guy himself.
The strongest case for: Castro knew about the CIA plots, which the agency conveniently didn't disclose to the Warren Commission, and probably viewed them as Kennedy's fault. (Even though ironically, so many Cuban exiles were pissed at JFK for not offing Castro, there's a whole separate theory implicating them.) In his Kennedy assassination book, Philip Shenon points to an AP interview Castro gave two months before the November tragedy in which he promises retribution if the attempts on his life continue. That interview coincidentally ran in the New Orleans Times-Picayune, which Oswald read.
The strongest case against: Castro seems like a no-brainer, but the evidence is circumstantial at best. Shenon insists there's no proof the guy was personally involved. And even if he indirectly inspired Oswald with that AP report, it's not Castro's fault Lee Harvey was, like, so obsessed with him.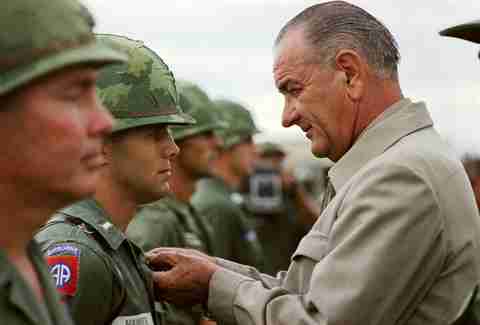 The LBJ Theory
When he wasn't whipping out his actual johnson, Lyndon was apparently filling his days with murder plots. As several theorists maintain, Johnson was sick of playing second banana, so he called up his buddies, had them hide out on the grassy knoll of Dealey Plaza, and waited for them to pull the trigger on his boss.
The strongest case for: The motive here is pretty obvious. Killing Kennedy would land LBJ with the highest office in the nation, and rumor has it he was already paranoid about JFK dumping him from the 1964 ticket. Texas was also his home turf, and he supposedly had mafia-type friends, so it wouldn't have been hard for him to pull off. (But he might not have even needed the mobbed-up guys, as E. Howard Hunt's deathbed diary implies he just used the CIA.)
The strongest case against: This theory drops Lee Harvey Oswald as the shooter entirely, so you have to buy into the grassy knoll gunmen, which is already a leap. Some people say there's a linking fingerprint from an LBJ crony, but records indicate otherwise. And the claims that Jackie Kennedy and Richard Nixon believed it was Johnson are based on out-there interpretations of vague statements.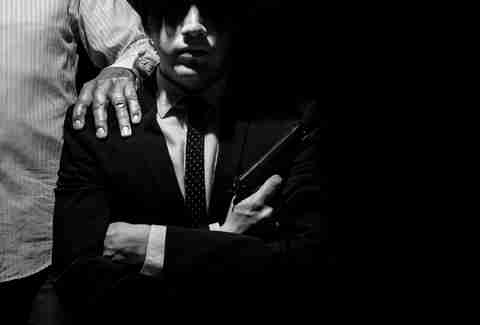 The Mafia Theory
The mob was pissed off about John and his brother Bobby's crusade against the crime syndicates. While a couple different dons might've made the call, the most prominent theory says NOLA kingpin Carlos Marcello ordered the hit.
The strongest case for: Mob theorist Lamar Waldron details a confession Marcello apparently made to his cellmate in 1985: "Yeah, I had the son of a bitch killed. I'm glad I did. I'm sorry I couldn't have done it myself." A 1979 House report -- which seriously called into question the original report by the Warren Commission -- also concluded that the mob had the "motive, opportunity and means to kill the president." And that House committee's chief counsel, G. Robert Blakey, straight-up told The New York Times he thought the mob did it.
The strongest case against: Again, you have to believe Lee Harvey Oswald was a patsy for this theory to work. But beyond that, it seems a little extreme for the mob to go after John, considering that Bobby (as attorney general) was the one truly leading the federal probe.
The Joe DiMaggio Theory
Kennedy had affairs with lots of women, including Marilyn Monroe. Joe DiMaggio was briefly married to Monroe, and supposedly never stopped loving her. When she died of a drug overdose in 1962, DiMaggio blamed the Kennedys. But some conspiracy theorists claim he didn't just angrily mutter about Jack to his friends -- he put out a hit on JFK as revenge.
Strongest case for: DiMaggio's hate is obvious. Friends say there were three things you were never supposed to mention around Joe: Monroe, Sinatra, or the Kennedys. It was to the point where he essentially thought John and Bobby's assassinations were earned. So maybe he took care of them himself?
Strongest case against: There's zero evidence of DiMaggio hiring a hitman, or even seriously entertaining the idea. But considering the story involves an allegedly murderous baseball player, Marilyn Monroe, and JFK, we're surprised there aren't 75 movies about this.
The Aliens Theory
Technically the CIA's behind this one, too, but it's way weirder. Basically, the theory says that JFK requested some top-secret intel on UFOs 10 days before his death. The CIA just couldn't let him have it, so they decided to bump him off instead.
The strongest case for: Author William Lester claims that, in response to a Freedom of Information Act request, the CIA released Kennedy's actual letter. Lester published the whole thing.
The strongest case against: Historians have doubts about the authenticity of that letter, and the actual evidence of CIA malfeasance rests on a "burned memo" UFO hunter Timothy Cooper claims he received from a CIA employee. In it, the director of the CIA says, "As you must know, Lancer [JFK's codename] has made some inquiries regarding our activities, which we cannot allow." That's pretty shady stuff, only the memo has never been verified. And UFO hunters fall somewhere between "Stephen Glass" and "cash-strapped Nigerian princes" on the credibility scale.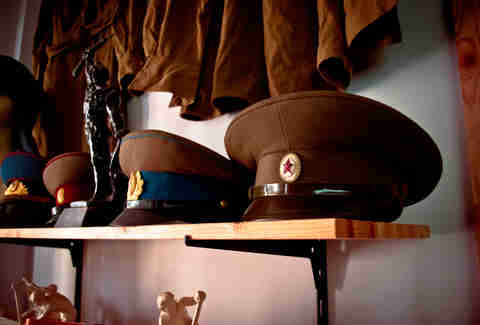 The KGB Theory
Still smarting from that Bay of Pigs fiasco, the KGB recruited Lee Harvey Oswald to take out Kennedy and thus remove a major source of embarrassment for Mother Russia.
The strongest case for: Oswald did live in Russia for a few years prior to the assassination, and really wanted to become a Soviet citizen. When he left for good in 1962, he went to Mexico City and staged a series of erratic events that linked him to KGB operatives like Valery Kostikov.
The strongest case against: After extensive questioning by the CIA, defecting KGB agent Yuri Nosenko revealed that his bosses thought Oswald was a mentally unstable liability (aka not the guy for that kind of job). Also, isn't blaming Cold War communism just a little too easy?
The Woody Harrelson's Dad Theory
Woody's not an actual killer, he's just played one on TV. But his dad? Let's just say he's the real deal. Charles Harrelson was a professional hitman who racked up at least a dozen contract kills, and he's most well known for assassinating US district judge John H. Wood. During his ensuing stand-off with the police, Harrelson yelled out that he'd also killed President Kennedy.
Strongest case for: Well, he straight-up admitted it, in the presence of cops. That's pretty damning.
Strongest case against: Buuuut he was also high on cocaine at the time, and admitted later he just screamed that because he thought it would stop the police from shooting him. All that said, even he thinks Lee Harvey Oswald had help.
Sign up here for our daily Thrillist email, and get your fix of the best in food/drink/fun.
Kristin Hunt is a staff writer for Thrillist, and now has tin-foil hat hair. Follow her at @kristin_hunt.