What Is Going On with This Year's Oscar Host?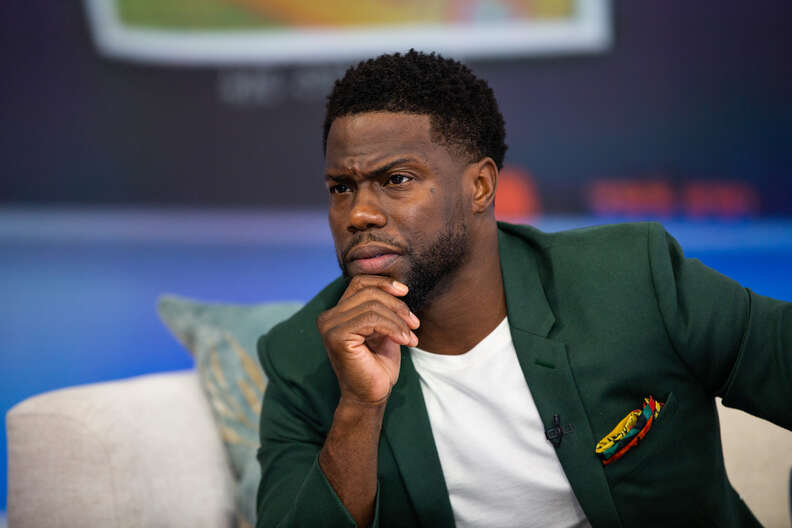 Nathan Congleton/NBC/NBCU Photo Bank via Getty Images
Nathan Congleton/NBC/NBCU Photo Bank via Getty Images
This story has been updated throughout based on new developments.
Perhaps the most indelible image of an Oscars host is that of Billy Crystal boisterously singing, "It's a wonderful night for Oscar, Oscar, Oscar, who will win?" But Hollywood's biggest night is in a weird place this year. With the ceremony less than two months away, there's still no host.
At one point, of course, there was one. Kevin Hart was announced to emcee back in December, but quickly relinquished his duties after refusing to apologize for homophobic jokes he tweeted back in 2009 and 2010. Since then, there have been few updates on who might shepherd along the evening. What's the deal? Who could possibly be up for the job now? Let's break down the options.
Kevin Hart ...still
After all of the drama, Hart might still take on the gig. Just this morning, a new wrinkle emerged: Ellen DeGeneres released clips of Hart's recent appearance on her daytime talk show on her Twitter with the note, "I believe in forgiveness. I believe in second chances. And I believe in @KevinHart4real."
On the show, DeGeneres offered Hart a platform to explain himself, in which he argued that he had apologized previously (though that's debatable) and stepped down so as to avoid making the night all about him. DeGeneres followed that up by telling her audience that she called the Academy to rehire her friend, and that the Academy responded, "We want him to host, whatever we can do, we would be thrilled and he should host the Oscars." Her crowd roared in approval. Together, DeGeneres and Hart went on to characterize the resurfacing of near decade-old tweets as an "attack" perpetrated by "trolls." Of course, that's an overstatement, considering the tweets were surfaced by Guardian editor Benjamin Lee and amplified largely by concerned members of the LGBTQ community on Twitter, not "trolls" out to destroy a celebrity.
DeGeneres' actions seem like a coordinated effort to set the stage for Hart's return, but whatever the plan was in doing that, it's not going over very well.
Update: Deadline reported January 5 -- the night before the Golden Globes -- that Hart is apparently not going to be back.
Update #2: Hart has apparently said his last word on the subject. When he appeared on Good Morning America January 9 to promote his movie The Upside, he said point blank that he would not host, adding that he would not have time to prepare.
At this point, the Academy might be stuck in the same place it already was when it comes to public image.
No one
Another option: No one! Shortly after Hart stepped down, Variety published a report that quoted a source saying that the governing body was just thinking of getting rid of the concept of a "host" entirely and getting "a bunch of huge celebs, something 'SNL' style, and buzzy people" to appear for various segments. This would not be the first time that the Oscars went host-less, but the recent precedent is, uh, not great. The last time absolutely no one hosted the show, audiences were subjected to one of the worst, most bizarre occurrences in the show's history. Yes, that was 1989, when Rob Lowe sang and danced with Snow White in a bizarre rendition of "Proud Mary." Even today, watching it will make you overcome with secondhand embarrassment.
Update: As of January 9, it seems like this option is the one the producers have picked based on a report from Variety. Hey! At least The Avengers might be there.
There have been a number of years in the history of the Academy Awards, however, when the ceremony was co-hosted by a bunch of famous people, some of whom were known for comedy and some of whom were not. This was the case for six consecutive ceremonies in the 1970s. For example, in 1973 -- The Godfather's crowning year -- Carol Burnett, Michael Caine, Charlton Heston, and Rock Hudson all assumed duties.
Someone else
There's always the possibility that maybe the Academy has another person on deck, but, as evidenced by this whole calamity, not many people are clamoring for the job. Seth MacFarlane told Entertainment Weekly that it's an unenviable position to be in for comedians anyway. "When you're doing something that's that much in the spotlight, with that much focus on it, that much intensity, you're going to have a lot of opinions from a lot of people. I'm trying to think of the last time that I read a review of the Oscars the next day where everyone is raving about it -- it's been a long time," he said. While not every host's stint is maligned due to a a wildly sexist song called "We Saw Your Boobs," MacFarlane has a point. Hosts not only have their own reputations riding on the night, but also can be credited for crappy ratings.
So, as The Hollywood Reporter's Scott Feinberg wrote, an entirely new, last minute host would basically require begging on the part of producer Donna Gigliotti or someone else in the Academy's ranks. Feinberg floats a bunch of names, ranging from Jennifer Lawrence to Bill Hader to the husband and wife duo of John Legend and Chrissy Teigen. Of course, two people have already volunteered and hiring them would be a best-case scenario. What if we actually got a show hosted by Oh, Hello stars Gil Faizon and George St. Geegland (a.k.a. Nick Kroll and John Mulaney)? It would be tuna-scented heaven.
Sign up here for our daily Thrillist email and subscribe here for our YouTube channel to get your fix of the best in food/drink/fun.