The Secret To Kim K.'s Lasting Fame, And Why Lindsay, Paris, and Britney All Flamed Out
Welcome to Partial Recall: 2007, a week of stories dedicated to trying to remember what life was like a decade ago.
During their reign in the early-to-mid aughts, three young women wore the beleaguered crowns of their respective realms: Britney Spears had pop music, Lindsay Lohan had acting, and Paris Hilton had being famous. They built up frantically loyal fan bases, were hounded by paparazzi, and left frenzies in their wakes.
And then, as if all three had signed deals with the devil that had the same expiration date, the first half of 2007 saw the trio's collective collapse, the downhill tumble from aspirational avatars of modern celebrity to tragic illustrations of its myriad pitfalls. As they respectively retreated to psychiatric care, rehab, and prison, they left a void perfectly suited for another young woman to fill: Kim Kardashian.
On Oct. 14, 2007, E! debuted Keeping Up with the Kardashians and Kim, who, until then, had spent her life in the shadow of celebrity, brought her family to a kind of pervasive fame once reserved for royalty and people with, like, actual talents. But the 27-year-old closet organizer and jewelry blow drier had no intention of merely following her predecessors' ill-fated paths of fame. She would learn from their mistakes and blaze a new, more foolproof way forward.
But first came the crumbling of the past guard: The first crack appeared in January 2007, when Lindsay Lohan -- who shot from moderately successful child star of 1998's The Parent Trap to teen icon after 2004's Mean Girls -- entered rehab for the first time to address her struggles with drugs and alcohol; she would serve twomore stints that year. In July, I Know Who Killed Me, a thriller in which she played a stripper, a role she'd reportedly hoped would help her transition into a real adult actor at the age of 21, opened to an abysmal reception from both critics and moviegoers.
Meanwhile, on the night of February 16, Britney Spears entered a salon in Tarzana, California, and shaved all the hair off her head. The now-infamous paparazzi photos of Spears gleefully touching a razor to her scalp and later, fully shorn, threatening a photographer with a brandished umbrella, replaced her long-standing image as the simultaneously naughty-but-innocent pop star and marked her as a damaged soul who would probably have been far better off had she never gotten that first gig on The Mickey Mouse Club and just stayed home in Louisiana.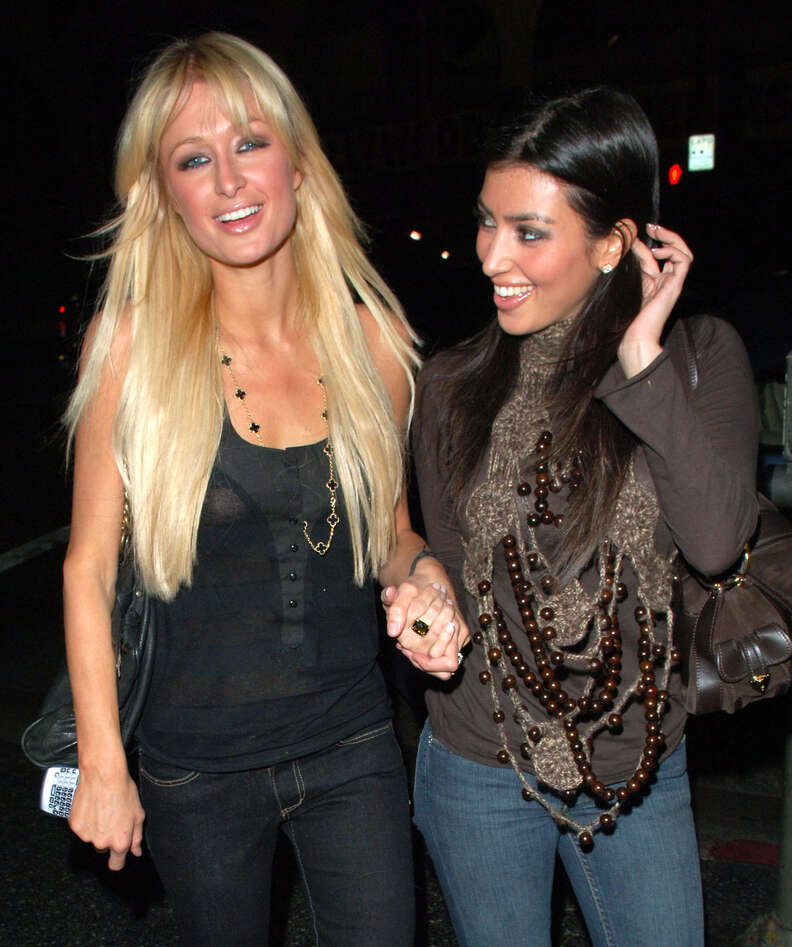 And then came Paris Hilton, Kardashian's closest peer and most influential mentor. The two were childhood friends and fellow celebutantes who were often described as "socialite/party girls," came from wealthy families with famous last names, were romantically linked to famous men, had no discernible skill sets, and dealt with the releases of sex tapes just before the premieres of their reality shows. When Hilton's career was abruptly put on pause thanks to a DUI arrest, for which she took a glamorous mugshot and received a sentence of 45 days in jail (she served just over three weeks), Kardashian, who'd by then had a falling-out with her fellow nightlifer, took advantage of the vacuum in America's yearning for a young, beautiful female icon to worship.
After hearing that Kardashian matriarch Kris Jenner was "interested in doing something with the family," Ryan Seacrest approached them with an idea for an Osbournes-like reality series. In August -- just two weeks after officially canceling Hilton's The Simple Life (and two weeks before Hilton's follow troubled celebutante costar Nicole Richie spent 82 minutes in jail herself) -- E! announced they would be picking up Keeping Up With the Kardashians. Two months later, on the eve of the show's premiere, New York Times reviewer Ginia Bellafante noted that Kim, the show's star, arrived at this point in her career "in the estimable way of the quattrocento masters: she apprenticed."
Learning how to become famous was the easy part. The most important lessons Kardashian learned from her foremothers were about how to stay in the spotlight. And the 10-plus years of breathless tabloid coverage that followed (from stories about countless failed marriages to Caitlyn Jenner's historic coming out and transition) is proof that she was taking notes.
Ever since her rapid ascent to fame, which was jumpstarted by the release of a sex tape with Ray J. Norwood, the rap on Kardashian is that she's talent-free and, like Hilton, just famous for being famous. But it actually may have been a shrewd choice to reject the "demonstrable skill" model for celebrity that led to the downfall narratives of Lohan and Spears. When you're an actor or singer, and your movie or album bombs, you can be declared "over" since you can inevitably be compared directly to someone newer, better, and more popular. But when your fame is exclusively a product of your own personal effort at being famous -- not reliant on industry metrics like box office receipts or Billboard charts -- it's easier for your brand to remain unscathed.
Kim Kardashian doesn't have to be promoting KUWTK to get a headline in Us Weekly -- she insists we keep up with her year-round. Every move she makes is captured, whether it's on one of her many social media accounts, or by an editorial photo agency, and that means every velour suit she wears or any tear shed over a diamond earring gone missing in a pool is content. If anything, at this point KUWTK is just a more professionally-edited greatest-hits refresher course of everything her fans have already seen before on Instagram or celebrity blogs.
Which brings us to another lesson Kim learned from all three of her predecessors: always take charge of your narrative. When the personal lives of her predecessors began falling apart, the media controlled the headlines. As they publicly melted down, tabloids and paparazzi (but not Mika Brzezinski) laser-focused on their stumbles, letting fans stare, impatient for the moment of complete collapse. These women were lone wolves, so when they fell apart, they did so alone in the spotlight.
But the Kardashians work as a team. If one sister is going through personal turmoil, the story becomes less about her struggles and more about the family jumping in to help. It all plays more like a TV arc than a personal weakness: From Kim's ill-fated marriage to Kris Humphries to younger sister Khloé's 2007 DUI, the early seasons of KUWTK were filled with (mostly) willing family members spinning embarrassing missteps into gleefully absurd, must-see reality television. And when the show was forced to deal with actual trauma, like the 2015 hospitalization of Khloé's estranged husband Lamar Odom in 2015 or Kim's 2016 Paris robbery, they used it as yet another opportunity to brand themselves as a family-first clan.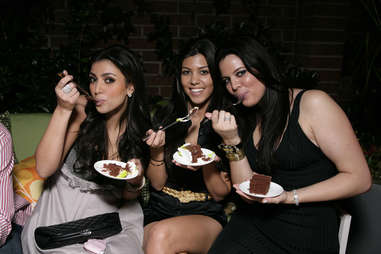 While Kim's avoidance of alcohol is arguably more of a preexisting character trait than a lesson learned from watching cautionary tales stumble through the news, it can't be discounted as yet another way she avoids the self-destruction narratives that befell Spears, Lohan, and Hilton. Despite her short-lived job as a spokesperson for Midori in her early 30s, Kim has never been a big drinker. (Her sister Khloé once said that Kim drinks "no alcohol whatsoever" and has "never been into it.") Alcohol impairs a person's vision, and Kim -- whether breaking the internet or starting up a relationship with one of the most influential musical artists in the world -- has never been one to lose focus. Kim's only vice, if you can even call it that, isn't a drug. It's an unparalleled lust for fame.
Today, Kardashian's forerunners are, in their own ways, still courting the spotlight. Britney is wrapping up a wildly successful Las Vegas residency (presumably to focus on her Instagram account). Paris is focused on growing her "global perfume empire." And Lindsay just announced she'll be launching a $2.99-per-month subscription-based lifestyle site and that she's joined the cast of a British TV comedy with Rupert Grint; she also invited Britney, Paris, and, inexplicably, Beyoncé, to join her in Greece to celebrate her 31st birthday this weekend.
Kim's reign is hardly in any danger from them. The Kardashian clan continues to find new ways to expand both on-air (youngest sister Kylie is soon getting a spinoff, KUWTK's seventh so far) and off-air (Kim just launched a new line of beauty products). If anything, the potential threat of deposition is from future celebutantes. But odds of a coup are slim: How can you possibly ascend to the throne when its current occupants have spent a decade making sure they never have to give it up?
Sign up here for our daily Thrillist email and subscribe here for our YouTube channel to get your fix of the best in food/drink/fun.