Gillian Flynn Explains the Surprising Twists of 'Widows'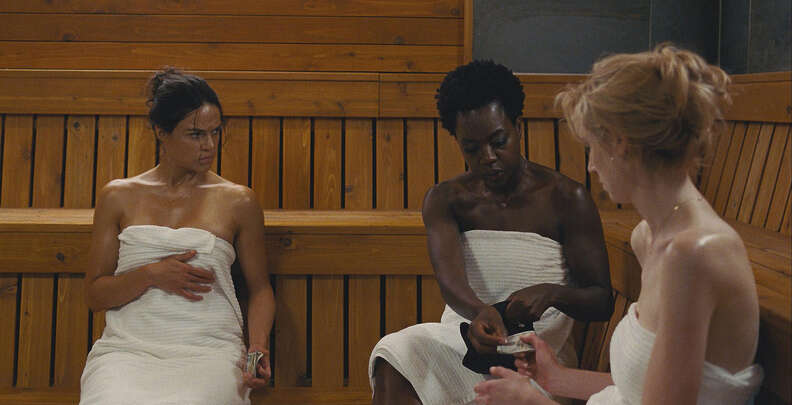 20th Century Fox
20th Century Fox
Gillian Flynn's women are prickly creatures. Amy Dunne from Gone Girl hides her psychopathic tendencies behind a perfect WASP exterior. Sharp Objects' Camille Preaker carves her pain into her skin. These ladies are why director Steve McQueen made the perfect choice of a writer to help him adapt Widows, a British TV show about the wives of dead robbers who must complete a job in the absence of their spouses. The result is a story about badass women who aren't so easily confined to that "badass" label. The four women who make up the team are grieving, furious, and not totally confident in their abilities.
They're led by Veronica Rawlings, played by Viola Davis, who rallies the other women after learning that her husband, Harry (Liam Neeson), has left significant debts unpaid to a political candidate (Brian Tyree Henry). Alice (Elizabeth Debicki) and Linda (Michelle Rodriguez) are rudderless in the wake of the tragedy, and Veronica offers them a way to be financially independent. All the while, an increasingly contentious, violent, and intertwined aldermanic race is unfolding, bringing to light Chicago's messy division and systemic injustice.
On top of all of that, there are some jaw-dropping twists. Harry, for one, is alive. Veronica's adorable little terrier susses that out, finding him at the home of the fourth widow (Carrie Coon), with whom he has been having an affair. It's a moment indebted to the original, but also quintessentially Flynn, who talked to Thrillist about the twists that help drive the plot, but certainly don't comprise the totality of the film.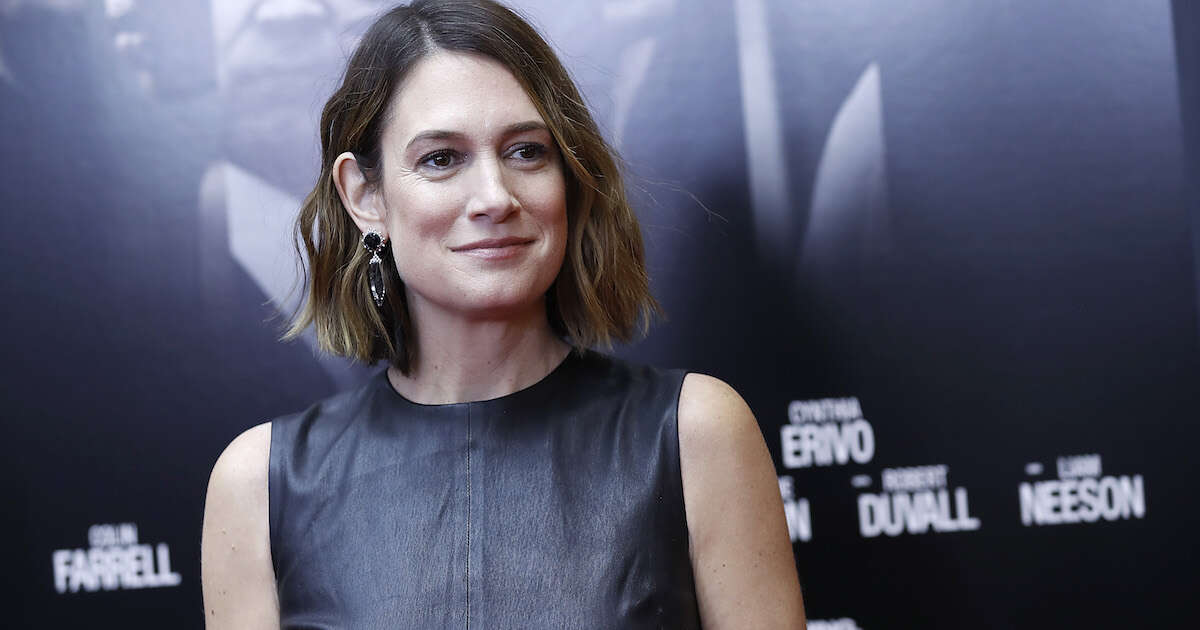 Thrillist: How did Steve McQueen bring you on, and how did he want to use the original television series in the script?
Gillian Flynn: He just got in touch with me. We just had a good old-fashioned meeting. We grabbed dinner one night in New York. They told me to go ahead and watch the miniseries. Number one, I loved the idea of working with him. He could have been like, 'I want to do a movie about talking kittens' and I would have been like, 'Cool, let's do it.' I just loved the possibilities -- they were kind of inherent. It seemed perfect for me, and what I've kind of done with my whole writing career has been to use genre to pull you through while I'm talking about things that are societally interesting. Whether it's in Sharp Objects with female rage and female violence and self-harm, or Gone Girl and marriage and gender politics.
This seemed exactly that type of thing. We could use a good old-fashioned heist film to talk about a host of other things. Set it here in Chicago and talk about gender inequality, talk about economic inequality, and talk about race, talk about corruption, political corruption. It just seemed set up perfectly.
The relationships between these women are very complicated. The other women are suspicious of Veronica. Can you talk about how you wanted to tease these out?
Flynn: I wanted it to feel like real women coming together under an incredibly intense circumstance and still in mourning, still incredibly raw from the loss of their husbands, some more than others, let's be honest. And danger, taking on this incredibly serious thing. Like I said, I wanted to feel that realism. I wanted to feel that conflict. These are women who have fought and scrapped their way up and have had to take on some intense circumstances already, so many of them probably wouldn't be easy to get along with necessarily from the get-go. They would be kind of challenging, particularly Veronica, who is grief-stricken and pissed off she's in this position and scared, and one of those people who hides her fear under anger. So, you really felt all that.
This wasn't going to be, 'Oh we are painting our toenails together and cheers and cue the wacky dance montage at our sleepover party.' This is not that movie. I wanted it to feel like an old-school heist in that way: That these people are wary of each other. They are not people who are particularly prone to trust in the best of circumstances, and just because they are women doesn't mean things are going to go more easily or more touchy-feely.
The Harry reveal is from the series. How did you think about approaching it?
Flynn: The thing to keep first and foremost was just how devastating [it is] for Veronica. That she of all the widows was the one who was still deeply in love with her husband. We open the movie seeing them lustfully in bed together, and that they were a couple. Even though, as we find out, [they] had their problems, she was certainly still madly in love with her husband. And so we wanted to have the full impact of that and to preserve that surprise for as long as we could, and then make sure it had that full measure of shock when it came.
We see the full nature of their problems when the film flashes back to the death of their son -- killed by a cop during a traffic stop. How did you weave that in?
Flynn: Steve and I did a lot of research about Chicago. We wanted to talk to people from every different representative that would be in the movie and that could explain to us about the workings of Chicago. We talked to ex-cons and we talked to cops and we talked to politicians. One of the people that we talked to was a University of Chicago professor who had helped get the Laquan McDonald tapes released. Listening to him speak so eloquently about it, that became part of the fabric of the story. We're doing a Chicago story. Veronica's a woman who is already in mourning as our movie begins. That is part of what is the fabric of her marriage. It goes to the issues of race in Chicago, and even though it doesn't take a lot of actual film minutes, it certainly has a lot of heft to it emotionally.
I wanted to ask you about using women's environments and women's spaces like that scene when they meet in the steam room.
Flynn: Yeah, that is a shout out to [writer] Lynda La Plante and one of the original scenes from the series. We really liked the idea that the leader, the de facto leader, is clearly from a higher economic class than other two and knows how to handle herself in these places, and the other two who are meeting her for the first time. I think it originally had been a longer scene where they are wandering through the whole area and gossiping about Veronica and gossiping about the place and everything. It was basically a shoutout to Lynda. We liked the idea that they would be this sort of fish out of water. That would be a very Veronica thing to do: to have them in an environment that would make them very uncomfortable and to establish that they are on her turf. She knows how to handle herself, she knows how everything works -- and [to] bring them in and of course ask them if they need money, how they are doing on money, and if they would need more money.
There's a lot of meat in the pairing of Veronica and Alice. Why did you want to end the movie on that moment with them?
Flynn: I like those two. Linda and Belle [Cynthia Erivo] both have children, and they have that bond. I like that Veronica is now someone without a child and Alice is someone with not much of a mom, not a very good mom. Over the course of the film, they establish this relationship that kind of fills those desperate needs in each others' lives. I like that final moment that you see from Veronica -- Veronica, for the first time, putting herself in a vulnerable position. She's going after Alice. She's the one who asks her how she is, and she has that kind of open face and that gentle smile and is making herself vulnerable to be heard by Alice. That's not something she does. To me, that's a sign of her growth and a chance for maybe the two of them to establish a relationship. I like the moments between the two of them quite a bit.
What was the most crucial thing you found in research and reporting?
Flynn: There wasn't an essential reporting moment because we weren't trying to cover anything specific, a specific event or a specific crime. We were really using that reporting and using those meetings just to get the feel of Chicago, much in the same way I was using it to drive Steve around the city and show him all the different neighborhoods so he could get [a sense] of the different places these women lived in. I told him this is the idea, that you can live in the same city and never meet someone who is not like you if you don't try. We really were just trying to get a little basic procedural police stuff. We had some political consultants.
We're trying to do a sort of Chicago mythology in a way. We weren't trying to necessarily nail every single thing down. The biggest and most important thing about those meetings was to get that feel and the feel of how things work, and how entwined the city is, and how much politics is entwined with race.
Sign up here for our daily Thrillist email and subscribe here for our YouTube channel to get your fix of the best in food/drink/fun.