12 of the wildest, craziest, most hilarious displays of Bruce Springsteen fandom
The Bruce Springsteen faithful are a notoriously devoted bunch, and now they're set to tell their best Boss stories in the upcoming documentary Springsteen & I. The movie, which opens in select cinemas on July 22, is made entirely of fan-submitted videos that detail impromptu jam sessions with Bruce, insane onstage duets, and the trials of some very beleaguered spouses of Springsteen fanatics. While their stories are great, we decided to go down, down, down, down into the online Bruce community and unearth some of the weirdest/funniest examples of Boss mania. Needless to say, the patron saint of New Jersey still has quite the following.
If there's one thing The Boss abides, it's man hugs.
"Philly Elvis", as Bruce dubs him, added some serious flair to an E Street cover of "All Shook Up"...even if he pulled about five hamstrings in the process. (This guy's even in Springsteen & I, so you can hear his entire glorious story.)
For when you want to fall asleep on top of a severely jaundiced Bruce Springsteen.
It's nice that they put a Springsteen statue in Asbury Park, where the legend all began. But sadly this particular sculpture is more busted than Shaggy butt naked on the bathroom floor.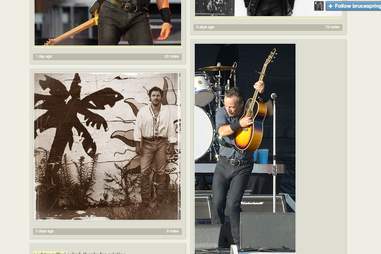 A Photoshop contest on Freaking News in honor of Springsteen's 60th birthday led to treasures like this one, as well as permanently scarring images like this riff on a Renee Zellweger poster.
According to Imgur, this is supposed to be a tattoo of The Boss. Yet given this, uh, artistic rendering, it could just as easily be Adam Sandler with a drooping perm.
Pretty impressive headbanging efforts, but we'd like to see what this guy would do with "Secret Garden".
In Transformers Vol. 1 #14, the gang has to stop the Decepticons' nefarious plot...to derail a Springsteen show. (We're sorry, "Brick Springhorn" show.) Yeah, yeah, they're also trying to prevent the bad guys from fueling up on the crowd's energy, but you know you made it when Bumblebee is serving as your personal bouncer.
What that fan didn't know is that Bruce keeps a van of shady surgeons for these very situations. Payment is demanded upfront and in full.
Thanks to this nearly four-foot chocolate sculpture, you can finally eat The Boss' face off without all the bath salt accusations.
And finally, an illustration of Bruce making out with Jon Stewart as a furious Stephen Colbert looks on. Because in case you forgot, the Internet is an incredibly weird place.